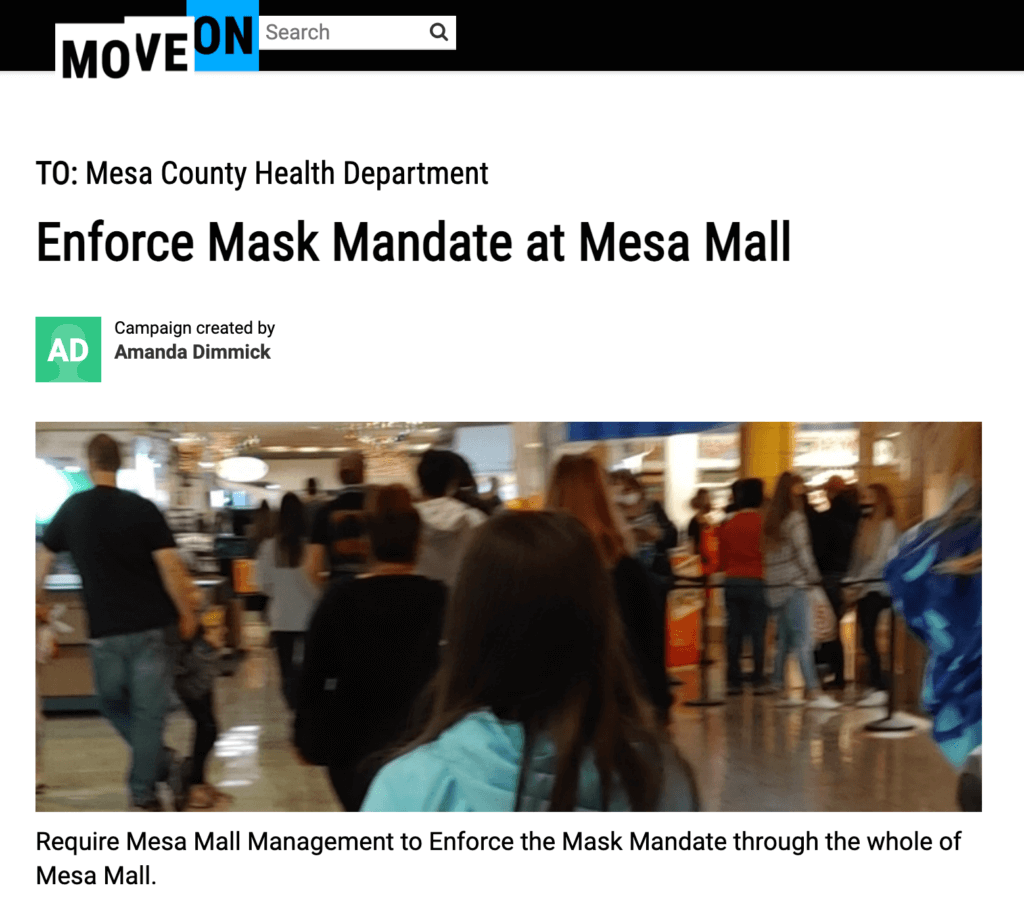 A Move-On.org petition is asking the Mesa County Health Department to enforce the state-wide mask mandate inside the Mall.
The petition states,
Covid-19 is spreading fast and hard through Mesa County. Many people are still not taking the threat seriously. It is putting [Mall] employees, tenants, and guests at a ridiculously high risk of catching and spreading the virus. The effects are dangerous and deadly and we have a moral and social imperative to do what we can to keep each other safe. The Mesa Mall is responsible for the safety of those who enter it's walls. If they can't provide a safe place for people to work, shop, and visit, then they should shut down for the health and safety of our community.
A mask mandate is currently in place throughout Colorado to reduce the spread of the deadly, communicable Corona virus that is sweeping the country. It requires everyone 11 years and older to wear a face mask in enclosed public places. Masks are recommended anywhere people are sharing air.
How to effectively complain about businesses that aren't enforcing the mask order:
Once the Mesa County Public Health Department (MCPH) receives three complaints about a specific business, they are required to issue a letter of non-compliance with the state health mandates. The first complaint initiates a 3-strikes-and-you-are-shut-down process, so a business must take steps to enforce compliance or risk getting shut down. If you call or email MCPH with a complaint, it gets recorded, and starts the process. Whether they are Five Star participants in the county's "Variance Protection Program" or not, everyone must follow the public health order, which states masks are required in all public spaces for people age 11 and over. The Mesa Mall Management itself would most likely be considered a business.
To report a business that is not complying with the state mask mandate, call The Mesa County Health Department Covid Hotline at (970) 683-2300 or email healthinfo@mesacounty.us