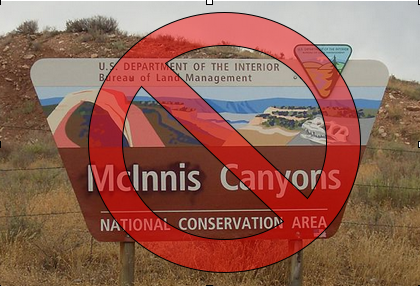 A new Change.org petition asks to revert "McInnis Canyons National Conservation Area" back to its original name, "Colorado Canyons National Conservation Area." The federal land was renamed in 2005 for then-sitting Congressman Scott McInnis. Prior to that time, no federal conservation area was ever named for a person. Under U.S. tradition, they have been named only after geographic features.  The area was also previously known as the Black Ridge Wilderness Study Area, after Black Ridge, the highest point above the Colorado National Monument.
When the change of name happened in 2005 it was a surprise to most Coloradans. It came about after an Oregon congressman mysteriously introduced a bill to change the area's name to honor McInnis in 2004. The bill's only co-sponsor was another congressman from California. Coloradans were unaware that the bill had been introduced. Neither of the congressman who sponsored the bill sought the opinion or consensus of Coloradans for the change. No one knows why these two out-of-state Congressmen initiated the change, and Coloradans remain unclear why it happened.
McInnis Behind Effort to Block National Park Status for Monument
Former Rep. McInnis, who lives in western Colorado after a plagiarism scandal derailed his attempt to become governor in 2010, recently spearheaded an effort to block upgrading the Colorado National Monument into a national park.  McInnis Canyons is adjacent to the Monument. Some area citizens are suspicious that McInnis blocked the effort because he feared he might lose his name on the adjacent conservation area. A broad coalition of citizens worked for several years to lay the groundwork  for the upgrade. Many thought turning the Monument into a national park was appropriate given the beauty of the area, and that the change would be a cost-free shot in the arm to the local economy, which has lagged behind that of the rest of the state for years.  But McInnis succeeded in pressuring Congressman Tipton to drop the upgrade.
The petition to revert the name of McInnis Canyons National Conservation Area is addressed to Colorado's Senator Michael Bennet and Rep. Scott Tipton.
It reads:
In 2005, Congress quietly renamed the 122,000-acre Colorado Canyons National Conservation Area on the western slope after then-sitting Congressman Scott McInnis, without soliciting input from Colorado citizens, and without giving them any notice.

The renaming was inappropriate and should not have taken place.

It is audacious for sitting members of Congress to rename public lands after themselves. It should be honor enough for a Congress member to serve their fellow citizens in the House of Representatives.

We also feel Rep. McInnis is an inappropriate figure to merit having federal lands named after him.

In 2010, Rep. McInnis' reputation was tarnished by charges that he plagiarized essays he was hired to write about water law for a nonprofit foundation. The scandal and his subsequent apology let him to quit the race for Colorado governor and refund the $300,000 the Hasan foundation had paid him to write the essays. McInnis was further charged with plagiarizing a 1994 column he wrote for the now-defunct Rocky Mountain News. McInnis admitted that in both cases he had relied upon others for materials rather than creating them himself. A congressman thus tainted does not derserve to have federal lands named after him.

Renaming the area after a human being also broke with long-standing U.S. tradition. To this day, the "McInnis Canyons National Conservation Area" is the only national conservation area named after a person rather than a geographic feature.

Furthermore, the idea to rename the area after Rep. McInnis did not arise from Coloradans. Legislation to rename the area was introduced by Rep. Greg Walden of Oregon, and the only other sponsor was Rep. Richard Pombo of California,neither of whom was from Colorado's congressional delegation. Neither congressman solicited any input about the change from Colorado citizens, nor did these officials seek any input from the other people who worked to create the conservation area.

Moreoever, naming federal lands after sitting members of Congress is a corrupting practice. By circumventing public input, representatives can confer such honors upon each other in exchange for political favors, like voting in a certain way on pending legislation. It is simply a bad practice, and we do not want it linked to our state.

For all of these reasons, we urge our current federal officials to revert McInnis Canyons National Conservation Area back to its original name: "Colorado Canyons National Conservation Area." Doing so will restore our state's integrity and assure the conservation area's name honors not one  individual, but the entire beautiful state of Colorado.
The petition can be seen and signed here.