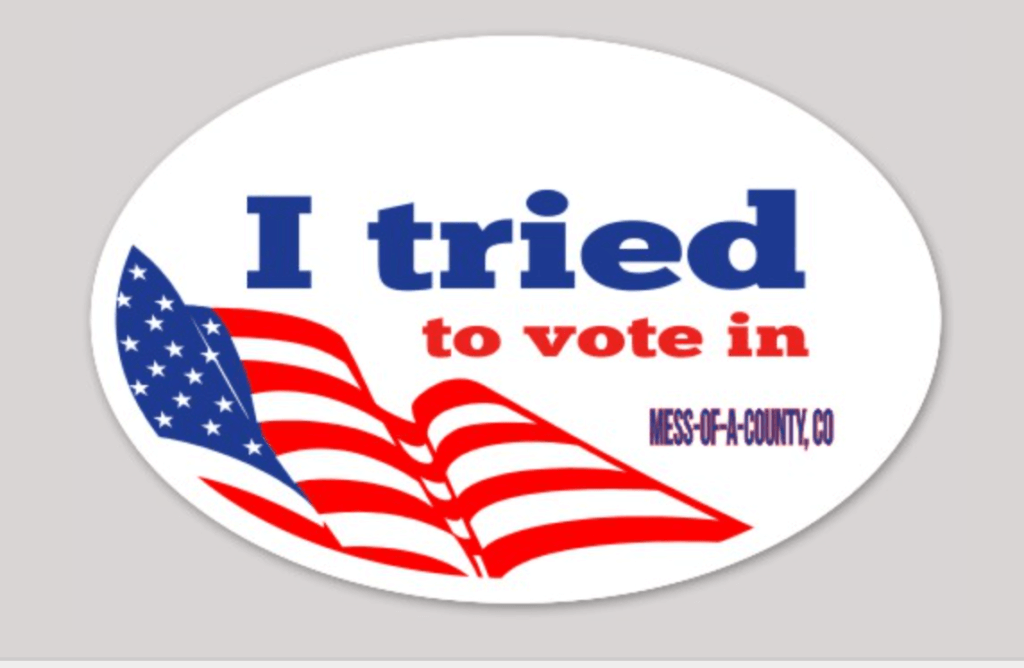 Customers at the Mesa County Clerk's office have found sealed ballots blowing across the parking lot, run after them, picked them up and taken them into the Clerk's office to be counted, according to the latest story in today's Daily Sentinel on the epic string of failures by the Mesa County Clerk's office.
On May 20, 2020, Republican Mesa County Clerk Tina Peters issued a press release announcing her office was installing a brand new, "convenient, 24 hour secure drive-up ballot drop box" in the Clerk's parking lot, saying she is "focused on the safety and security of mail ballot returns, especially in this pandemic…"
But the box is proving difficult for voters to use, especially in the windy weeks we've had recently, resulting in ballots not being fully inserted into the box and hence flying in the wind.
Doubling the cost of local elections for municipalities
Making matters worse, Peters dissolved a decades-long relationship in which the Mesa County Clerk's office conducted elections on behalf of the towns of Fruita and Palisade, forcing the municipalities to obtain their own ballot tabulating equipment and run their own elections at a far higher cost to local taxpayers. Peters said her office was "too busy" to conduct the elections for the towns, as her office had previously done for about 30 years. As a result, Fruita and Palisade's cost to put on their elections about doubled.
For more on this, read the article "April election costs doubled for area's municipalities" in today's Daily Sentinel.
Worried about whether your ballot has been collected in Mesa County?
Well who the hell isn't. To check to see if your ballot was collected, go to GoVoteColorado.gov, go to "Find my registration" and then "Check my ballot status" to find out.
Of course, whether or not your ballot was actually counted is an entirely different matter.
Find out where to sign the Recall Clerk Tina Peters petitions here: https://recallclerktina.com/signing-locations/