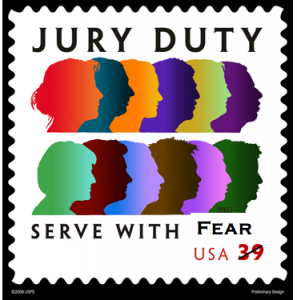 Marilyn Charlesworth of Grand Junction, Colorado, has started a GoFundMe campaign asking for help to pay the mounting legal fees arising from her jury service of 11 years ago.
Charlesworth is the victim of the worst case of juror abuse in American history. It has dragged on for eleven years now past the time of her jury service, and has utterly ruined the life of a woman who responded to a jury summons she got in the mail, as all American citizens are required to do by law as part of their citizenship.
What is juror abuse?
Juror abuse occurs after a jury convicts a defendant, and the defense lawyers refuse to accept the verdict and work to get their client a new trial using the strategy of trying to find a fatal flaw with one of the jurors who served on the case. Such a flaw, if provable, would allow them to ask for a new trial.
Marilyn Charlesworth served on the jury of a murder trial back in 2004. She voted with eleven other jurors to convict the defendant and she has been paying dearly ever since.
In April of 2004, Charlesworth was a juror in the trial of Michael Blagg, supposedly a good Christian man and resident of Grand Junction who was accused of killing his wife, Jennifer, on November 12, 2001, by shooting her in the eye at close range while she slept and disposing of her body in his employer's garbage. Blagg's six year old daughter, Abby, also mysteriously went missing the same day his wife was killed. Abby's body was never found.
About seven months after Jennifer was killed, Sheriff Department investigators found her body buried in the Mesa County Landfill, amid trash from Blagg's employer, Ametek-Dixon.
After sitting through weeks of gruesome evidence presented at trial, on April 16, 2004, the jury unanimously convicted Blagg of first degree murder, abuse of a corpse and theft from his employer. He was sentenced to life in prison without parole.
You might have thought that would have been the end of the story. The jurors could go home after the trial and start putting memories of the grisly case behind them. But that's not the way it went for Charlesworth.
The minute Blagg's trial ended, his defense lawyers (Tina Fang, Deputy State Public Defender and Brian N. Connors, Deputy State Public Defender) started efforts to get him a new trial. Their strategy: scrutinize the jurors who served on the case and find something — anything — wrong one of them that might pave the way to an appeal for a new trial.
Charlesworth was the "low hanging fruit" for their strategy; she was the easiest juror to attack.
Attacks Begin
During Blagg's trial, Charlesworth disclosed that she had a vision impairment that was giving her some difficulty seeing the evidence. She asked if she could move her seat to the front of the jury box so she could better see the evidence presented. She was given permission to move and could see everything just fine after that, but disclosing the impairment gave Blagg's lawyers the entree' they needed to later seek to get Blagg's guilty verdict thrown out.
After the trial was over, Blagg's lawyers charged Charlesworth with intentionally failing to disclose the full extent of her vision impairment to the lawyers in the case. They claimed she was legally blind, couldn't see the evidence adequately, and demanded Blagg get a new trial because of it. To substantiate their charges, they subpoenaed Charlesworth's medical records, her employment, DMV and IRS tax records, and combed through them to see if she had gotten any breaks or accommodations for her vision impairment. Once they got her personal information, they disclosed it to the court. (Some of it was verified later as being obtained illegally, in violation of HIPAA rules, but that was revealed too late.) After it was disclosed to the court, her private information became part of the public record. The local newspaper seized the information and published it in a front page article. Not only was Charlesworth's name revealed to the press, but she was humiliated on the front page of the local paper and on TV news programs. She got dragged into court and forced to prove her vision impairment was not serious enough to merit Blagg getting a new trial. Doctors were called in as witnesses to testify that she was not "legally blind," and her vision problems did not prevent her from seeing well enough to drive a car and hold down a job in the computer department at the local college, for example. She was a normally functioning adult.
Ultimately attacking Charlesworth's vision did not win Blagg a new trial.
You'd think the matter would be over then, but now that they'd seen her personal information, Blagg's lawyers didn't give up.
Next, Blagg's attorneys charged Charlesworth with failing to disclose that she took a medication that was also mentioned as a factor in the trial. Again they dug into Charlesworth's medical records, and filed motions forcing her to defend herself with regard to the medication.
That effort failed to get a new trial, too.
But even then, the defense didn't give up.
After Blagg had been imprisoned for ten years, his lawyers came back again. This time they charged Charlesworth with lying on a questionnaire that all the jurors had to fill out prior to being selected to serve on Blagg's jury.
In 2004, prosecutors alleged that Blagg had abused his wife, so the jury questionnaire had asked prospective jurors about whether they had any experience with domestic violence. Charelesworth had checked a box answering she had not.
It's not like she didn't think about this question. In fact, she may have over-thought it.
She had endured two difficult marriages to alcoholic husbands, one of whom had threatened her children and threatened to commit suicide during their marriage. But neither had ever intentionally struck her, so Charlesworth didn't think she had actually been a victim of violence. She is a strong, independent woman and eventually got out of both those marriages. She managed to get a college degree, make a life for herself and successfully raise her two kids. She saw herself as a survivor, not a victim, and believed she had answered the question accordingly.
But years later, after the definition of domestic abuse had undergone significant changes, and after talking to a number of women who had endured similar bad relationships with alcoholic men, Charlesworth started to think that maybe the conflict she had experienced in her marriages rose to the level of domestic abuse after all. There came a point in 2013, fully nine years after she completed her juror questionnaire in the Blagg case, that Charlesworth stood up at a public hearing and stated her epiphany that she had, in fact, endured domestic violence at the hands of her two alcoholic husbands.
Blagg's lawyers pounced again. This time, they charged Charlesworth with lying on her juror questionnaire about the domestic violence question.
If it sounds incredibly creepy, it's because it is, for a lot of reasons.
Jurors Unprotected
First, attorneys aren't supposed to retain juror questionnaires. They're supposed to look at them and then hand them back to the Jury Commissioner, who is supposed to destroy them after the trial. But someone on Blagg's defense team apparently copied the jurors' questionnaires for later use, like to try and find something wrong with a juror and get Blagg a new trial in the event he was convicted.
Secondly, someone affiliated with or working for the defense, who had knowledge of how Charlesworth had answered her questionnaire, apparently stalked Charlesworth and had been observing her for any discrepancy they could use to try and get Blagg a new trial. Shortly after Charlesworth made the 2013 statement about her experience with domestic abuse, Blagg's lawyers filed a motion charging her with intentionally lying on her 2004 jury questionnaire. Had she been a victim of domestic violence in her life or hadn't she? After all, she had said on her 2004 jury questionnaire that she hadn't, but here she was in 2013, saying she had been. Which was it, they demanded to know? How did these lawyers know, ten years later, exactly what she had answered on her juror questionnaire anyway?
Once again, Blagg's attorneys invaded Charlesworth's personal life. This time they subpoenaed legal records from both of her divorces and questioned her family members and longtime family friends. They found that in one divorce case she had sought a restraining order against one of her husbands. To the lawyers, that automatically meant domestic violence had been involved. Bingo!
They dragged Charlesworth back into court and forced her to defend herself again.
Once again, Charlesworth's name was sprayed all over the local papers and TV news, her personal information about her family relationships revealed to the media. Public scorn welled up and she became the target of a modern day equivalent of a witch hunt.
A judge ultimately awarded Blagg a new trial based on the discrepancy between what Charlesworth had written on her juror questionnaire in 2004, and what she had said publicly in 2013.
By this time, the attacks on Charleworth had dragged on for fully eleven years after Blagg's case had ended.
D.A. Tries to Save Face at Expense of the Juror
The judge's ruling for a new trial for Blagg put the District Attorney on the hot seat. After all, a notorious convicted murderer had been awarded a new trial. He might be set free now, and someone had to be held responsible. Adding insult to injury, the DA next brought charges against Charlesworth for contempt of court, threatened her with months in jail, and having to pay the cost of Blagg's new trial, which could run up to a million dollars.
In the eleven years of anguish and agony caused by repeated attacks from defense lawyers on the case in which she had been called to serve as a juror back in 2004, the justice system did not provide Charlesworth with any help at all. She got no counseling, no legal, financial or mental health assistance at all. Nothing. And the stress of these constant attacks was taking a toll.
Blagg, a convicted murderer, gets three hots and a cot, free legal assistance and medical care, free rent, laundry and transportation service, while Charlesworth is on her own.
No Help for Jurors
Today, Charlesworth stays at home in the dark.  She's afraid to go out or be seen in public. People whisper about her as "The Juror." She and her husband have been forced to hire a lawyer to help with her latest legal defense, at a cost of many thousands of dollars. The local newspaper continues to publish her name repeatedly in articles about the progress of the new Blagg trial. Her name continues to be featured in TV news stories as the saga of Blagg's upcoming new trial drags on. Meanwhile, his public defenders are demanding he be able to wear a nice suit to court instead of his prison jumpsuit.
Meanwhile, the Charlesworth and her husband have been forced to spend their life savings defending Marilyn from repeated charges made by the defense: that she lied about her vision disability, that she lied about medications she's taken, and whether she believed that she had experienced domestic violence or not.
All of the protections, accommodations and public resources go to the defendant, and none to the beleaguered juror.
What Potential Jurors Need to Know
There are several important lessons in Charlesworth's case that all Americans need to know before they serve on a jury, since presumably we will all keep getting jury summonses. Here are a few:
1) There is no statute of limitations on this type of juror abuse. Lawyers can keep coming after jurors this way for their entire lifetimes if they so desire. Your life can be ruined.
2) If you serve on a jury, and the defense lawyers have fallen in love with the defendant, are true believers, want to make names for themselves or otherwise don't like the verdict your jury produces, and if they are well-funded enough, you can find yourself in the crosshairs of a strategy to get a new trial. This case should give pause to every adult American who gets asked to serve on a jury, but if you do agree to serve, be darned sure you fill out the jury forms and questionnaires thoroughly and are fully able to defend every single one of your answers to the hilt, because defense lawyers can hound you into the ground for the rest of your life over any potential flaw or discrepancy that they think they could get their client a new trial. They can even dispute your personal interpretation or understanding of your own past life experiences.
3) You may be forced to give up your anonymity and personal privacy completely if you serve on a jury. Your name will not be kept secret. It can be printed in the newspaper and mentioned in the media. You'll have no choice about this.
4) The court does not provide jurors with any help do defend yourself from such attacks. No legal, psychological or financial help is offered jurors to deal with the aftermath of their service. All of your personal records can be exposed without your consent. The defense attorneys can drag you through the mud, turn you into a villain in your own community and bankrupt you. As a former juror, you will have to pay every last cent for any defense needed as a result of your jury duty.
Still want to serve on a jury?
Good luck, and consider yourself warned.
Update, April 17, 2015: For comparison, Rodney Eddy, a local man convicted of eight counts of sexual assault on a minor by a person in a position of trust and sentenced to 16 years to life in prison, won a new trial in September, 2014, in this sam jurisdiction, due to juror misconduct. The defense charged that a juror lied on his jury questionnaire about whether he or anyone close to him had been the victim of sexual abuse. The juror answered "No" to the question about sexual abuse, but disclosed he had been a victim of sexual abuse by a priest. Rodney Eddy was awarded a new trial based on the misconduct. In an article about the case, the newspaper did not reveal the juror's name, but referredto him only as "the juror" or "the man." The juror also did not face any charges, fines or other known punishment for lying on his jury questionnaire.
To help fund Marilyn Charlesworth's defense from Blagg's lawyers' most recent attack click here.
—– See the follow up article to this one:
Same Crime, but Vastly Different Treatment for Two Jurors in Mesa County Courts, April 20, 2015