A blockbuster CBS News/60 Minutes and Washington Post investigation reveals that after the U.S. Drug Enforcement Agency (DEA) cracked down on big pharmaceutical distributors who were knowingly pumping millions of addictive opioid drugs into the black market in cities and towns across the country, the U.S. Congress passed a law to block DEA from freezing such highly suspicious drug shipments to keep them from getting to the streets.
CBS interviewed former DEA deputy assistant administrator Joe Rannazzisi, who, with his team of DEA investigators in 2013 were starting to crack down on what they called a major "choke point" of the opioid epidemic — pharmaceutical drug distributors that were sending large numbers of highly suspicious shipments of drugs to pharmacies across the country. In one example, the DEA found a pharmacy in Kermit, West Virginia, a town of just 392 people, that had ordered nine million hydrocodone pills over two years. In another example, the DEA found that between 2007 and 2012, an Ohio-based drug distributor named Miami-Luke had shipped 20 million doses of oxycodone and hydrocodone to pharmacies in West Virginia. About 11 million of those pills ended up in a single county, Mingo, with a population 25,000. West Virginia now has the highest rate of opioid overdose deaths in the country. The DEA had the ability to freeze such shipments when they were spotted, and started doing so to keep opioids from flooding the streets of the countr.
Under the law, pharmaceutical drug distributors have a duty to report such highly suspicious orders, but did not. After seeing what was going on, the DEA accused the country's biggest drug distributors — Cardinal Health, McKesson, and AmerisourceBergen — of turning a blind eye as millions of their highly addictive prescription pain pills were getting pumped into the black market, particularly in Appalachia. Together these three major distributors control about 85-90 percent of the country's addictive opioid drugs. The DEA fined the companies tens of millions of dollars for failing to report such highly suspicious shipments to the DEA.
Trump nominates opioid industry advocate as U.S. Drug Czar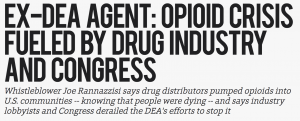 But soon after the DEA started cracking down on these big shady drug distributors, drug industry lobbyists went to work to hamstring the DEA's enforcement ability. They got a law passed that stripped the DEA of its most effective tool to fight the spread of dangerous narcotics: freezing the suspicious shipments of narcotics. This tool allowed the agency to stop millions of dangerous addictive pharmaceuticals from getting to the streets across the nation. The description of the 2016 law said it was "a bill to improve enforcement of efforts related to prescription drug diversion and abuse," but it actually put so many additional burdens on the DEA prior to the agency blocking suspicious drug shipments that it in effect made it impossible for the agency to block such shipments.
The bill was introduced by four-term Republican House Rep. Tom Marino (R-PA), who incredibly is now President Trump's nominee to become the nation's next drug czar. The bill was co-sponsored by Republican Representative Marsha Blackburn of Tennessee, who is now running for Senator of Tennessee, which is one of the states hardest-hit in the opioid epidemic. Blackburn is running to replace Sen. Bob Corker, who has said he will not run for another term.
Washington Post's story on the triumph of the pharmaceutical companies over the DEA is here. CBS' 60 Minutes segment on the story is here.
These stories are a must-read before you vote any more Republicans into office.