Hobby Lobby, a craft store owned by evangelicals and known for pushing it's owner's Christian religious beliefs onto it's employees, is running a full page "O-come-let-us-adore-him" Christmas ad in today's Daily Sentinel with a camel and all the trimmings, that urges people to download a free Bible at a website.
So this seems like a perfect time to make people aware that Hobby Lobby was fined millions of dollars by the U.S. government in 2017 for illegally importing thousands of ancient Iraqi clay artifacts into the U.S. that were likely  acquired by ISIS (the "Islamic State of Iraq and Syria") as the terrorist group criss-crossed the country destroying and looting Iraq's cultural heritage sites.
Hobby Lobby knew what it was doing was illegal
Hobby Lobby president Steve Green and one of his in-house corporate lawyers were warned prior to initiating the shipment that the 5,000+ ancient Iraqi artifacts Green was attempting to purchase from several dealers may have been looted from archaeological sites. In a written memo, the expert warned the two Hobby Lobby executives that any items of Iraqi origin that were not properly declared could be seized by customs officials.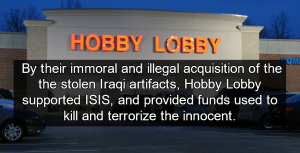 Despite the warning, Hobby Lobby's owner proceeded to make multiple payments for the artifacts, and have them labeled with descriptions like "ceramic tiles" or "clay tiles, sample." Green had them mislabeled as to their country or origin and shipped to multiple different Hobby Lobby addresses, a method that smugglers of illicit property often use to avoid scrutiny by U.S. Customs and Border Protection.
Iraqis consider the items priceless.
After the government busted Hobby Lobby for the crime, the company agreed to forfeit the items and pay a $3 million fine.
So when you see the lovely big Christmas ad in today's paper, don't be snowed. Hobby Lobby is a corporate criminal that funneled money to support ISIS by knowingly, illegally importing priceless antiquities from Iraq, in violation of U.S. law.