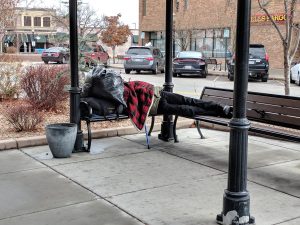 On the same night that Grand Junction City Council will consider adopting an inclusiveness proclamation that says the City "desires to ensure that the human rights of all citizens are protected," council will also vote on whether to amend city code to ban camping on public property, which will effectively criminalize a homeless population who has nowhere else to go.
That's the view of the ALCU of Colorado, which has taken a great interest in the proposed change to city code, and considers it another attempt by Grand Junction to target homeless people and criminalize them.
The ACLU has sent a letter to the Grand Junction City Council criticizing the ordinance for having inadequate exceptions for people who are unable to stay in shelters.  The organization is hoping that Council will reconsider this ordinance, and is watching them carefully, especially given the city's past record of actions that have drawn ACLU scrutiny.
In researching this issue, the ACLU found the following problems with the change in city code as it is currently proposed:
Grand Junction's homeless shelters do not have enough capacity to accommodate the City's unhoused population, and there are simply not enough beds to accommodate Grand Junction's unhoused population.
Shelter rules mean many people experiencing homelessness in Grand Junction cannot access services there. Without the ability to access a shelter or pay for a room, homeless people are forced to sleep on public property. As such, the ordinance would punish unhoused individuals for life-sustaining human conduct when they have no other options.
It is cruel to impose criminal penalties on homeless people for sleeping outside when shelter is not truly available to them.
Enforcement of the camping ban will particularly burden disabled people, who are disproportionately poor and homeless, often as a direct result of their disabilities.
Criminalization of homelessness through increased enforcement of the camping ban is costly to taxpayers and will exacerbate problems associated with homelessness and poverty.
Colorado's jails are overcrowded and should be reserved for people who truly pose a threat to public safety, not individuals who are trapped in a cycle of poverty.
The Council meeting is tonight, Wednesday, February 20 at 6:00 p.m. at City Hall Auditorium, 250 N. 5th Street, in downtown Grand Junction.
—————–
Update – On a vote of 5-1, with Duncan McArthur dissenting and Mayor Barbara Traylor Smith absent, Council voted to table this measure for 90 days.