Gage Lorentz, a graduate of Fruita Monument High School, was murdered on March 21, 2020, by a law enforcement officer while heading home to Montrose. He was driving home alone on an isolated back road in Carlsbad Caverns National Park to see his family after working for weeks on a drilling rig in the outskirts of Pecos, Texas.
National Park Ranger Robert Mitchell pulled Gage over for speeding on a dirt road inside the Park. Gage was alone, unarmed, unintoxicated and followed all of Mitchell's orders until he ordered Gage to turn around and put his back to him. At that point, Gage refused to comply. The officer's body camera video shows that seconds later, Mitchell had pinned Gage to the ground, was on top of him and shot him, point-blank, in the chest, killing him.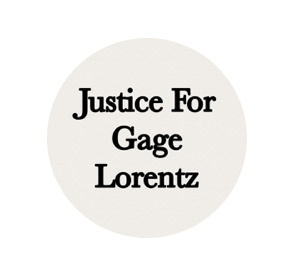 Gage's parents insist there was no justification for Mitchell to kill their son, and they have  spent the last three years trying desperately to get accountability for their son's murder. They sued the U.S. Department of the Interior, which operates the National Park Service, and Mitchell in late 2020, but the federal government claimed qualified immunity for Mitchell, and the state of New Mexico declined to prosecute the case. Qualified immunity shields public officials engaged in their official duties from civil liability unless it can be proved they violated a clearly-established constitutional right.
Gage's family held a rally March 19 in Montrose to urge people to remember Gage and his unjustified killing at the hands of law enforcement, to urge an end to qualified immunity and highlight the lack of accountability for National Park Rangers who kill unarmed people who are visiting national parks.
The family says,
"Our family continues to endure this horrific nightmare of zero accountability and continued efforts to seek change in policy and procedures to prevent even more loss of loved ones at the hands of law enforcement officers. Our family supports and believes in law enforcement, but our tragedy has opened our eyes to the healing that needs to happen within the core of departments, whether local, state, or federal. Our case depositions took place last year in New Mexico, where we sat directly across the table from the man that took our son's life, the man that neglected to provide emergency medical treatment to our son, the man that showed absolutely zero remorse or emotions when questioned on the incident and his actions or lack thereof. We had the opportunity to personally thank the officer that arrived on scene and immediately began to perform CPR on our son, who still had a pulse over 12 minutes after being shot directly through the heart by this ranger. Our lives have been forever changed by the loss of our son, but our journey for justice continues."
The family asks people to visit the page they created to honor Gage and keep the public updated on their ongoing efforts to get justice for his murder.