District Attorney Dan Rubinstein announced he's closed the investigation into the Mesa County Commissioners' allegations of financial wrongdoing by Mesa County Public Health Director Dr. Jeff Kuhr, saying,
"We lack sufficient evidence of anything criminal…" and "…[We] lack sufficient evidence that Mr. Kuhr was personally involved in, or personally directed, any level of reporting that would make him criminally culpable for material misstatements."
With Janet Rowland at the helm, so far the Commissioners have spent $49,000 in taxpayer funds on a financial audit of Kuhr in an attempt to try find some reason to fire him, in addition digging up and spreading around negative personnel comments about Kuhr from as far back as 2011. So far, everything they've found, including a $219 alcohol purchase that has since been reimbursed, have fallen flat. Even four members of the Mesa County Board of Health have said nothing they've seen about Kuhr so far rises to the level of a fireable offense. Then they all resigned in protest after learning the Commissioners were going to fire them if they didn't agree to fire Kuhr.
Since none of the commissioners' efforts have worked to fire Kuhr, it leaves only two two possible reasons why Commissioner Rowland had herself installed on the Public Health Board and has been working so hard to fire Kuhr: 1) so she can clear the way to impose her own personal ideology on the Mesa County Public Health Department, or 2) to settle a personal score against Kuhr, or both.
People are right to fear Rowland is trying to fire Kuhr so she can impose her own ideology on the county Public Health Department.
After taking office in 2021, Rowland essentially announced to the community in the Daily Sentinel that she intended to stock her "cabinet" with people who agreed with her personal ideology. She also made her anti-public health sentiments abundantly clear during her 2020 campaign to get elected Commissioner again.
Rowland has also had the head of a County agency fired before so she could impose her own ideology on the agency.
She did it to James Garrett, the Director of the Mesa County Department of Human Services, in 2007.
In January, 2007, Garrett and Rowland clashed over how the County should handle drug-addicted people with children.
At the time, methamphetamine was the major drug of abuse in Mesa County.
Garrett, who had both a Bachelor and a Masters degree in social work, knew meth addiction was treatable in many people if they were provided with good in-patient treatment, if the court kept them accountable and if they got support after their hospitalization, like drug-free housing, outpatient treatment job training and placement. Garrett knew a plan like this could turn many meth addicts around and reduce the number of people who were having their parental rights terminated. His goal was to do everything possible to preserve Mesa County families and keep them together safely.
But Rowland was convinced that meth addicts were inherently untrustworthy and irredeemable people. According to Garrett, Rowland told to him to "back off" from his efforts to help addicts recover, and told Garrett removing children from their families was the only way to "save them." Rowland preferred putting the County's money, time and effort into terminating parental rights of meth-addicted parents, taking their kids away and placing them with foster and adoptive families, according to Garrett.
On Sunday, January 21, 2007, after he was fired, Garrett wrote a letter to the Daily Sentinel explaining what led up to his firing. The letter copy is hard to see, but provides important context to understand Rowland's current battle to fire Kuhr.
Garrett wrote:
I read with interest the recent Daily Sentinel article announcing my termination as executive director of the Mesa County Department of Human Services, and wanted to make a few comments.

During my tenure at DHS, I found myself in almost constant conflict with County Commissioners Craig Meis and Janet Rowland. The source of the conflict, in my opinion, was their desire to

inappropriately use the department to further their own personal or political goals

. Often, the "directives" that I received, again in my opinion, seemed designed to gain photo ops, build a political résumé, or

settle personal scores, whims or ideology

. I could not ethically or professionally support those types of directives.

I believe that the constant interference from the commissioners has been destructive to the department, its staff and its clients, resulting in a county agency with no confidence or authority to make critical professional decisions affecting children and families in Mesa County. Nor do I believe that such interference and its effects are limited to DHS, but pervasive throughout Mesa County government.

Tillie Bishop was a moderating influence on his two colleagues and I am grateful for his understanding of what "governing" really means.

One of the reasons given by Mr. Meis for my termination was that I had destroyed the relationship between the department and our community partners. Judging from the calls and visits from those partners over the past few days, I believe that those relationships are at least as strong as when I was hired. however, if I have offended or alienated anyone, my most sincere apologies.

My concern now is for the staff and clients of the Department of Human Services.

I encourage the media and the community to watch what happens at DHS, particularly during the interim period and

ask themselves about the motives and appropriateness behind the personnel, organizational and philosophical changes

that the department will be directed to make.

To all my staff and colleagues, I love you all, good luck and goodbye.

James R. Garrett

Grand Junction

[Underlining emphasis added.]
Garrett's opinion was echoed by still another local professional, Licensed Clinical Social Worker Maynard Hesselbarth, who expressed a similar opinion about Rowland's interference in DHS in the October 14, 2008 issue of the Daily Sentinel. Beyond his career as a social worker, Hesselbarth was honored by the Colorado state legislature in 2000 for his dedication to advancing adult literacy. Hesselbarth was familiar with the operation of the county's Department of Human Services, and wrote that despite Rowland's supposed work to save children from abuse, she "consistently failed to protect the rights of parents who have been falsely accused of abuse and neglect."
Hesselbarth wrote,
"Janet Rowland also uses her political power to become involved in personnel situations with DHS and fails to obtain expert professional advice to obtain the best-qualified persons for this critical county department.

In fact, all the county commissioners should stop using political power when involved with DHS situations. The county only contributes 0.02 percent of the total budget and commissioners should stop insisting they have the right to such interference in the operation of DHS."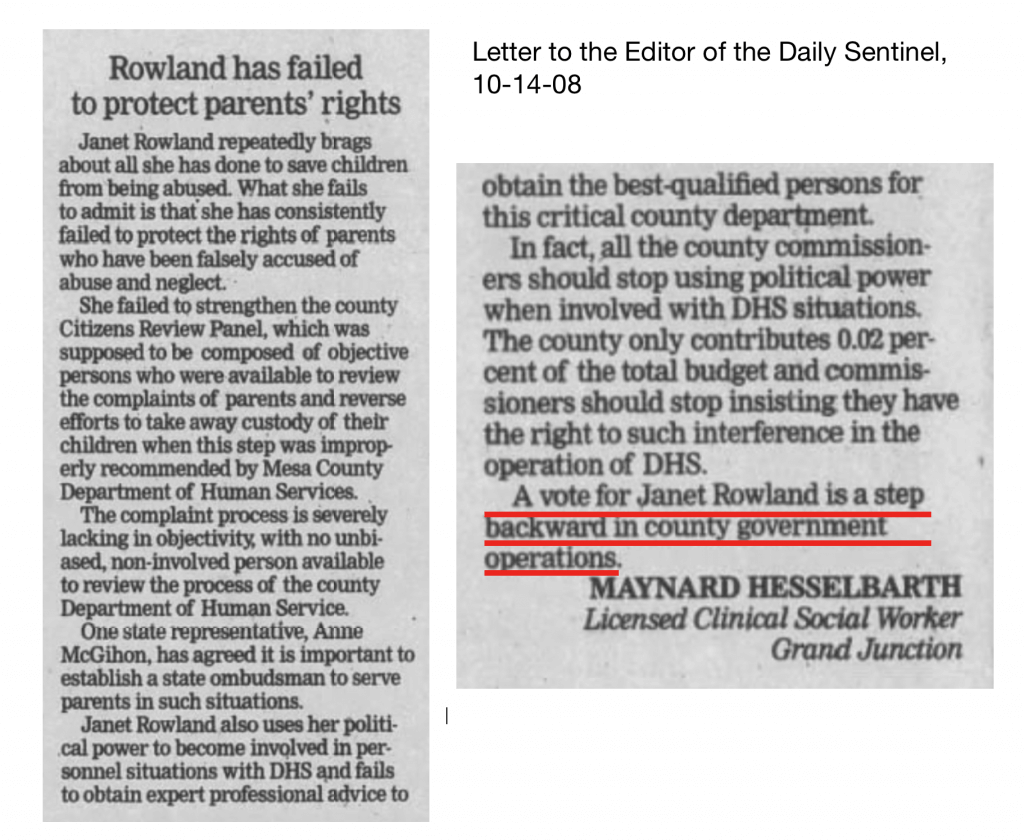 History is repeating itself now.
Once again Rowland is pouring county time and treasure into interfering with a county public agency. This time it's the Mesa County Department of Public Health, which is supposed to be well-insulated from local political whims, meddling and elected officials' personal agendas and opinions.
Let's hope the Commissioners understand now, after exhausting all reasons they could possibly dig up to fire Kuhr, that there's no actionable substance to their accusations.
Let's hope they learn from this expensive, misguided effort, and from Janet Rowland's previous history, to back off and let Dr. Kuhr keep doing the excellent job he's been doing running the Mesa County Public Health Department.