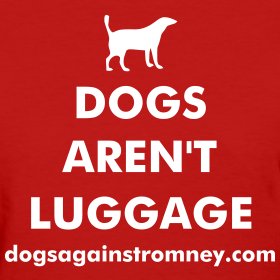 In 1983, Mitt Romney took his wife, five kids and the family's Irish setter Seamus, on a road trip to his family's cabin in Ontario. Romney put Seamus in a dog crate and strapped the crate to the roof of the family car. Romney proceeded to drive at interstate speeds for 12 hours, until the dog — stressed, sick and afraid — came down with diarrhea, which dripped all over the car and grossed out his kids. According to the story, Romney stopped  long enough to hose down the car and the dog, and then hit the road again, with the wet, scared, wind-whipped dog still strapped to the roof of the car.
Romney does not deny the story. But to hear him tell it, the dog enjoyed the fresh air of the roof — a statement that strains credulity as much as any of his varying political positions.
The story has resurfaced this election cycle and is persuading a lot of people — including Fox News contributor Lanny Davis — of Romney's unfitness for the presidency. Davis, a Washington, D.C. attorney, wrote that anyone who would do what Romney did to his dog "shouldn't be president of the United States." I have to agree, but I'm far from the only one.
In 2007, Scott Crider founded Dogs Against Romney, to publicize "Crate Gate" and spread the word about Romney's legendary form of dog abuse. Dogs Against Romney sells poignant swag like bumperstickers that say "Get 'Ruff' with Romney," and "Mitt is Mean," official doggy bandanas that say "I Ride Inside," and T-shirts that say "Dogs Aren't Luggage." Dogs Against Romney even formed a super PAC to oppose Romney's nomination for the presidency.
On Tuesday, February 14, Dogs Against Romney held a press event outside the Westminster Dog Show at Madison Square Garden to help draw attention to Crate Gate. Dogs Against Romney says it does not endorse any candidate, but held its even alongside "Pet Lovers for Obama" — another organization working to bring attention to Romney's mistreatment of his family dog.