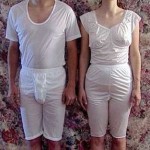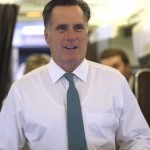 The mainstream media is loathe to cover the touchy topic given Mitt Romney's presidential bid, but devout Mormons wear special ceremonial underwear called "garments" underneath their clothes as a constant reminder of their faith. The white underwear symbolizes purity and covenants made with God. Mormons consider the garments to be the "protective armor of God," and believe the underwear provides protection against temptation and evil. The special garments are sold only at Mormon church-owned stores or through Mormon church websites. Men's undergarments consist of a white, somewhat exaggerated scoopneck undershirt and knee-length boxer-style briefs. Women's garments similarly cover them from shoulders to knees, with an undershirt that has a sweetheart neck and some tailoring to accommodate the bust. Some people mock the garments by describing them as "magic Mormon underwear," but Mormons consider them sacred and treat them with the utmost respect. So does Mitt Romney wear this special protective Mormon underwear? It appears that he does. In photos of him wearing white dress shirts, one can see an exaggerated scooped-neck, white undershirt underneath the fabric that looks very much like the photos of the sacred underwear Mormons wear under their street clothes.
Additional information about Mormon underwear:
The Thinking Atheists' guide to Mormon underwear (contains information on difficult-to-see special features of the underwear and their significance)
A Brief Guide to Mormon Underwear  (by Buzzfeed)
The Church of Jesus Christ of Latter Day Saints (LDS) guide to "Temple Garments"
LDS information on "Temple Garments" and instructions to the media on how to treat the subject of the underwear
MormonSecret.com  (a website that uses hunky male and sexy female models to demonstrate Mormon temple garments and that sells the garments to anyone regardless of their religion)
MormonCurtain.com (a website that blogs the ExMormon world — this is their page about temple garments)
What are LDS Garments or Mormon Underwear?
L.A. Times article discussing Ann Romney's underwear and MormonSecret.org
Updated 10/27/2012