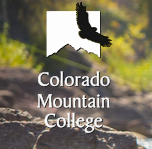 Rachel Pokrandt, Dean of the Rifle Campus of Colorado Mountain College (CMC), says she didn't know anything about the Energy Expo's speaker program and the school is not a host of the event, despite being listed as a host on the event's promotional materials.
"We never agreed to be a host" of the event, Pokrandt said. She says the event organizers "Really did represent us quite horribly."
Pokrandt says CMC just has a small booth at the event, which they have rented annually for the past 10 years, to educate people about their solar, biofuels and other programs.
"We don't want to be connected with that type of speaker," Pokrandt said, referring to Energy Expo speaker John L. Casey, who speaks on the topic of climate science despite having no degrees in climatology and never having published any peer-reviewed research on the subject. His talks typically start out with charts, statistics and scientific claims, but by the end of his talks, he devolves into fearmongering and racist statements.
Videos posted online of Casey's talks show him speaking before tea party groups. He says anthropogenic climate change is a scientific fraud perpetrated by the U.S. government and the United Nations. He says global warming is over, that sun entered a period of "hibernation" in 2007 and the earth is now entering a prolonged period of cooling that will lead to an increase in earthquakes and volcanic eruptions. Casey further says this cold phase will cause the world's food supply to diminish and people will need to lay in a year's supply of food and be ready to flee to the countryside and defend their food stores from urban minorities who, he says, will start beating and murdering people to get their food supplies — after government food stamp programs can no longer sustain them.
Pokrandt said that in the past, the Energy Expo and Forum has been "fairly level" in regard to balance in the types of speakers they've had, and between renewable and non-renewable types of energy, but that unfortunately due to the circumstances this year, CMC may have to withdraw its involvement from the event in the future.