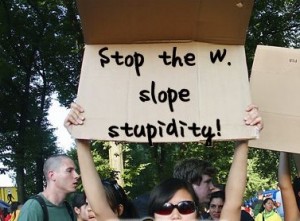 Grand Junction residents concerned about integrity in science, environment and education are planning to protest at this year's Energy Expo and Forum at 1:00 p.m. Friday on the south side of Two Rivers Convention Center, and are inviting others from around the west slope to join in.
The reason for the protest — the first ever at the Energy Expo — is this year's speaker, John L. Casey, who claims anthropogenic global climate change is a scientific fraud and government conspiracy. Casey writes and speaks about climate change, yet has no degrees in climate science, nor has he ever published any peer-reviewed information on the subject. He appears almost exclusively before tea party groups.
Online videos of Casey's prior talks reveal him to be a fear monger and a racist. He starts out with a dry talk using charts and statistics and says global climate change is a fraud perpetrated by the United Nations and the U.S. government. He then tells his audiences that the sun has gone into a "hibernation" phase and the earth is entering a cold era that will devastate crops and lead to food shortages. He then tells audiences they need to store away one year's worth of food, and get ready to defend their food stores from starving, inner-city minority groups, who will rise up in mass and try to assault and kill people to steal their food.
The Energy Expo is a privately-owned event that is free and open to the public. The event owners are former Club 20 Executive Director Bonnie Peterson and former Mesa County Commissioner and oil and gas lobbyist Kathy Hall. Peterson was responsible for choosing Casey as a speaker this year. Neither event owner informed the event's supposed "hosts" or sponsors, including Colorado Mountain College, Colorado Mesa University and the John McConnell Math and Science Center, about the choice of speakers until event materials had already gone into production. When "hosts" then complained about Mr. Casey being a speaker, they were told it was too late to change the lineup, because event materials had already been printed.
Two Rivers Convention Center, where the Expo and protest will be held, is owned by the City of Grand Junction.
The public is invited to join the protest at the Energy Expo and the organizers' shocking choice of John L. Casey as a speaker.