The Grand Junction Daily Sentinel printed an article about the desperate state of Mesa County's economy on the front page of its Business section today, written by business writer Greg Ruland.
Titled "Living wage tough to come by," it describes how financially strained Mesa County families are compared to other families across the state. A study that showed that in Mesa County a family of four would need an annual income of $53,000-$65,000 to fund only the most basic needs of housing, food, health care, transportation, child care, taxes and an emergency fund. Ruland writes that the average wage in Mesa County "falls as much as $20,000 short of what single parents with three children must earn to cover the cost of a family's basic needs."
The cost of basic needs in Mesa County has increased over the last decade, but during that time wages in our area have stagnated, leaving Mesa County citizens worse off than ever.
A record number of people in Mesa County now use food stamps, and the number has climbed each year for the last eight years. About 18,500 Mesa County residents now receive government food assistance every month — more than double the number who got food assistance in 2008.
Ruland reports that a single mother working two full-time minimum wage jobs in Mesa County to try and support her family would still have an income low enough to qualify for food stamps.
That's pretty bad, but not bad enough for the Grand Junction Area Chamber of Commerce to come anywhere close to supporting an increased minimum wage.
Grand Junction Area Chamber: Let Them Eat Cake
You'd think the Grand Junction Chamber of Commerce would be deeply concerned about this state of affairs, but even in the face of the desperate financial straits of thousands of families in Grand Junction, Diane Schwenke, President of the Grand Junction Chamber, scoffed at the notion that raising the minimum wage (currently $8.23/hour) would benefit local families. In the Sentinel article, she dismisses the notion as "contrary to capitalistic principles," and suggests that instead government needs to find ways to further lower the cost of basic living necessities, like food and housing. Neither Ruland nor Schwenke mentioned that the federal government already subsidizes a long list of agricultural staples like wheat, corn, soybeans and cotton, and even has a dairy subsidy program that pays farmers whenever milk prices fall below a certain level. In addition to promoting further reliance on government for help, Schwenke, who as always sticks to the same failed ideas she's backed for decades, added that the quickest way to raise low wages in our area would be to increase oil and gas extraction operations. She sticks to this message despite knowing that disastrous economic fluctuations occur constantly in the oil and gas industry, and that our area's past of embracing extractive industries like uranium, oil shale, coal, fracking and hazardous waste disposal have wreaked economic, health and environmental havoc on our area's residents for decades. So why does Ms. Schwenke rely on the same tired, old ideas that have long been proven a bane for our area's desperate economy?
Perhaps it's because Ms. Schwenke doesn't need to be concerned with coming up with new ideas to boost Grand Junction's failing economy. She's been comfortably entrenched in her position at the Chamber since 1989, even though her activities have brought heavy criticism to the chamber's untoward political dealings and lip-service programs over the course of her career. The Daily Sentinel reported Ms. Schwenke's compensation package is $133,930 yearly — about 4.8 times the annual per capita income in Mesa County, and twice Mesa County's average annual total household income. Ms. Schwenke is obviously free of any concerns about being fired. She doesn't even seem to need to demonstrate the effectiveness or lack thereof of any economic-related programs at the chamber, either. She doesn't have to worry about working two jobs or putting food on her own table, so she's free to repeat tired platitudes about the oil and gas industry being the area's salvation for as long as she likes. 
For its part, the Grand Junction Economic Partnership referred to this latest devastating report about Mesa County's abysmal economic status as "a call to action" to recruit higher-paying industries to the area. It's nice that they seem to care, but like the Chamber, GJEP hasn't offered any few new ideas about how to do this, either.
Obvious Opportunities Completely Ignored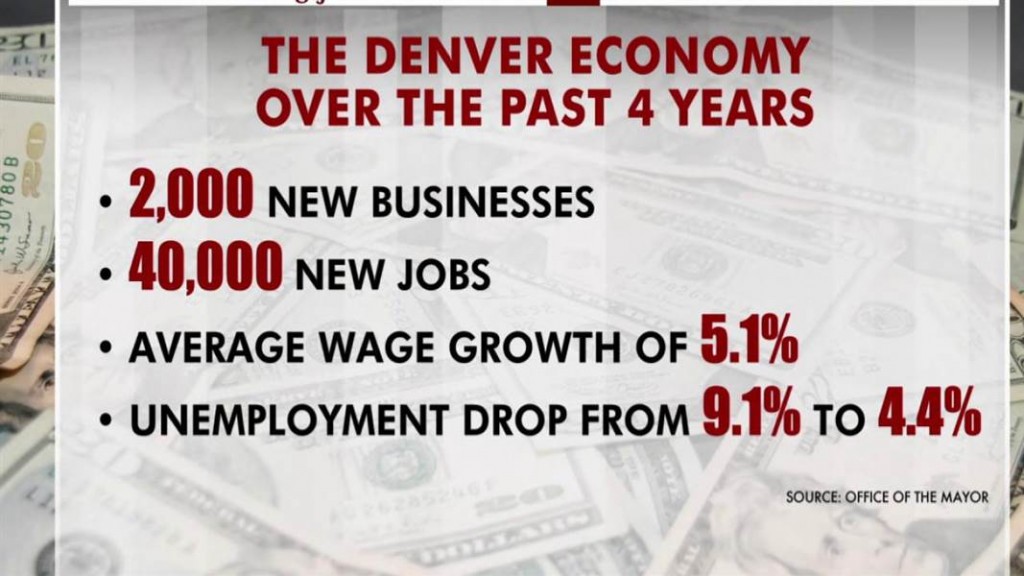 In the mean time, Mesa County families continue to scrape by using food stamps, homeless shelters, the Salvation Army, secondhand stores, food banks and charitable organizations that try to alleviate hunger, like KidsAid, while low-cost, practically-guaranteed effective, obvious new opportunities for economic expansion continue to be completely ignored.
Since recreational marijuana was legalized in Colorado in 2012, the new marijuana economy has generated tens of thousands of new high-paying jobs around the state, mostly in mountain towns and on the front range. But not here, because local leaders have banned marijuana-related activity in our area. New marijuana businesses employ tens of thousands of Coloradans as growers, security system installers, lab techs, scientists, agricultural and nursery experts, trimmers and tenders, compliance and quality inspectors, hydroponic equipment sales and experts, agricultural-related sales, accountants, lawyers, blown glass artists, industrial and retail construction companies to build greenhouses and retail stores and specialized distribution systems. While western slope warehouses sit empty, there isn't enough commercial warehouse space to handle all the new business from the new marijuana economy on the front range. Denver property values are soaring, new houses, condos and shopping malls are being built, while property values in Mesa County are flat or diminishing. The front range's growth from the new marijuana economy has been so spectacular, television networks are making TV documentaries out of it, drawing more people and investment into the state
But not in Mesa County.
Opportunities to Put Grand Junction on More Maps Passed up
Western slope elected officials also flushed a wonderful opportunity to add Grand Junction to national park maps several years ago after they ditched a massive effort that gained tremendous public, private and business consensus to change the Colorado National Monument into a national park. Keeping the park listed as a national monument keeps tourists driving around Grand Junction looking for a statue or plaque instead of the stunning 28,000 acre area of canyons and stone monoliths that the Monument really is. How many tourists simply stay on I-70 because they think the "monument" is just another statue somewhere? As a national park, the Colorado National Monument could be a much bigger natural tourist attraction. A change of name would be all it would take to give tourists a better idea of what the Colorado National Monument really is. Similarly, tourists don't know what a "Mcinnis Canyon" is, or why it might be something special to see, because they don't know what a "McInnis" is. But they would certainly get a much clearer idea of the spectacular scenery they'd encounter if they saw "Colorado Canyons National Conservation Area" on the map instead of "McInnis Canyons National Conservation Area." If only the more descriptive name referring to the area's natural features could be restored to western slope maps as well, it could increase the number of people coming to Grand Junction to enjoy more of our outdoor amenities. Changing the names of these areas would only cost a few bucks, and could bring more notoriety and tourist dollars to the area. A cheap and easy fix if there ever was one.
Add a World Class Outdoor Recreational Amenity in Almost Nothing Flat
Opening up the Grand Valley's stunning irrigation canal maintenance banks to non-motorized public recreation would create some of the most fantastically beautiful and accessible strolling, walking, running and mountain biking paths in the U.S. The irrigation canal system and its banks were built by the U.S. government Bureau of Reclamation in the early 1900s as a massive project to help bring settlers to the area by irrigating what would otherwise be arid desert land in the Grand Valley. The canal system criss-crosses the valley from north to south and east to west, and its maintenance banks are a ready-made system of dirt and gravel roadways paralleling some of the most scenic waterways in the western U.S. They run all the way from the spectacular fruit and wine byways in Palisade and East Orchard Mesa, to the beautiful paved riverfront path along the Colorado, from Palisade to the Loma boat put-in. Open a few gates, put in a few gravel parking areas and signage and bingo! The Grand Valley would have a star attraction that would get bicycles off the streets, provide motorless ways to criss-cross the valley, contribute to outdoor recreation and public health and boost tourism. It would also draw outdoor recreationalists who would come and stay in area hotels, dine at area restaurants and shop at local stores. There are already state laws in place protecting private landowners along the banks from liability. More of an effort needs to be made to create this fantastic amenity that lies literally at our feet.
There is SO much waiting to happen in Mesa County, and it has all been nixed for so long. It's getting painful to see so many obvious ideas for turning Grand Junction into a destination city shunned, dismissed and ignored as impossible by our same old last-century "leaders."
Until we overhaul and re-stock the Grand Junction Chamber of Commerce, Grand Junction Economic Partnership, G.J. City Council and Mesa County Commission and other powerful boards and commissions with an entirely new slate of fresh,open-minded, creative and forward-looking thinkers who really have residents best interests at heart, our area will stay in the same economic death spiral we've been in for decades. But keep the same old people in the same positions of power with their same comfortable salaries and solid job security, and we won't see any new ideas around here in our lifetimes. We'll keep relying on things like uranium, oil and gas, fracking, creation of more hazardous waste dumps, coal mining and other doomed, last-century industries until Mesa County residents finally decide it's time for that nonsense to end.
Nevertheless, we owe thanks to Greg Ruland for an excellent article about the continuing problem of Mesa County's stagnant economy, if not for exploring more ideas about how to improve it.