After David Litsheim, owner of Seeds of Revolution at 241 Grand Ave., started reading growing numbers of first-hand accounts on social media of racist assaults and bullying after the election, he wanted to find a way to address the problem. With help from Bryan Wade, Litsheim designed a highly visible T-shirt that will serve as a symbol telling people "If you are being intimidated or fear for your safety, come to this person because they are safe."
The campaign mimics a similar campaign that sprang up in the United Kingdom after Donald Trump's election. Brits have started wearing safety pins on their lapels to symbolize anti-bigotry, anti-violence and safety.
Litsheim doesn't think safety pins are visible enough to people who may feel they are in immediate danger, though, which he is concerned could be the case with the growing number of attacks being reported.
The shirts will be printed locally and will be available from Litsheim directly. He plans to charge around $10 each for the shirts, and will put 100% of profits towards local human rights and anti-violence groups. Marketing to promote the shirts will be done through social media.
Overt Displays of Racism in the U.S. After Trump's Election
Stories of racist harassment and attacks started mounting in the U.S. immediately after Donald Trump's election, particularly in schools across the U.S. Oregon reports schools there have been trying to cope with multiple flareups of racist bullying and attacks by holding special assemblies and suspending students.
A Muslim engineering student at the University of New Mexico reported a man attempted to pull off her hijab while she was studying.
Someone scrawled graffiti featuring a swastika and the words "Make America White Again" on a softball field dugout in Wellsville, New York on November 9, right after the election, and Texas State University police are trying to find out who has been posting threatening fliers around campus that say, "Now that our man Trump is elected and Republicans own both the Senate and the House — time to organize tar and feather VIGILANTE SQUADS and go arrest and torture those deviant university leaders spouting off all this diversity garbage."
Another person found note found on a car in North Carolina that said "Can't wait until your 'marriage' is overturned by a real president. Gay families burn in hell #Trump2016 #Repent #GodBless."
An effigy of a black man was hanged above the entrance to a coffee shop in Tuscaloosa, Alabama. The news station there reported on November 10 that it has since been removed.
People believe these displays of racism and many more occurring across the U.S. are a backlash by Americans who have suppressed their racial hatred because it was considered politically incorrect, or disrespectful, for years. In the wake of Trump's election, though, some feel it is now safer to openly display their racist views.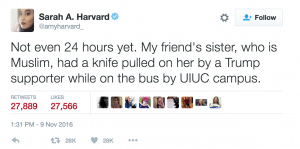 Racists and bigots might also have been encouraged by the fact that Donald Trump's candidacy was endorsed by the white supremacy group, the Ku Klux Klan, in their official newspaper, called "The Crusader."
Also, the Huffington Post last February compiled a list of 13 instances in which Trump had by that point already openly displayed racist attitudes during his campaign.
Donald Trump's presidential win has people frightened not just across the U.S., but across the globe.
Let's hope the spread of simple symbols of inclusiveness, openness and safety, like T-shirts and safety pins, can help pull America back from the ugly presidential campaign Trump wreaked on our country.
If you'd like a "Protector of Peace, Ally to All" shirt, call or text Litsheim directly at 970-201-8752.