Roy Moore, the Alabama Republican senatorial candidate accused of sexual predation, brings thoughts right back here to Grand Junction, because Moore and Grand Junction have two big things in common.
They are 1) the Ten Commandments, and 2) an eagerness to defy U.S. law.
Moore was twice thrown out of his job as Chief Justice for the state of Alabama for defying U.S. law. After the Supreme Court's 2015 landmark ruling legalizing gay marriage, Moore ordered the state's probate court judges not to issue marriage licenses for same-sex couples. A commission charged him with violating federal judicial orders and kicked him off the court in 2016. That was the second time Moore was ejected for violating the law.
The first time Moore got the boot was in 2003, after he refused to remove a 5,280-pound granite Ten Commandments monument from the rotunda of Alabama's state Judicial Building. Moore had ordered the monument placed there himself. In 2003, a federal district court ruled that having the monument on government property blatantly violated the establishment clause of the U.S. Constitution, which prohibits government from endorsing any religion. A federal appellate court affirmed the ruling, clearing up any lingering doubts about whether a Ten Commandments tablet on government property violates U.S. law.
The Court ordered Moore to remove the monument, but he refused, stating
"As chief justice of the State of Alabama, I have no intention of removing the monument of the Ten Commandments and the moral foundation of our law. To do so would, in effect, result in the disestablishment of our system of justice in this state."
Grand Junction refuses to remove its Ten Commandments tablet, too
In 2001, Grand Junction residents sued the City of Grand Junction  (pdf) asking it to remove the Ten Commandments tablet from City Hall's lawn because it was an impermissible endorsement of religion.
Five out of seven Grand Junction City Councilors thought, like Roy Moore, that they should fight for the tablet to remain on City Hall property because they were Christian, most City residents were Christian and so Christianity obviously reigned supreme in town, and that's all that mattered.  But that's not how our Constitution works, and Council willingly ignored that fact. In the United States, federal law says government at any level can not endorse any religion, no matter who is in the majority in it's jurisdiction.
Just like Roy Moore, Grand Junction City Council sought to defy the Constitution and get away with it. The City spent $64,000 of taxpayer money to try to disguise the tablet's message of religious exclusivity by putting it next to the Bill of Rights and the Mayflower compact. In so doing, the City sent a message to the public that it's okay to violate the law if you have enough money to do it and think your own personal beliefs supersede the law.
It's a disgraceful message, and not what America or our town are about.
Grand Junction's effort to keep the Ten Commandments on government property  was spearheaded by our own home-grown religious moralizer at the time, City Councilman Reford Theobold, who felt so strongly about his morality that he broadcasted it by wearing a necktie with the Ten Commandments on it.
Theobold was arrested in 2015 for shoplifting maps and Big Hunk candy bars from Cabela's at Mesa Mall.
So much for boastful religious morality, and at least the 8th commandment, "Thou shalt not steal."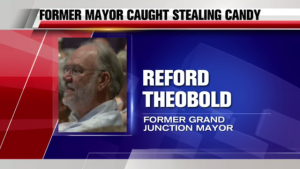 Maybe after pulling off his Constitutional violation in 2001 in front of the entire town, Theobold felt he could get away with violating even more laws. After all, that was the message the City had sent. Theobold just took it to heart like any good City resident would.
It's all a shameful embarrassment and speaks poorly of our town and our elected leaders' integrity.
Roy Moore is a disgrace, and so is Reford Theobold. But what are we going to do to fix it?
Some Christian evangelicals are now distancing themselves from Roy Moore by pointing out his erroneous interpretation of Christianity. The Atlantic magazine wrote that "Christian support for Roy Moore looks like hypocrisy to the outside world."  Reverend Laughton Hicks of the Tabernacle Baptist Church in Birmingham, Alabama said November 16 that Moore is "seriously infected with … [a] false Christian religious virus, as are most white males in Alabama."
In 2001, Grand Junction's City Council was obviously infected with the same "false Christian religious virus" that currently infects Roy Moore and those who still believe he is fit for office. Moore was wrong to keep the Ten Commandments tablet on public property and lost his job because of it. The only G.J. city council member who urged the City to obey the Constitution in 2001 and remove the Ten Commandments was Gene Kinsey. In return, Kinsey was voted off council in the following election. Kinsey said later he never expected to stay on Council for a long time anyway, and while he personally disliked the idea of having to move the tablet, he knew the City legally needed to move it and it was the right thing to do.
Today, Mr. Kinsey has moved away, but the Ten Commandments tablet still sits in front of City Hall, as a daily reminder that the City of Grand Junction embraced Christian religious superiority in 2001, and continues to do so in 2017.