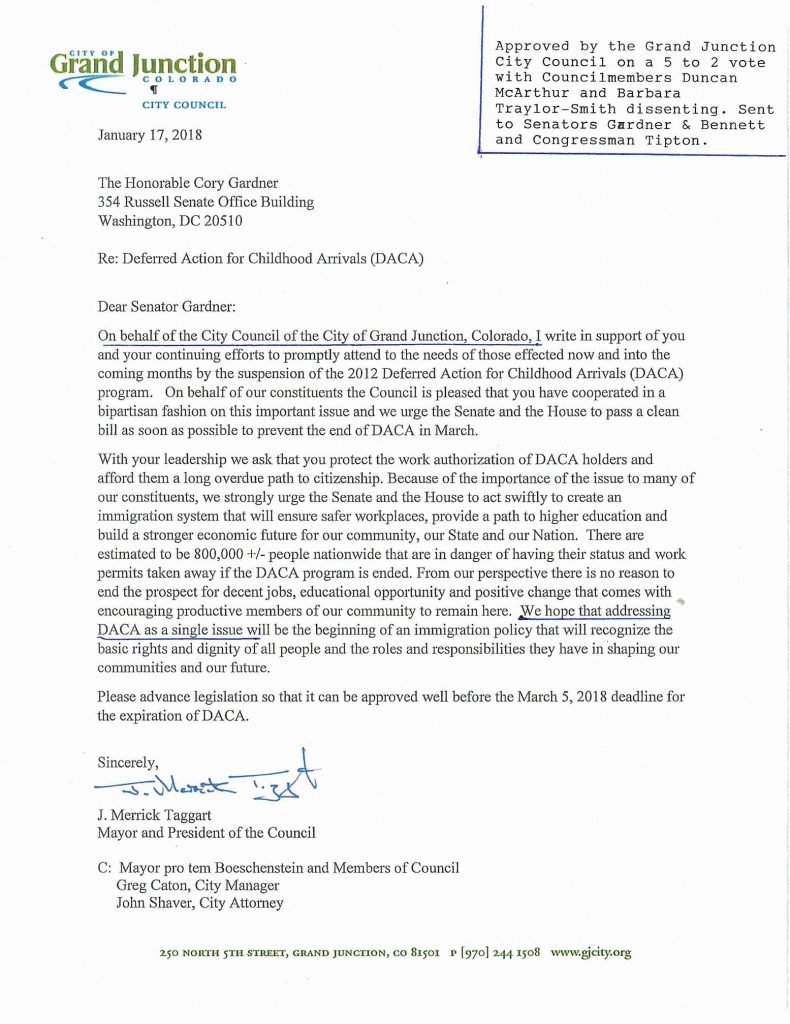 On January 17, 2018, the Grand Junction City Council sent an official letter (above) to Senators Cory Gardner, Michael Bennet and House Representative Scott Tipton urging the House and Senate to pass "a clean bill as soon as possible to prevent the end of DACA [Deferred Action for Childhood Arrivals] in March."
The letter was signed by Mayor J. Merrick ("Rick") Taggart. City Council approved it on a 5-2 vote. Councilmembers Duncan McArthur and Barbara Traylor-Smith voted against it.
DACA is the Obama-era program that allows people brought to the country illegally as children to obtain work permits, attend school and stay in the country legally.
The letter states in part,
"…[We] ask that you protect the work authorization of DACA holders and afford them a long overdue path to citizenship. Because of the importance to the issue to many of our constituents we storngly urge the Senate and the House to act swiftely to create an immigration system that will ensure safer workplaces, provide a path to higher education and build a stronger economic future for our community, our state and our nation. …From our perspective, there is no reason to end the prospect for decent jobs, educational opportunity and positive change that comes with encouraging productive members of our community to remain here. We hope that addressing DACA as a single issue will be the beginning of an immigration policy that will recognize the basic rights and dignity of all people and the roles and responsibilities they have in shaping our communities and our future.

Please advance legislation so that it can be approved well before the March 5, 2018 deadline for the expiration of DACA."
It was a compassionate move by Council and a humanitarian recognition of the value and importance of immigrants in our community.
Plenty of Grand Junction citizens don't see it that way, though.
Irrational fear and loathing of immigrants in Grand Junction: "It's us vs. them!"
A copy of the letter posted in a local Facebook group page drew a stunning slew of angry comments, and a few compassionate comments, before the page admin shut down the conversation.
One Grand Junction resident charged without providing a basis for the claim that DACA will "cost taxpayers millions of dollars." Some writers stated their beliefs, without providing information to substantiate them, that accepting  DACA recipients into our community would force us to "sacrifice the needs of our veterans and seniors." They asserted without proof that DACA kids do not pay taxes, that they burn American flags, are "flipping us off," are "pushing the Mexican flag in our faces" and that DACA is a matter of "them over our own citizens." One person said many DACA recipients are "America-hating thugs," adding some are also good. Former city council member Laura Luke, fanning the flames of hatred against DACA recipients, wrote that DACA kids "SUCK resources from your and your families." People expressed tremendous anger at city council for sending the letter.
A compassionate citizen commented that "These are all good people who have grown up as Americans and they don't know any other country. My humanity says they belong here no matter how they got here." Another wrote, "They [DACA recipients] were forced here by their parents and people need to stop blaming these people who were children. The majority of dreamers deserve to stay. They work and go to school in an effort to be productive members of society, all the while they receive zero benefits…"
DACA's Steep Requirements
Successful DACA recipients had to have fulfilled a lot of requirements. They must have resided in the U.S. since June 15, 2007. They have to show financial records, employment and military records, medical records and school records including transcripts and report cards showing they entered the U.S. before they were 16 years of age. They must currently be in school, or have graduated or obtained a certificate of completion from high school, or have been honorably discharged from the U.S. Armed Forces. They must not have been convicted of any crimes. They had to pay filing fees totaling about $700.
These requirements pretty much guarantee they have already been productive members of society in one way or another, and if allowed to pursue their lives here, they will continue on the same path.
City Council did the right thing
The cascade of mean comments on Facebook show the Trump administration has successfully pushed mean, anti-immigrant narratives to the forefront across the U.S., and even into our own community, which we like to believe consisted mostly of kind-hearted people. But  Trump has been portraying immigrants as drug dealers, rapists, terrorists and drains upon the system. These narratives are untrue, and the type of fear and loathing Trump is generating is unfounded. Nevertheless, many Grand Junction-area residents have swallowed that hateful narrative and are now spewing it back.
While immigrants make up about 13 percent of the American work force, they contribute 15 percent of the country's economic output. Immigrants also make up much of the backbone of American innovation. Apple Computers, for example, was co-founded by Steve Jobs, whose biological father was a Syrian refugee. Google's co-founder, Sergey Brin, was born in Moscow. All six of America's 2016 Nobel Prize winners are immigrants. In fact, 40% of Fortune 500 companies were founded by either immigrants or the children of immigrants, according to the Atlantic. Even the conservative CATO Institute concludes from research that immigrants are less likely to commit crimes than native-born citizens. And even when undocumented, unauthorized immigrants still pay a significant amount taxes because, like all American citizens, they pay property taxes on their homes or on apartments they own or rent, and they pay sales taxes for purchases they make.
City Council deserves thanks for sending the letter. Five of them did not fall prey to the irrational, xenophobic narrative Trump has been pushing about our immigrant fellow residents, and five of them showed the City of Grand Junction values all of its residents and their contributions.
The other two members of Council sadly failed this important test of their humanity.
---
Related post: Grand Junction's Growing Hate Community