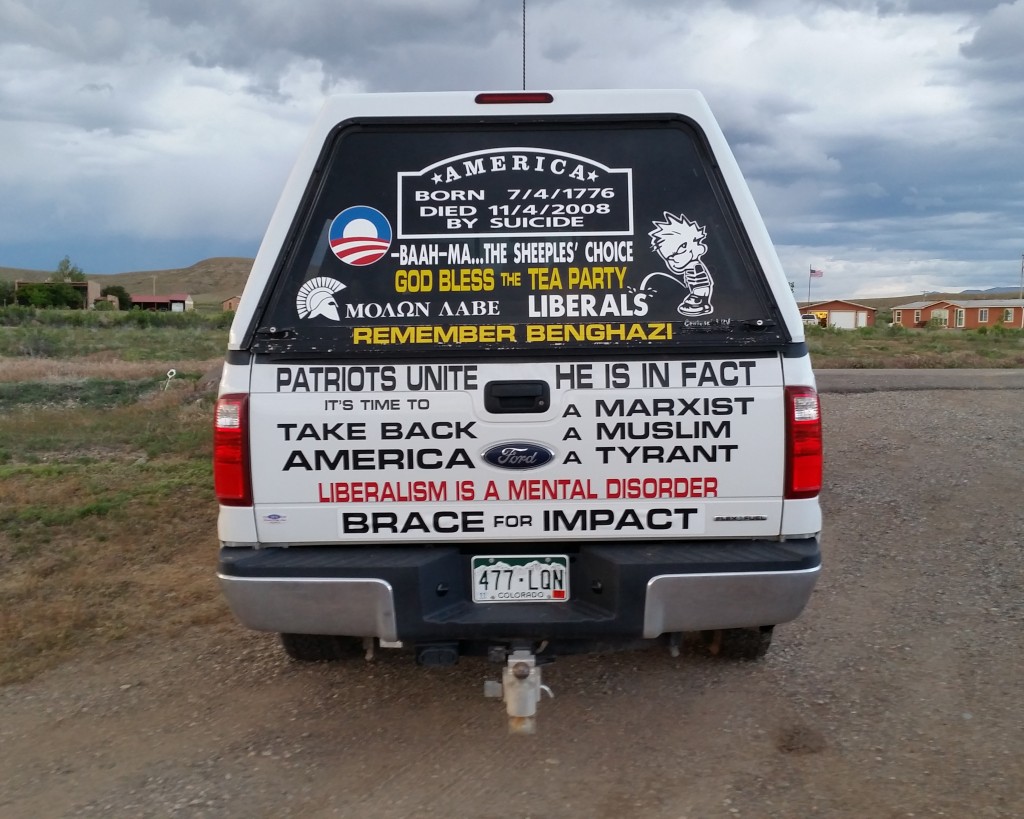 As the feds mull hate crime charges against Dylann Roof, the shooter in the June 17 massacre at a historic black South Carolina church, the presence of hatred, bigotry and intolerance is growing more evident in and around Grand Junction every day, and it's not a comforting sight.
Remember this hate-filled, wing-nut truck spotted in Whitewater a few weeks ago?
The truck belongs to a local guy named "Marc" who operates a business that manufactures fake fiberglass rocks sized and shaped specifically to hide an arsenal of firearms. Marc designed the rocks to hide rifles, in particular an M4 carbine semi-automatic rifle, and according to his e-commerce website, "a butt load of ammunition." Marc's fake rocks come with a pocket-sized copy of the U.S. Constitution, and they sell for $925 each. Marc also makes fake, hollowed-out tree stumps designed to hide small arms, like pistols.
The front page of Marc's e-commerce website bears a threatening "WARNING" to all potential customers. He writes,
Are a liberal or in anyway support the willful destruction of America by this [Obama] regime or…
Refuse to recognize that this "shining city on the hill" was founded on Christian principles or…
Regard English as your "second language" and are content to let it remain as such…
DO NOT EVEN CONSIDER PURCHASING MY PRODUCT! [MY PRODUCTS] ARE HANDCRAFTED BY PATRIOTS FOR PATRIOTS!
So right up front as part of his business plan, Marc parades his paranoia and intolerance of people with differing political opinions, religions and nationalities.  Below is a photo taken from Marc's fake rock website, showing Marc and a friend, armed to the teeth with powerful weapons, posing along side the truck he has splattered with paranoid messages.
What's really troubling is that Marc is not an anomaly in the Grand Junction area. He is one of a growing number of Mesa County business owners who are "out" about the hatred and disgust they harbor towards area residents who are different from them. They revile, condemn and insult ethnic minorities, political progressives, women, people of other nationalities and religions, and people of no religion — in short, anyone who differs from them in their beliefs, physical appearance or cultural background.
Mesa County Business Owners Parade Intolerance
Business owner Paul Liebe, owner of Nitelife Billiards at 2882 North Ave., is another example of business owners who are willing to openly display this kind of extremism. Liebe has said publicly that he believes District 51 schools are teaching Islam to children, that President Obama deserves the death penalty for treason, that homosexuals are carrying out a "War on Morality," and that the TV show "Glee" promotes teenage sodomy. Liebe didn't think twice about calling a local woman with whom he disagrees a "cunt" on his public Facebook page, and just like Marc, on his public Facebook page Liebe promotes the use and open carrying of firearms.
Another example of extremism and bigotry among Grand Junction business owners is former Mesa County Sheriff candidate Mike Harlow, who in a July 5, 2014 Facebook post titled "Attention Useless Eaters," likened the thousands of refugee children fleeing central America for the U.S. to cockroaches. Harlow wrote,
"The overweight kids from the banana belt are your enemies. Not only should you quit tasking your brains trying to help them but you need to disallow them safe haven in your towns or cities. They are in a few cases, babies but they are baby cock roaches."
Harlow publicly called poor people "parasites" and Japan and Germany "third world toilets." Harlow's business is making leather gun holsters. Among the models he makes is a special holster designed to be concealed in a woman's bra. Of this model, Harlow wrote, "Gals stuff bras with all sorts of gear outside the design parameters. Cigarettes, combs, decks of cards, dice, switchblade knives and crack cocaine are just some of the items I have found in bras. So why not a gun? If you're pretty, I also offer free fittings."
Grand Junction Area Chamber of Commerce's contribution to local hate and intolerance
Even Diane Schwenke, President and public face of the Grand Junction Area Chamber of Commerce (which claims to be the "voice of business" in the community) felt comfortable enough in May, 2013, to parade her personal intolerance of differing religious beliefs when she posted an offensive anti-atheist joke on her personal Facebook page, which clearly stated her affiliation with the G.J. Chamber. Schwenke wrote that the crude joke was "just too good not to share." This should serve as warning to business owners to stay away from the G.J. Chamber, unless their business model includes publicly alienating potential customers by insult and intimidation.
The Southern Poverty Law Center (SPLC) tracks the growth of extremist and hate groups in the U.S., and their leaders. SPLC groups them by ideology: anti-immigrant, anti-LGBT, anti-Muslim, the Patriot Movement, the Sovereign Citizens Movement. SPLC also tracks incidents of right-wing terrorism. SPLC tracks the growth of bigotry, extremism and right wing domestic terrorism, and from what we're seeing right here on the western slope, these trends certainly need counteracting. The first step is to talk about it, and that's what we're doing here.
Silence from local elected officials
Western slope political leaders, including Grand Junction City Council, the Mesa County Commissioners and our federal elected representatives, need to take seriously the bigotry, hate speech and intolerance that is increasingly on display in our area, and in particular that it is occurring alongside the promotion of violence and brandishing of firearms. Our leaders need to roundly condemn such ideology, particularly when it comes from local business owners and their prominent associated mainstream groups, like the Grand Junction Area Chamber of Commerce.
But we haven't heard any words of condemnation from any of these officials, have we?