Update 2/3/2022: Paul Liebe reportedly died on January 1, 2022 at the age of 68 from Covid-19. 
Paul Liebe is the owner of NiteLife Billiards at 2882 North Ave. in Grand Junction. "Liebe" means "love" in German, but unfortunately Mr. Liebe does not project a loving front to many area citizens. His business' slogan is "We Deliver Family Fun," but Mr. Liebe is far from family-friendly. R-rated is more like it, at a minimum.
Liebe, a gun proponent who bills himself as a "public figure" on his Facebook page, recently made headlines for selling "open carry" T-shirts printed with a realistic-looking handgun in a holster. The shirts come with a dire warning letting people know that actually wearing the shirt can lead to death if the wearer encounters police and they mistakenly think you are wearing a real gun. In short, don't put these shirts on your kids — they aren't  family-friendly, or friendly in any way at all.
Liebe's personal attitudes are far from family-friendly, too, and so is his language. On February 13 he posted on his publicly-accessible Facebook page: "If you don't like what I post, get the FUCK OFF MY PAGES," and "…I don't give a shit if your FEELINGS get hurt."
Yikes.
Other posts show Liebe thinks public schools are teaching Islam to children, that President Obama deserves the death penalty for treason, that homosexuals are carrying on a "War on Morality" and the TV show "Glee" promotes teenage sodomy.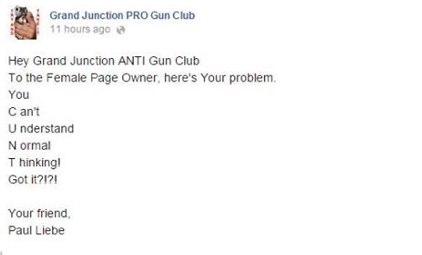 Another Facebook post reveals Liebe's misogynistic bent. He wrote to a female administrator of another Facebook page,
"To the Female Page Owner, here's Your problem.

You

C  an't

U  understand

N  ormal

T  hinking

Got it?!?!

Your friend,

Paul Liebe
In fact, Liebe's posts were foul enough to earn him a 30 day block from FaceBook in 2013.
All in all, not too family-friendly.
So If you're looking to purchase billiard tables, bar stools or other similar items, you may want to factor the above information about Paul Liebe into your decision about which business to patronize. Maybe there's a similar business in the area whose owner is a tad less bigoted, foul-mouthed, misogynistic and insulting, and that is truly family-friendly.