The Grand Valley Business Times (GVBT) has long been a source of business news in Mesa County, usually focusing on helpful items like what new businesses are moving in, the newest  soups at Zoup, and which authors will be appearing at the downtown bookstores. In his latest issue, though, the paper's owner, Craig Hall, used his editorial column to denigrate and insult Democratic and progressive business owners in the valley, and criticize women who seek to control their own reproductive destiny.
In a rambling, silly and hard-to-follow editorial in the mid-July issue titled "From one constitutional crisis to the next, it's all the left has," Hall, without providing any references, blames today's Democratic Party for slavery, segregation and Jim Crow laws. He faults Democrats for making an effort to address the health insurance crisis by making sure people with pre-existing medical conditions can get and keep health insurance; he faults Democrats for providing subsidies to people who can't afford health insurance, for letting parents keep their kids on their insurance policies until they are 26 years old, and for making sure all insurance policies cover bare minimum necessities like preventive care and annual checkups. All these provisions together are otherwise known as Obamacare, a popular and successful program on which millions of people depend. The truth is, millions of Americans wouldn't have any health insurance coverage at all if Democrats hadn't put Obamacare into effect.
Hall admits he knows "absolutely nothing about [Trump Supreme Court nominee] Brett Kavanaugh or any of his decisions over his career," but criticizes people who took the time to become familiar with Mr. Kavanaugh's long track record in the courts, analyze it and  found fault with it.
Hall is of course entitled to his opinion no matter how divisive it is to the community, and he can certainly use his own paper to denigrate women, Democratic Grand Valley business owners, people on the progressive left or anyone else if he likes. But from what we've seen lately, with the historic turnouts in Grand Junction for the Women's Marches, Science Marches, Tax Marches and pro-immigrant rallies, the progressive left is a fast-growing segment of the population in our area, and we have a right to weigh in as well.
Vote with your advertising and consumer dollars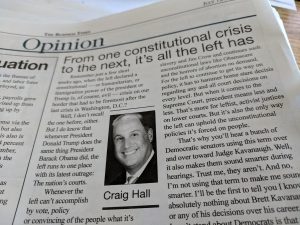 The
Business Times'
editorial was brought to my attention by a local businessman who  had stewed on it for two days. He pointed out how insulting it was and, fuming,  said, 
"I'm literally, as we write, having an ad designed for the Business Times for a new ad campaign — guess that isn't going to happen now!" 
This person is a registered Democrat who said he also plans to "stop at some of [the Business Times'] big advertisers next week and drop off a highlighted copy of the column with some of the attached signs. [See above.] If a company advertises in the Business Times," he said, "they must support hating Democrats, too. I'm going to invite these businesses to display these signs at their entrances so we don't have to go through the humiliation of working with companies that discriminate against progressive thinkers."
Below is a list of advertisers in the Grand Valley Business Times, in case you are one and want to pull your advertising, or if you are a registered Democrat or progressive voter who would rather not patronize businesses that agree that fomenting hatred of local people on the progressive left is good business:
LaVonne Gorsuch Insurance Agency, Inc. State Farm
The Law Office of Brown & Brown, P.C.
Bank of Colorado
Colorado Land Advisor, Ltd.
Brooke Seeley, Sr. Loan Originator, Cherry Creek Mortgage Company
Visiting Angels Private Duty Home Care
All Metals Welding and Fabrication Company
St. Mary's Medical Center
Wabi-Sabi Training FAcility
Marcus Straub, Life is Great Coaching
Partners
Sean Brumelle, Agent, State Farm Insurance
Eric Payne and Kvin Brooks, Venture Advocates Business Brokerage
Vectra Bank
Western Colorado Spine/Community Hospital (James Gebhardt, MD, Kirk Clifford, MD, Jason Bell, PA-C, Todd Ousley, PA-C)
The Commercial Company Commercial Sales, Leasing and Property Management
Business Incubator Center
Grand Junction Regional Airport
Colorado West Outdoor Advertising
The Foreign Aid
Canyon View Vineyard Church
Bank of the San Juans
Networks Unlimited
Amanda Potter, Keller Williams/Colorado West Realty
Penske Truck Rentals
Mickie Rogers, Lori Lee and Stephanie Smith, Grand Valley Home Loans
Office Outfitters and Planners, Inc.
Warehouse 25 Sixty Five Kitchen and Bar
ProSpace
Michael Daniels, Agent, American Family Insurance
Bryan Wiman, Brian Bray and Kyle Serrano, Bray Business Brokerage
Grand Mesa CPAs, LLC
Thin Air Digital Marketing
Bananas Fun Park
Terry Sweet, D.C., Grand Junction Chiropractic Center
Golfetail.com Golf Equipment
Court Appointed Special Advocates (CASA)
Hilltop Senior Living Communities (The Commons and The Fountains)
The Law Offices of Kain and Burke, P.C.
Mesa County Gold Leaf Phone Book
Alpine Bank
Oakley, Wanebo, Love, and Mendenhall at Keller Wealth Management (Financial Advisors Eric Oakley, Chuck Wanebo, Helen Love, Linda Mendenhall, Richard Keller and Josh Smith)