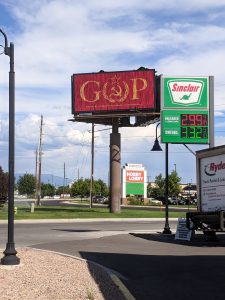 A billboard on I-70 B takes aim at the Republican Party (also known as the  "Grand Old Party" or GOP) which is quickly becoming "the party of Trump."
The billboard is in front of Rimrock Marketplace on I-70 B and draws attention to Republicans' alarming acceptance of President Trump cozying up to authoritarian dictators who disregard human rights.
The billboard will soon be moving to an even higher spot where it will be displayed to passers-by 100 percent of the time, instead of in 8-second increments rotating with 5-6 other ads. Stay tuned!
Indeed, political analysts agree that the GOP is undergoing a transformation that is turning it into the complete opposite of what it has stood for in the past.
As Mark Barabak wrote in the Los Angeles Times on June 13, "With his bulldozing personality, Trump has transformed the GOP from a party of anti-communist cold warriors to one that coos over North Korea's communist dictator, from a champion of free trade to an instigator of trade wars." And as  political analyst David Wasserman tweeted on June 12: Republicans who express skepticism of Trump "essentially have two choices: 1) retire or 2) lose your next primary."
Republicans may be keeping quiet about Trump, but Mesa County's progressive left isn't
Many area residents are flat-out worried about America under this highly divisive president. Outrage against Trump only grew after his performance in Helsinki, Finland, where he stood next to Russian President Vladimir Putin and openly contradicted his own intelligence agencies, only to reverse himself the next day, claiming he mixed up the words "would" and "wouldn't" in a statement he made on the world stage. The President's repeated statements in support of Putin and other murderous dictators, along with Republicans' failure to confront the President about it have caused many people to feel Republicans are complicit in helping Putin attain his goal of undermining American democracy.
Trump's chaotic style, hate-filled, attack-oriented political antics and head-spinning reversals are repulsing a growing number Mesa County residents who see flashing red danger signs in a U.S. President who denigrates his own law enforcement agencies and intelligence services, who calls the news media the "enemy of the people" whenever they report on his actions, who has emboldened white supremacists, lies compulsively, and heaps praise on the world's most reviled dictators while alienating America's longstanding allies.
The billboard expresses the point of view that the Republican Party has gone way too far over the line in embracing Trump's cozying up to murderous dictators, including Putin, who has murdered journalists and political opponents, and who carried out cyber attacks against our country (pdf) with the aim of undermining our elections. They are also worried at the way Trump's policies have stripped America of it's status as a world power.
In short, Mesa County's liberal, progressive residents have decided they are alarmed enough to speak up, and in a big way.
The billboard was designed by MadDogPac of Odenton, Maryland, which generously gave permission for it's use in Mesa County. The fine print on the board says "Paid for by informed citizens of Mesa County and Mad Dog Pac."
The board was originally scheduled to be up for a week, but has generated so much enthusiasm among the informed Mesa County citizens that contributions may extend that time.
---
For instructions on how to donate to keep the billboard(s) up, click "contact" on the blog menu bar.