Note: I first published this article in August of 2018, but given President Trump's recent racist statements toward four female freshmen members of Congress, it seems appropriate to re-post it. — AL, July 21, 2019
——————
Anyone on the western slope who has pointed out hatred, bigotry, unequal treatment or violations of people's constitutional or civil rights in our area has heard the phrase over and over: "If you don't like what's going on here, you can just leave."
That's what many western slope residents say to people who live here who aren't just like them, who may have moved here from somewhere else, or who disagree with them or assert their constitutional rights.
Here is the "If you don't like it, you can just get out" sentiment expressed by one Grand Junction resident to another on social media, along with a personal insult ("idiots like you") for good measure, a technique that helps the writer dehumanize her target: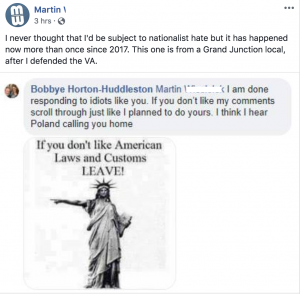 So what's so bad about saying "If you don't like it, then leave"?
Bobbye Horton-Huddleston's sentiment (above) is based on a fundamentally immoral principle: It tells people who are actively being oppressed or persecuted by others that it's their duty to leave, not the persecutor's duty to recognize or take action to stop the hurtful behavior.
The "you can leave" statement doesn't refute any of the arguments being made. Rather, it allows the speaker to dodge the real arguments and is also a tacit admission of guilt. The "if you don't like it, leave" sentiment also serves several additional rhetorical functions for the speaker: 1) It shuts down the discussion so the person who says it doesn't have to admit they are being immoral and hurting others; 2) It is a form of victim-blaming because it keeps the speaker from having to acknowledge the perpetrators' actions or the victims' pain; 3) Telling someone to "get out" because they don't agree with you also indicates a clear failure to recognize the problem at the heart of the discussion: Where people live isn't the problem. The problem is the people who live here who seek to violate others' rights.
Immorality on parade
This particular display of immorality has become so pervasive in our area that it is accepted as normal behavior, even among people who to represent themselves to the community as religious role models. Here is the "If you don't like it, leave!" sentiment expressed by none other than "Reverend" Robert Babcox, senior pastor of the Orchard Mesa Baptist Church: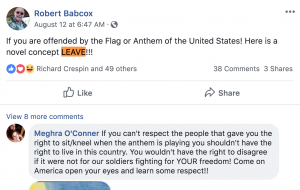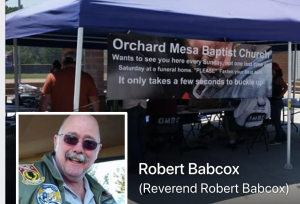 Saying "if you don't like it, you can get out" is the equivalent of telling the other person "Everything you told me is factually correct, but instead of acknowledging it, I'm going to distract from the real issue by shifting the burden of fixing the problem onto YOUR shoulders instead of mine."
In using the phrase, the speaker admits cruelty and injustices are being done, but feels it's acceptable and disavows any responsibility for correcting the shameful behavior. It's a last-ditch thing someone says when they realize they are losing a debate. 
Saying "if you don't like it, get out" in a discussion does more to point out the immorality and willful ignorance of the speaker than it does to move our area towards a more robust understanding of civil rights, and what the American ideal is really about.
In addition, nothing will change the fact that we ALL live here, and we should probably all learn to get along.