At election time we're always told the same old thing from wealthy business interests: "Ballot measure X is going to wreck our state! Ballot measure X will crush our businesses and cost hard working Coloradans thousands of jobs! Vote NO on Ballot Measure X!"
Now they're doing the same thing with Proposition 112.
Proposition 112 mandates that new oil and gas development, including fracking, be a minimum of 2,500 feet from occupied buildings, like homes, schools, hospitals, and other vulnerable areas, like playgrounds, sports fields, amphitheaters, public parks, drinking water sources, etc. Yes, the measure would only apply to new oil and gas development, not to existing well or fracking sites. Despite this, the drilling industry is screaming that it will result in a de facto "ban on drilling" throughout the state. This is far from true, especially since so many active wells currently exist, and because advances like directional drilling allow companies to drill many wells from one location.
It's not a lot to ask.
All Prop 112 seeks to do is have industrial activity kept a safe distance away from where people live, work, go to school, recuperate, recreate, get their drinking water, etc. It's done every day with other industries in cities and towns throughout Colorado through the use of zoning laws that keep residential areas away from industrial areas. It's nothing new, and there's no reason why the drilling industry should be exempt from this same type of separation to preserve public safety. Prop 112 is a common-sense measure designed to help keep the public away from common devastating drilling accidents, like fire, explosions and toxic spills.
One of the stimuli leading to Proposition 112 was the devastating  explosion in a subdivision in Firestone in April 17, 2017  that killed two Colorado residents in their home and sent others to the hospital. Since then, a slew of other oil field mishaps in 2018 alone have caused injuries and environmental damage all over the state, including explosions, fires and toxic spills into waterways. According to the Colorado Oil and Gas Commission (pdf), toxic spills from oil and gas activity more than doubled in the state between 1999 and 2013. All of this makes the need for Proposition 112 even more urgent, and since the state hasn't acted to preserve public health and safety from drilling mishaps, Colorado residents did it on their own through a ballot initiative. 
But the oil and gas industry front group "Protect Colorado" is spending millions to broadcast a landslide of TV and internet ads that throw the same old line at us: that Proposition 112 will "devastate Colorado," "wipe out thousands of jobs" and "devastate our economy for years to come."
"The sky is falling! The sky is falling!"
*Yawn.*
Here we go again.
These end-of-the-world predictions just never pan out.
Over and over, we've been handed the same panic-stricken, hyperventilating threats by big business interests that if voters approve some public safety measure that it will devastate our economy, lead to the loss of thousands of jobs, and ruin our lives. It's the same on the flip side: They also promise glorious fortune if we just vote for all the stuff they want us to vote for. Our local chamber of commerce consistently jumps onto both of those bogus bandwagons. But the predictions they make never come true.
In 2013, the Grand Junction Area Chamber of Commerce promised voters if they approved a ballot measure to rezone land by the Colorado River to light industrial to allow Brady Trucking to open a headquarters there, a slew of high-paying "jobs and trails" would come to Grand Junction.
Citizens listened to the chamber's BS and approved the re-zone, but the land still sits fallow and Brady Trucking never built anything there — no jobs, no trails, no nothing.
In 2016, Diane Schwenke, president of the Grand Junction Area Chamber once again implored us to vote against Amendment 70 to raise Colorado's minimum wage to $12/hour by 2020. In TV ads Schwenke very sincerely warned that the measure would devastate Colorado's economy and "cost 90,000 jobs." Schwenke's "90k jobs" figure came from Eric Fruits, an adjunct professor in Oregon, who worked out of his three bedroom home part time as an economic consultant and who was also a part-time Uber driver to supplement his income.
Voters defied the chamber and passed the minimum wage increase by a wide margin, and what happened?
It's been two years since the measure passed, there have been two incremental increases in the state's minimum wage so far, and guess what? Colorado is continuing to prosper. In it's September 21, 2018 issue, a Daily Sentinel headline touted "Colorado continues to prosper from economic boom." So far there has been no perceptible net loss of jobs from the minimum wage increase. Rather, it's been the opposite — Colorado's economy is booming.
The chamber's screams and threats of economic devastation and job loss were just more BS, just like the drilling industry's claims about Proposition 112.
We've been here so many times before.
In 2006, Big Business warned Coloradans if they passed a smoke-free workplace law at the ballot box it would put thousands of bars and restaurants out of business and cause economic devastation, job loss and desperate times. Restaurateurs and bar owners shivered in their boots, and tobacco industry-funded TV ads hurled predictions of mayhem, misfortune, destruction of the state, the whole nine yards, like we're seeing now from the drilling industry.
Citizens defied Big Business and passed the smoke-free law by a wide margin, and what happened?
Restaurants, bars, theaters and other public venues went 100% smoke-free and everyone loves it. Employees, employers, customers and patrons alike are happier and healthier, the economy is booming, people are going out more than ever and no one even thinks about smoking inside public places any more.  Colorado moved forward and life improved for everyone.
Again, the doom-and-gloom predictions from business didn't pan out.
Big Religion made similar horrific predictions in 2016 about Proposition 106, the End of Life Options Act. They predicted people would use the law to kill disabled family members, that family members would coerce other family members to die so they could collect on their estates, that people at the end of life would be too confused to decide to end their own lives. None of that has occurred, and last year 57 people were able to avoid unnecessary suffering at the end of their lives thanks to the law. They made terrible predictions about Amendment 64, too, the measure legalizing marijuana in Colorado which passed by a significant margin in 2012. It ended up contributing greatly to Colorado's economy with far less down side than scaremongers predicted, and made Colorado a leader in creating a legal infrastructure to sell recreational marijuana. Cities and towns across the state are realizing additional tax revenue from retail pot stores and using it to improve their sidewalks, sewer systems and other infrastructure.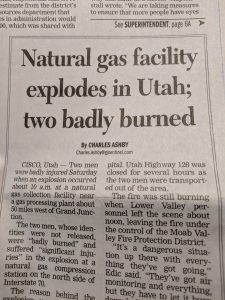 The wild predictions of disaster they said would happen from these measures just never materialized.
So don't believe "Protect Colorado's" BS now, because it's just another wealthy front group for oil and gas companies who don't care about your health or safety at all. That the only mandate guiding for-profit companies is that they must act solely to improve their own bottom lines and generate wealth for their shareholders. They do not concern themselves with improving public health and safety, just keeping costs down. These companies are spewing fear-based whining and trying to convince you not to take action to improve the safety of our communities and the health of our citizens.
Instead, believe your common sense and feel free to vote for ballot measures brought by actual Colorado residents to protect you and your family's safety and health.