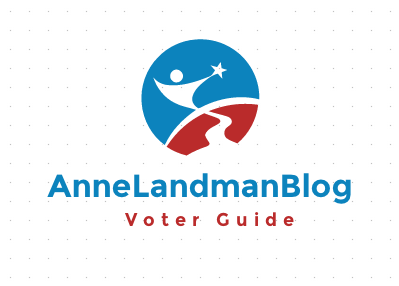 This guide lists AnneLandmanBlog's recommendations on how to vote in the 2018 Mid-term election. The conclusions were reached by researching the issues, attending public events to educate voters about the issues, assessing incumbents' records and candidates' backgrounds, affiliations and public statements, considering personal assessments of candidates from trusted sources, reading and evaluating the arguments for and against the ballot measures in state's "blue book," reading the evaluations in the blue book of judges and justices, and by researching front groups active in promoting or fighting ballot measures where applicable, including the sources of funding for these groups. Primary importance is given on improving health and safety, protecting the environment, increasing fairness for voters and consumers, providing benefits to public education and making elections more competitive in the state.
Caveat: Wherever possible this blog endorses candidates affiliated with the Democratic Party, because the Trump (Republican) Party has largely been accepting of the president's overt misogyny and racism, his promotion of assaulting journalists, backing of a Supreme Court nominee credibly accused of sexual assault, his policies against asylum seekers and refugees, siding with authoritarian rulers known for murdering people and violating human rights, the president's cyber-bullying of people and businesses on Twitter and other intolerable transgressions of American norms that are wholly unacceptable. Any candidate who endorses such behavior, whether through active agreement or through silence about them, is considered by this blog to be ineligible to hold public office.
All Republican candidates are running unopposed on this ballot at the county level, thus no recommendations are made for these races
Recommendations are made in order of appearance on local ballots:
FEDERAL OFFICES:
Representative to the 116th United States Congress, District 3:  Diane Mitsch Bush
STATE OFFICES:
Governor/Lieutenant Governor: Jared Polis/Dianne Primavera
Secretary of State: Jena Griswold
State Treasurer: Dave Young
Attorney General: Phil Weiser
Regent of the University of Colorado at Large: Lesley Smith
Regent of the University of Colorado Congressional District 3: Alvin Rivera
State Senator, District 7: Chris Kennedy
State Representative, District 55: Tanya Travis
State Representative, District 54: Thea Chase (Independent candidate)
COUNTY OFFICES:
All candidates for county offices are Republicans running unopposed. No recommendation is made for these offices.
JUDICIAL RETENTION QUESTIONS:
AnneLandmanBlog recommends voting "yes" to retain all judges and justices.
STATE-WIDE BALLOT MEASURES:
Amendment V (Constitutional), to lower the age requirement to run for the state legislature from 25 to 21: YES
Amendment W (Constitutional), to change the format of the statewide ballot with regard to judicial retention elections, to shorten it while assuring it remains understandable: YES
Amendment X (Constitutional), to change the definition of industrial hemp to the definition provided in federal law or state statute: YES  (This measure is backed by industrial help growers.)
Amendment Y (Constitutional), to take the duty of drawing congressional district maps away from partisan state legislatures and instead give it to a new Independent Legislative Redistricting Commission composed of an equal number of Democrats, Republicans and Independent voters, in order to prohibit maps from being drawn to dilute the influence of any racial or ethnic group or to advantage any one political party, and to provide for more competitive races throughout the state: YES
Amendment Z (Constitutional): A companion measure to Amendment Y that lays out rules for creating and implementing the new Independent Legislative Redistricting Commission called for in Amendment Y. It establishes a process for selecting commissioners, installs new requirements for transparency and ethics and creates the procedure for reviewing congressional maps. This measure, like Amendment Y, is aimed at limiting the role of partisan politics in the legislative redistricting process: YES
Amendment A (Constitutional): to prohibit slavery and involuntary servitude as punishment for a crime in all circumstances: YES
Amendment 73 (Constitutional): to increase taxes for individuals making over $150,000/year and increase the corporate tax rate from 4.63% to 6.0%, while also lowering the current assessment rate for residential property from 7.2 to 7.0% and lowering the non-residential property assessment rate of 29% to 24% to provide a dedicated stream of additional funding public preschool through 12th grade education: YES 
Amendment 74 (Constitutional): to require government to award private property owners "just compensation" whenever any government law or regulation is perceived to have reduced the market value of their property: NO (Note: This amendment was funded by oil and gas interests Extraction Oil and Gas, Encana, Anadarko (Anadarko alone contributed $6.9 million), Noble Energy and other oil and gas extraction companies. The measure is also backed by former Colorado legislator and convicted felon Douglas Bruce).
Amendment 75 (Constitutional): to allow candidates for state office to raise five times more in campaign contributions than they would normally be allowed to raise if any candidate in a primary or general election for state office puts more than one million dollars of his or her own money into his/her own campaign: YES
Proposition 109 (Statutory): Authorizing the sale of bonds to increase state debt by up to $3.5 billion to fund highway projects, with a repayment cost of $5.2 billion over 20 years: NO (This measure does not provide any dedicated source of funds for repayment, and instead lets legislators take funds for repayment from other areas of the state budget, like schools, public health, etc.)
Proposition 110 (Statutory): Increases the state's sales tax rate from 2.9% to 3.52% for 20 years and sends 45% of the extra revenue to the state and 40% to local governments for improvement of roads and transportation, sends 15% to fund multimodal transportation projects, and lets the state borrow up to $6 billion more for transportation projects while limiting the total repayment amount to $9.4 billion over 20 years: YES (This measure provides a dedicated source of funding to repair state and local roads, bridges and transportation infrastructure.)
Proposition 111 (Statutory): Amends state statutes to prohibit payday lenders from charging an annual percentage rate on loans over 36%: YES  (Note: In 2016, the average annual percentage rate charged on payday loans in Colorado was 129%)
Proposition 112 (Statutory): Requires any new gas and oil development to be located at least 2,500 feet away from occupied structures like homes, schools, hospitals or child care centers: YES (Note: This measure is aimed at reducing the health and safety hazards posed by oil and gas operations, and reducing exposure to toxic substances and excessive noise, dust and emissions created by oil and gas development).
COUNTY BALLOT MEASURE:
Ballot Issue 1A: State grant TABOR Exemptions — allows the County to keep state grant money and not have it count towards the TABOR (Tax Payer Bill of Rights) cap. (This measure is also known as "De-Brucing," but the county is limiting it to applying to state grant funds): YES
(Note: The argument against this measure is that it is unnecessary because state grant funds destined for non-profit organizations are not considered "revenue" and are thus not subject to the TABOR cap. The county does not keep such funds, it merely function as a "pass-through" agent who sends these funds on to the entity they are targeted for, like Mind Springs Health/ West Springs Hospital or other publicly beneficial projects of nonprofit organizations — but some de-Brucing is better than no de-Brucing at all, especially under this county commission. "De-Brucing" refers to the choice jurisdictions make to opt out of the provisions of the Taxpayer Bill of Rights, which was legislation drafted by former Colorado legislator, conservative activist and convicted felon Douglas Bruce, and put in place by the voters in 1992.)
CITY OF GRAND JUNCTION BALLOT MEASURE:
Referred Measure 2A: Lodging Tax Increase –  increases the City's lodging tax by an additional 3% to fund tourism marketing, help get more direct airline services to and from Grand Junction, and to promote and market sporting activities, events, competitions and exhibitions. (It is expected to raise $1.85 million in it's first year, 2019, if it passes.): YES