Upset citizens have been contacting the City of Grand Junction Parks and Recreation Department and the Mesa County Elections Bureau left and right to complain about the "Recall Polis" campaign violating laws by putting up tables and signage in places that require permitting or where it is prohibited by law.
In the photo above, the Recall Polis people had set up their operation at Spring Valley Park on Patterson Road, a public park. A reader sent the above photo and complained to the City about it, upon which G.J. Parks and Rec Department responded: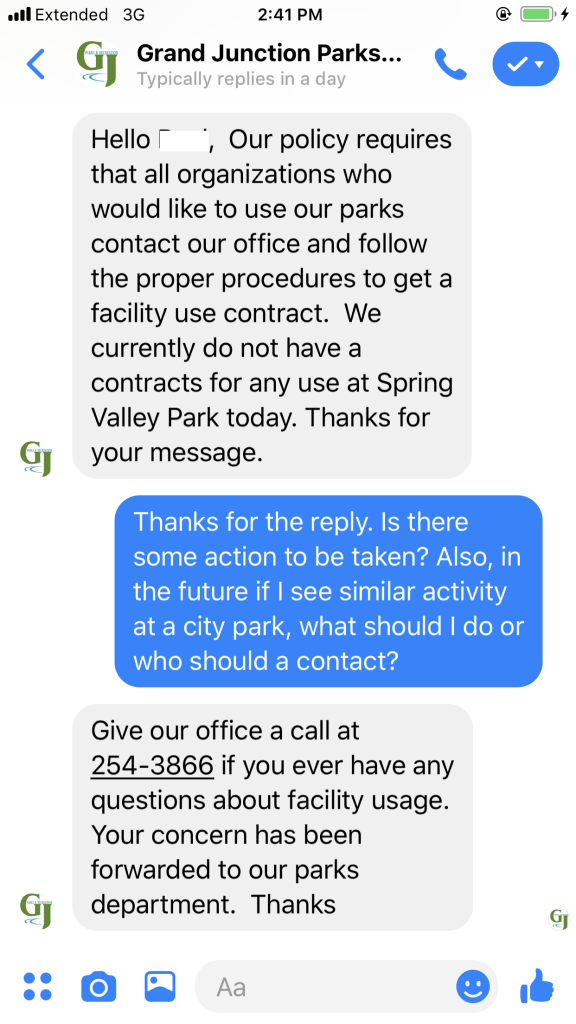 There were enough people upset by the Recall Polis people affixing their signs to the Mesa County Centralized Services Building that at their Monday, August 26 2019 meeting, the Mesa County Commissioners passed a Signage Resolution prohibiting the Polis Campaign and anyone else from taping their signage to county buildings.
The Resolution reads, in part:
WHEREAS, the public's right to free expression does not include posting or placing signage, stickers, placards or other forms of media on County owned or leased buildings without County authorization. NOW THEREFORE, BE IT RESOLVED BY THE BOARD OF COUNTY COMMISSIONERS OF MESA COUNTY, COLORADO THAT: 1. No person or entity may place or post signs, stickers, placards or other forms of media on County owned, leased or controlled buildings or facilities, or attach the same to the lawn or adjacent parking areas.
So Polis Campaign people, get your signs OFF of the county building immediately, please, and show you respect our laws by getting a permit from the City to gather signatures in public parks!