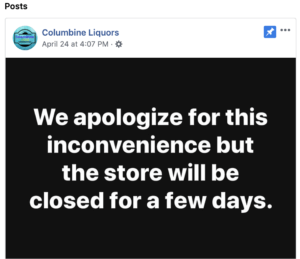 Columbine Liquors at 210 W. Third in Palisade was recently seized from former owner Bill Carlson, and as of April 27, 2020, the store is under new ownership by Thomas Lewis Goerke.
A liquor store employee answered a call to the store and when asked about the store's closure, said Bill Carlson "got the company seized from him" because he had "obtained the business illegally." The employee didn't know how Carlson had obtained the business. The store will reopen after the new owner obtains a liquor license. An application for the new license has been submitted.
Bill Carlson won a seat on Palisade's town Board of Trustees in the April 7, 2020 election. Palisade Town Administrator Janet Hawkinson said Carlson so far has not resigned from the seat.
Newly-elected trustees are scheduled to be sworn in at the Tuesday, April 28, 2020 meeting of the town Board of Trustees. Due to the Coronavirus pandemic, Trustees will be meeting virtually using ZOOM. The conference call in starts at 5:30 pm and the meeting: starts at 6:00 p.m. The meeting is open to the public. To join the Zoom meeting, on a computer click this link https://zoom.us/j/91229973341 and follow the instructions. Additional instructions for using Zoom for the meeting are on the third page of the meeting agenda packet.