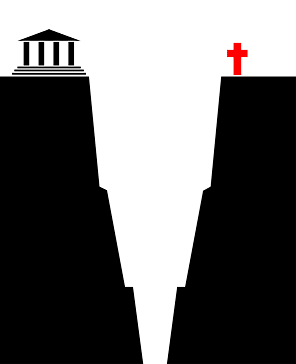 This is what we were afraid of when it became known that Mesa County was using churches as polling places.
When a local man went to the polling place in the Clifton Christian Church and mentioned he preferred that the county use non-religious locations as polling places, the poll worker pulled out the snark and told him he should "attend church on Sundays."
Government is strictly prohibited under the Establishment Clause of the First Amendment from promoting specific religious beliefs, like this poll worker did while she was representing County government.
The poll worker violated the voter's right to be free from religious coercion in a polling place. 
But we knew this would happen.
Would you like a dose of proselytizing with that vote?
A column in the October, 24, 2020 Daily Sentinel discussed how some voters are uncomfortable being forced to use religious sites to vote. In the column, a member of Western Colorado Atheists and Freethinkers (WCAF) warned that churches can take advantage of their status as polling places  — and the captive audiences of voters being forced to go there — by using the opportunity to line halls with religious promotional paraphernalia, placing donation boxes nearby, and making voters walk by religious iconography to get to voting booths. What WCAF didn't conceive of was that poll workers would be in cahoots, helping the churches proselytize.
The voter described the incident this way:
"When I walked into the Church, I was confronted by gospel quotes, from Matthew and other bible sections, which suggest that Christianity is the only true religion, and that punishment awaits those who do not believe.

I told the poll worker, Karen, who greeted me and gave me my clipboard, that I do not feel comfortable in a Church, and requested she pass along that I would like Mesa County to consider other polling places in the future, such as non denominational schools, or public facilities.  

Karen told me that I should attend Church on Sundays.

I said I did not want to attend Church, on Sundays or any other days, I am not Christian.  Churches make me feel uncomfortable.

She said she was sorry I didn't feel comfortable in Church, it was a nice place.  

She told me how Mesa County was lucky to get a nice Church to give them space for the elections, one with handicapped accessibility and enough space.  I did not feel like arguing with her that there were numerous more appropriate non denominational locations that were passed up, or that it seemed peculiar that the Church was one that our County leadership belonged to, or that these leaders were proponents of Christian politics."
Mesa County owns 61 taxpayer-funded properties throughout the County, including some that are conveniently located and appropriate for use as polling places, with adequate parking, handicap accessible features, etc., including the Clifton Community Center and Fruita Road and Bridge Department buildings.
The County should use them, and drop the churches-as-polling-places idea once and for all.