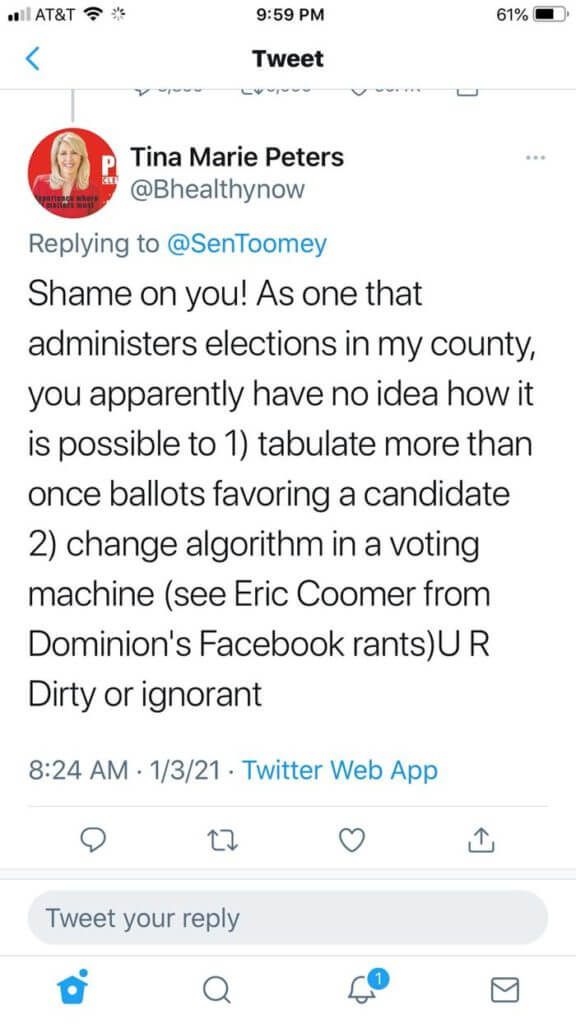 The Grand Junction Daily Sentinel reports today that Mesa County Clerk Tina Peters tweeted from her personal Twitter account on January 3, 2021 about just how unsafe and insecure local elections are. Peters wrote the Tweet "as the one that administers elections in my county." 
Peters boasted about how one can count ballots that favor a certain candidate more than once, or how it is possible to "change algorithm in a voting machine."
She wrote the Tweet as a reply to Senator Pat Toomey, a Republican from Pennsylvania, who has tweeted that the evidence is overwhelming that Biden won the November 3, 2020 presidential election. Toomey has also been sharply criticizing Republicans who are pretending that's not the case.
"U R Dirty or ignorant"
Peters wrote:
"Shame on you! As one that administers elections in my county, you apparently have no idea how it is possible to 1) tabulate more than once ballots favoring a candidate 2) change algorithm in a voting machine (see Eric Coomer from Dominion's Facebook rants) UR Dirty or ignorant" 
Eric Coomer, the security director for Colorado-based Dominion Voting Systems,  sued President Trump and right-wing media outlets for defamation after they spread conspiracy theories falsely accusing him of "rigging" the election in Biden's favor.
No evidence has emerged anywhere from any source showing the election was "rigged" in any way, or that there was any widespread fraud at all in the November 3 election.
Mesa County Clerk Tina Peters gained infamy after she lost 574 ballots from the 2019 general election. She never counted the ballots or let voters know if their ballots were among the 574 that were forgotten in a collection box until they were discovered months after the election. The Mesa County Republican Party dismissed Peters' mistake as "trivial."
Peters has since deleted the Tweet.