Colorado Mesa University (CMU) students currently being quarantined in Piñon Hall after being exposed to Covid-19, or who are currently sick with Covid, are telling their parents there is no one stationed in the dorm to help them, and that the school is not providing them with medical attention or even food.
Colorado Public Radio (CPR) published an article September 9 titled, "To vaccinate, or not to vaccinate. At Colorado Mesa University, that was the conversation," about CMU President John Marshall's hands-off approach to controlling the Coronavirus pandemic. Currently CMU does not require students to be vaccinated against Covid-19, or to use face coverings, and does not allow instructors to enforce mask-wearing in classrooms — a recipe to spread the Coronavirus, especially with the more communicable Delta variant widespread in Mesa County, and where, according to the Mesa County Public Health Department, only 25-29% of people between the ages of 19 and 29 are fully vaccinated against Covid-19.
Hands off approach applies for quarantined and sick students
After CPR posted the article on Facebook, the parent of a CMU freshman wrote the following comment about the situation his son is facing on campus. His son has been vaccinated, is currently very sick with a breakthrough Covid infection and quarantined in Piñon Hall: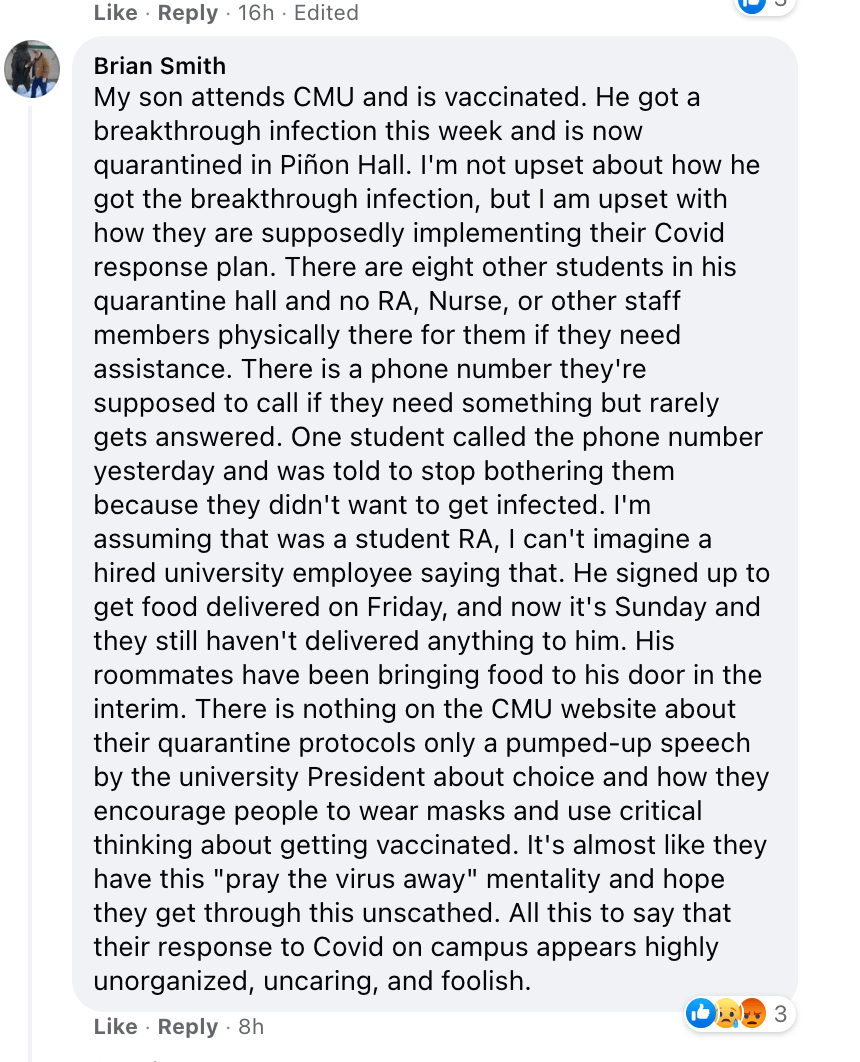 AnneLandmanBlog contacted Mr. Smith to offer help for his son. Mr. Smith lives in Texas, and is currently preparing his home for a tropical storm due to arrive in the next 24-48 hours. He is checking on his son, who is a biology major, by phone every couple of hours.
In his conversation, Mr. Smith made more observations about how CMU is dealing — or rather not dealing –with students with Covid:
"What I don't understand and am a little concerned about is that they [CMU] do not inform families about their students, have a very vague and almost non-existent [Covid] policy for review online, and haphazard implementation of policies they actually do have. Additionally, I could not get in touch with any of the residence halls in order to send my son at least some food and a case of water. He is very ill right now but not needing emergency treatment."
He added,
"As far as any medical presence, [my son] said he was told to just let a neighbor in the dorm know if he was feeling worse or to call 911. Unbelievable!
CMU's hands-off approach to handling Covid apparently goes for sick students, too.
These comments from a worried parent indicate CMU is failing to adequately care for students who are quarantined and have come down with active Covid cases, beyond simply warehousing them in a dorm and leaving them to their own devices.
We will stay in touch with this parent to help him get additional assistance if needed.