A big factor in this mass-delusion of the local electorate is the Mesa County Republican Party, which has developed a reputation for spreading hoaxes and misinformation and omitting key information.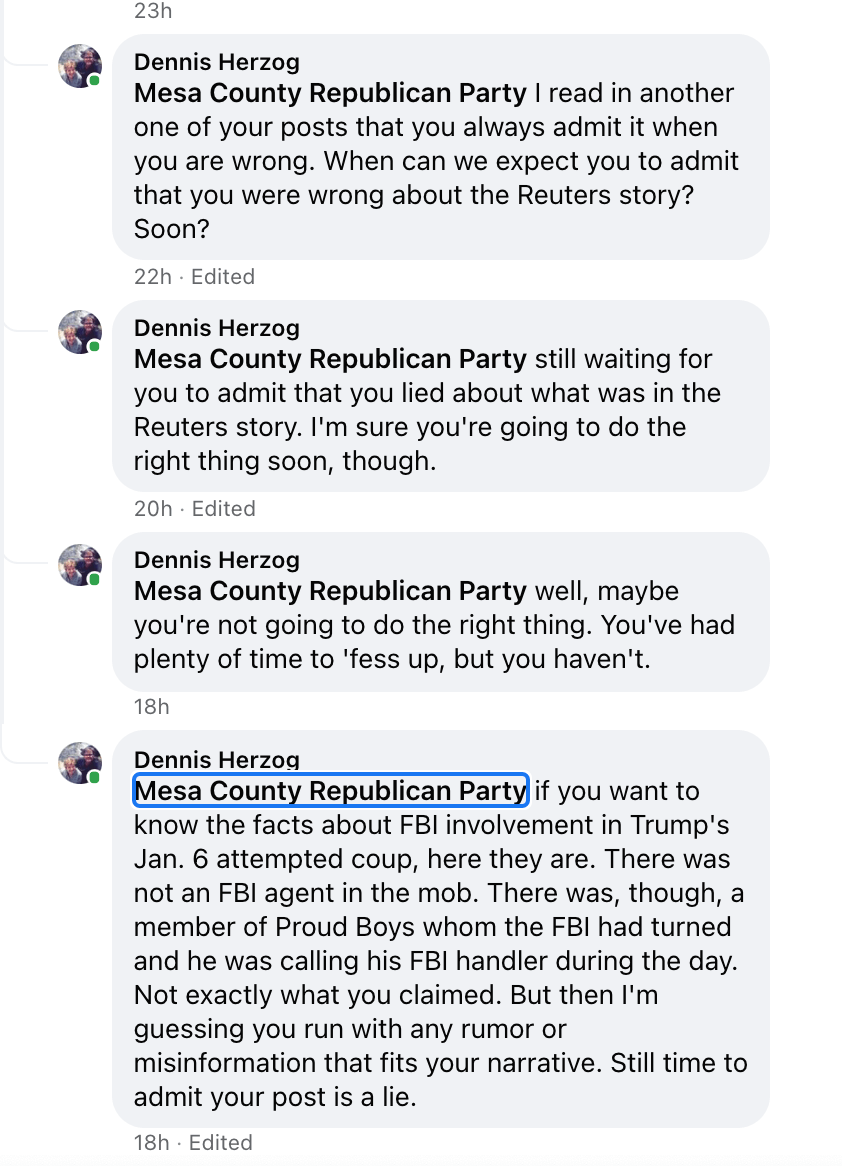 In a recent example of how the MC Republican Party is deluding its followers, in a comment under an October 12 Facebook post, Mesa County Republican Party Chair Kevin McCarney told readers there was no insurrection and that "many of the 'leaders' were actually FBI informants." To substantiate this outlandish claim, McCarney cited a Reuters article published in August 20, 2021 titled "FBI finds scant evidence U.S. Capitol attack was coordinated – sources."

But McCarney didn't provide a link to the article so people could read it for themselves.

It turns out the article — an easy 5 minute read — contains no such information.

Dennis Herzog, former Executive Editor of the Daily Sentinel for 30 years, then posted a link to the article so people could read it, and pointed out that McCarney had not told the truth about what it says.

Herzog asked McCarney to do the right thing and admit he was wrong.

McCarney has not retracted the lie.

Ever wonder how so many Mesa County citizens became SO deluded that now big groups of them like "Stand for the Constitution" and "Mesa County Concerned Citizen" actually believe wacky claims like Vitamin C and Ivermectin cure Covid-19, everyone who disagrees with them is a Communist, Colorado Secretary of State Jena Griswold destroyed election records and Democrats are pedophiles?