While speaking at a campaign event in Pueblo on Saturday, November 20, during Congress' Thanksgiving break, Republican CO House Rep. Lauren Boebert made a bigoted, anti-Muslim joke at the expense of her Muslim colleague, Rep. Ilhan Omar (D-MN), intimating Omar could be a suicide bomber if she was wearing a backpack.
Boebert told the crowd she had just entered an elevator at the Capitol when a Capitol Police security guard came running just up as the doors were closing. Boebert said she turned and saw Omar and said to the guard, "Well, she doesn't have a backpack. We should be fine."
According to Rep. Omar, Boebert lied about the scenario, because the incident never happened. Omar condemned "hateful and dangerous Muslim tropes," saying they don't belong in Congress.
The comments were caught on video by PatriotTakes, which documents activities and statements of right wing extremist elected officials.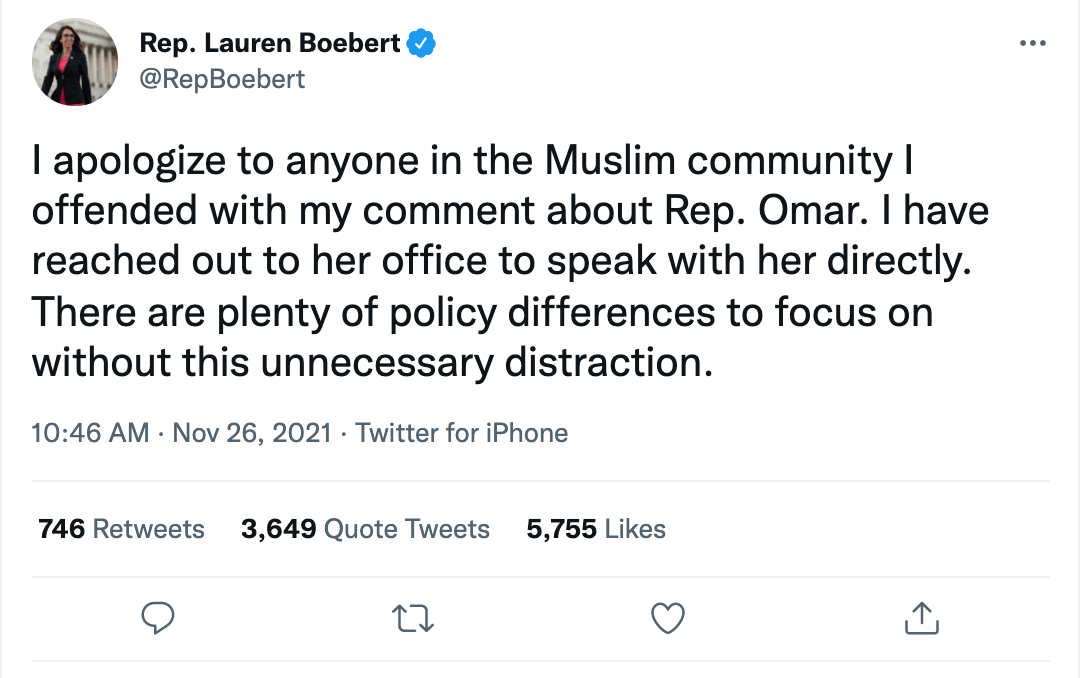 Boebert's racist joke drew wide condemnation, to the extent that just days later she was forced to issue a rare apology on Twitter. Boebert, however, did not apologize directly to Rep. Omar, but instead apologized "to anyone to anyone in the Muslim community I offended with my comment about Rep. Omar."
The incident made the 9News show "Next" in Denver, which, along with other news outlets, grappling with how to best cover Rep. Boebert's almost-constant stream of hateful, bigoted and cruel public comments without giving her more media attention than they give to civil and humane elected officials. Boebert appears to make such cruel, hate-filled and bigoted comments frequently to aid her fundraising from an apparently similar base of bigoted voters.