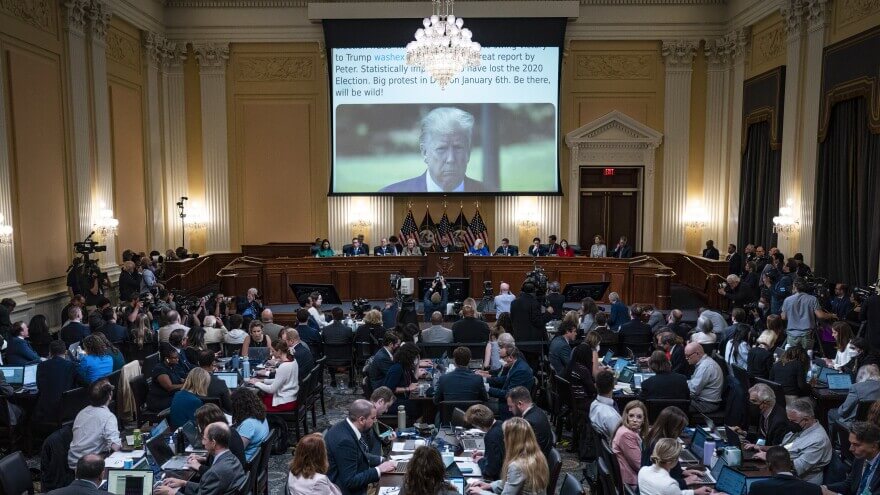 Update July 8, 2022 – The next hearing of the Jan. 6 Select Committee will be on July 12, 2022 at 10:00 a.m. Eastern Time, 8:00 a.m. Mountain (local) Time. A summary of what previous hearings have revealed is here.
Update – Wed., June 22, 2022 –The next January 6 Committee hearing will be Thursday, June 23 at 1:00 p.m. local time (3:00 p.m. Eastern Daylight Time). After posting a tipline with its last hearings, the Committee has received additional video footage and is also talking to Ginni Thomas about her cooperation, and because of all the new information, following hearings will be held in July.
Update – Tuesday, Jan. 21- The Jan 6 Select Committee examining the assault on the U.S. Capitol convenes today for its fourth public hearing this month. This session will focus on Trump's efforts to pressure state officials into falsifying election results to make it appear as though he had won, as part of his broader campaign to cling to office for a second term after he was informed by his White House attorneys, aides and family that he had lost the election. Today's hearing starts at 11:00 a.m. local time and will be broadcast live on CBS (KREX, Ch. 5) ABC (KJCT Ch. 8) and NBC (KKCO Ch. 11) television stations starting at 11:00 a.m. Mountain Daylight (local) Time, (1:00 p.m. Eastern). You can also watch the hearings live on the website of the PBS News Hour and the Jan. 6 Committee's YouTube channel.
***WARNING – the hearing may contain video of violence and foul language***
Update posted on Sat., June 18 @10:44 a.m. – The January 6 Select Committee hearing has announced two more dates and times for their next hearings:
Tuesday, June 21 starting at 11 a.m. Mountain Daylight Time

Thursday, June 23 starting at 1:00 p.m. Mountain Daylight Time
Update – Thur., June 16 @ 11:00 a.m. – The third Jan 6 Select Committee hearing is on now on all three broadcast channels KREX 5, KJCT 8 and KKCO 11, also PBS 18-4 World Channel.
—————–
The U.S. House of Representatives January 6 Select Committee is holding six hearings to inform the public about the results of their year-long investigation into the attack on the U.S. Capitol on January 6, 2021 by domestic right wing extremist Trump supporters. The first hearing was last Thursday, June 9.
The Committee seems to be laying out a roadmap for the Justice Department to prosecute Trump criminally, as the House committee has explicitly said Trump committed the crime of conspiring to overturn an election.
The next hearing will be the Committee's second, and it is scheduled to start Monday morning, June 13 at 8:00 a.m. local time (Mountain Daylight Time). Here in Grand Junction it will be broadcast on KKCO Channel 11 (NBC) and on KJCT Channel 8 (ABC).
The third hearing will start at 8:00 a.m. on Wednesday morning, June 15.
The fourth is on Thursday, June 16 and will start at 11:00 a.m.
All hearings are two hours long. KKCO and KJCT will broadcast all of them. The Select Committee takes a ten minute break around the middle of each 2 hour hearing.
You can also watch the hearings live as they are happening on the January 6th Committee's website here: https://january6th.house.gov/news/watch-live
Working? Have to miss it?
If you miss the live broadcasts of the hearings, you can watch them any time after they've been broadcast at the Select Committee's YouTube channel. You can also subscribe to the committee's channel and get notified whenever they post a new video.
Be aware that the videos contain adult content, including violence and foul language.
From National Public Radio, here is a list of the new information revealed in the first hearing last Thursday:
Not previously publicly seen video footage from police body cameras, Capitol hallway and office footage, as well as police radio communication;
Trump Attorney General Bill Barr telling investigators in his on-camera deposition that he told Trump his allegations of election fraud were "bullshit." [Yes, this was broadcast on national television.] Barr revealed this in his book, but it carries different weight with him telling it to a congressional committee;
Ivanka Trump, the former president's daughter and a former senior adviser in his White House, saying she accepted what Barr had to say. "I respect Attorney General Barr," she was shown saying, "so I accepted what he was saying."
Chairman of the Joint Chiefs of Staff Gen. Mark Milley saying Vice President Mike Pence was being direct and wanting the military's help at the Capitol. The response from the White House, on the other hand, was very different. Trump's Chief of Staff Mark Meadows, Milley said, wanted instead to shape a "narrative" that Trump was in control. Milley said that reeked of "politics, politics, politics," and it was a "red flag";
Rep. Liz Cheney said Rep. Scott Perry of Pennsylvania and "multiple other Republican congressmen" sought "presidential pardons for their roles in attempting to overturn the 2020 election";
New texts between Fox News host Sean Hannity and then-White House press secretary Kayleigh McEnany;
Former campaign adviser Jason Miller saying on camera that he told Trump in "pretty blunt terms that he was going to lose;"
Trump's lawyer, Alex Cannon, affirming there was no evidence of widespread election fraud or the election being stolen.
Proud Boys and Oath Keepers on camera saying they went to the Capitol that day because they believed that's what Trump wanted done, they felt he'd asked them to do it, and that after Trump's "stand back and standby" remark in a debate, membership in the Proud Boys tripled.
Here is the June 13th hearing: