In the days after the tragic October, 2021 accidental shooting death of cinematographer Halyna Hutchins by Alec Baldwin while he was rehearsing a scene with a prop gun on the set of his movie, Rust, Colorado House Rep. Lauren Boebert relentlessly spewed vile, unconscionable jokes about the incident at Baldwin's expense.
Boebert grinned as she wore a creepy T-shirt joking about the tragedy while out shopping.
She wore her T-shirt making fun of Hutchins' death at public speaking engagements: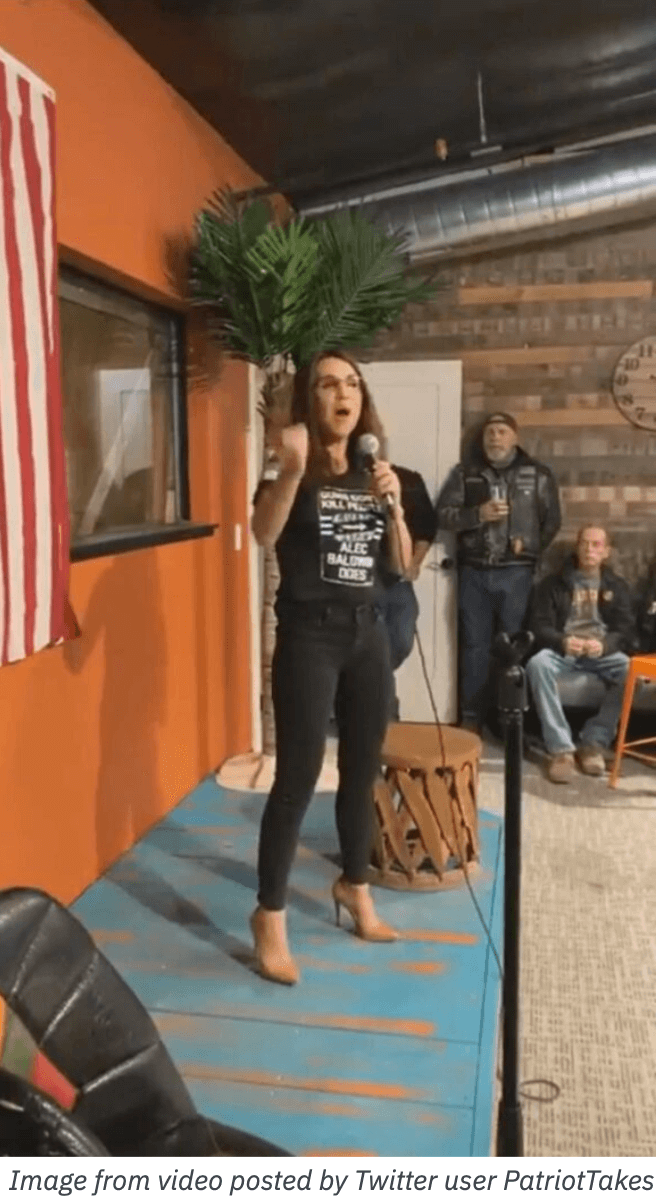 Boebert ridiculed the tragic death while discussing Kyle Rittenhouse in front of a crowed in December, 2021
Lauren Boebert continues to politicize the Alex Baldwin shooting tragedy. This time while praising Kyle Rittenhouse.

Boebert comments are met with cheers. pic.twitter.com/zO4u4dug9b

— PatriotTakes 🇺🇸 (@patriottakes) December 21, 2021
She even displayed her disgusting T-shirt at her restaurant in Rifle, Shooters Grill, which is now closed:
And more recently, in an April 21, 2023 tweet, after the two counts of involuntary manslaughter that had been brought against Baldwin over the death were dropped, Boebert said the charges were dropped due to "liberal privilege."
But investigators who inspected the gun used in the accidental shooting found it was mechanically defective to the point that it could have fired without any pressure being put on the trigger.
"The gun fired in testing only one time — without having to pull the trigger — when the hammer was pulled back and the gun broke in two different places," Baldwin's attorney, Luke Nikas, said. "The FBI was unable to fire the gun in any prior test, even when pulling the trigger, because it was in such poor condition." 
Baldwin insisted that he had never pulled the trigger on the gun, and would never point a gun at anyone and pull the trigger, ever.
We're waiting for Lauren Boebert to issue a public apology to Alec Baldwin, and his family, and Halyna Hutchins' family, for Boebert's incredibly disgusting behavior around Hutchins' tragic accidental death.