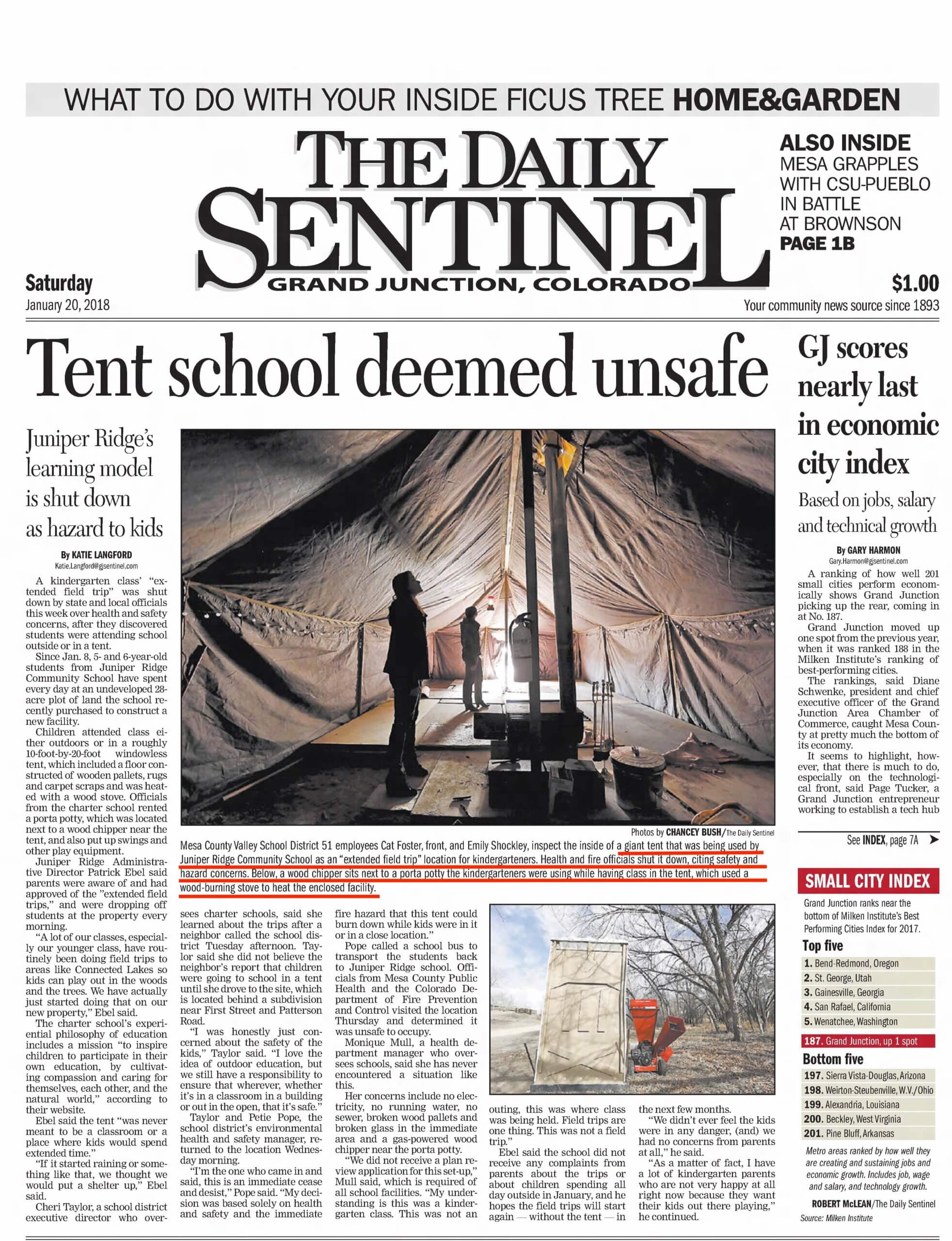 Before Andrea Haitz was on the District 51 School Board, she was on the Juniper Ridge charter school board.
In January of 2018, while on Juniper Ridge's board, the school was found to be educating kindergarteners in a 10×20 foot windowless tent that was heated by a wood stove and had a single rented porta-potty next it for a bathroom, alongside a bright red wood chipper.
Grand Junction's average January daytime temperature is 31 degrees F, just below freezing.
Juniper Ridge's Board didn't tell District 51 about the tent and did not submit a plan to the School District use it. Instead, Juniper Ridge portrayed its use to parents as an "extended field trip."
After about 12 days of this, someone in the neighborhood called District 51 to report the setup.
Cheri Taylor, District 51's Director in charge of charter schools at the time, didn't believe the caller's report that a tent was being used as a school until she drove to the site near First Street and Patterson Road and saw it for herself. The next day she brought Petie Pope, the School District's Environmental Health and Safety manager, to see the setup.
District 51 immediately shut the site down as a health and safety hazard for the kids.
"We did not receive a plan review application for this set-up," said Monique Mull, the health department manager who oversaw schools at the time. "My understanding was this was a kindergarten class. This was not an outing, this was where class was being held. Field trips are one thing. This was not a field trip," she said. 
Flash forward to now, and Andrea Haitz, who helped pull off the tent stunt, is President of District 51's School Board.