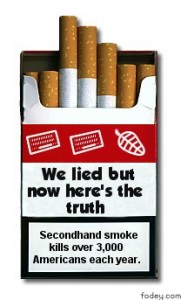 A U.S. District Court has ordered American tobacco companies to start running ads in which they must openly admit they lied to the American public about the health hazards of smoking and secondhand smoke. Judge Gladys Kessler, who presides over the case of United States v. Philip Morris, U.S.A., Inc., et al, specified the wording to be used in the corrective ads:
"A Federal Court has ruled that the Defendant tobacco companies deliberately deceived the American public about the addictiveness of smoking and nicotine, and has ordered those companies to make this statement. Here is the truth:"
The subsequent must contain truths about the dangers of tobacco use. Some examples:
* "Defendant tobacco companies intentionally designed cigarettes to make them more addictive."
* "When you smoke, nicotine actually changes the brain – that's why quitting is so hard."
* "Smoking kills, on average, 1200 Americans. Every day."
* "More people die every year from smoking than from murder, AIDS, suicide, drugs, car crashes, and alcohol, combined."
* "Secondhand smoke causes lung cancer and coronary heart disease in adults who do NOT smoke."
* "Secondhand smoke kills over 3,000 Americans each year."
These are just a few samples of the wording Judge Kessler ordered.  The companies were ordered to run the ads in the same media in which they have advertised to smokers, like in magazines, newspapers, on television, in package "onsets," etc. They must also run the ads in newer media, like the Internet. The purely factual ads, are, according to the court, "directed at preventing tobacco companies from continuing to deceive the American public in the future." Judge Kessler's full groundbreaking ruling ordering cigarette makers to run the mandatory ads can be found [here].