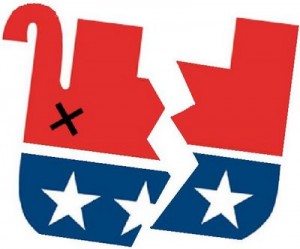 Do you plan to vote for Republican incumbents and the same Mesa County politicians we've had in office before?
Think again.
Mesa County's long reliance on the local GOP has led it to disaster.
Just look at the Mesa County GOP's record:
1) Our unemployment rate has long remained among the highest in the state;
2) Our local wages are among the very lowest in the state;
3) 13.4 percent of our area's residents live below federal poverty level ($23,550 for a family of four),
4) Mesa County's suicide rate is among the highest in the U.S.;
5) Mesa County is the drunkest county in the state in 2013 (based on the average blood alcohol concentration for arrested drunk drivers);
6) Forty one percent of School District 51 students qualify for free and reduced-cost lunches at school, and Kids Aid, the area nonprofit that provides backpacks of food to hungry students so they can get through the weekends without starving, sends 1,800 District 51 students home with backpacks full of non-perishable food home every WEEK.
Yes, you read that right. Eighteen hundred Mesa County school children are food insecure every WEEK. Have you heard a single local GOP elected official mention this state of affairs? No.
7) Mesa County politicians continue to give free rein to the oil and gas industry, as drilling companies avoid scrutiny for environmental and worker safety violations. Evidence of this is the tragic fatal accident that occurred on October 27, 2014, when 34 year-old rig worker Shane Hill was killed on the job (pdf) near Parachute. His employer, Cyclone Drilling, already had multiple OSHA safety violations on its record for exposing rig workers to fire, falling and other on-the-job hazards. A few of Cyclone's more serious violations include failing to install connecting pins in the derrick, repair damaged stairs, failing to provide operable fire extinguisher and eye wash stations, failing to provide the OSHA-required guards for rotating machinery parts, failing to provide electrical covers, and repair or replace damaged and improperly strung flexible cords. OSHA considers it a serious violation when there is "substantial probability that death or serious physical harm could result from a hazard about which the employer knew or should have known." The company is now looking at about $65,000 in fines for its safety violations. Shane Hill didn't have to die; Cyclone had long been aware of serious worker safety violations on its rig sites and failed to address them.
But this is the industry for which State Rep. Ray Scott, Commissioner candidate Scott McInnis, the Grand Junction Area Chamber of Commerce, its chambermades and other Mesa County Republicans have been cheerleading for for decades, without regard to its detrimental aspects, like dismal workplace safety records, water contamination from pipeline leaks and other unchecked environmental violations.
Self-Congratulatory Time-Wasters, Failures, Buffoons and Criminals
So what have Mesa County's Republican elected officials done to address these problems over the past 20-30 years?
Nothing.
Nothing at all. And worse.
Instead buckling down and finding ways to help our area, the Mesa County GOP has handed us a long string of inept, embarrassing, corrupt and ineffective elected officials, many of whom they keep recycling over and over despite their dismal records. Some examples:
In 2013, the FBI raided the Grand Junction Regional Airport Authority, largely stocked with old guard Republican establishment good-ole-boys, to investigate apparent fraud and corruption. Gregg Palmer, owner of Brown's Shoe Fit on Main Street and a former mayor of Grand Junction, served on the Airport Board during the time the FBI is investigating for fraud. Despite his involvement with the corrupt Airport Board, he ran for Mesa County Commissioner last year (and fortunately lost).
State Senator Steve King, the local Republican party's initial favorite for Sheriff this year,was forced to withdraw from the race after being charged with three felonies and two misdemeanors for falsifying time cards at the Mesa County Sheriff's Department where he worked, and failing to report income as is required for state legislators.
Former U.S. House Representative Scott McInnis ran for governor in 2010 but withdrew from the race amid charges he plagiarized a series of essays that a foundation paid him $300,000 to write. He apologized publicly and paid the foundation back the money they had paid him.
Now McInnis is running for Mesa County Commissioner. But he has another strike against him, too. He alienated western slope citizens by quietly having Congress rename a nearby national conservation area in his own honor — an act of hubris few could believe. Overnight, Congress suspended a House rule prohibiting congressmen from re-naming public works after themselves. Then, when only a handful of Congress members were present, McInnis' legislative friends — Representatives from Guam and California — in 2004 engineered a name-change for the conservation area from "Colorado Canyons National Conservation Area" to the self-congratulatory "McInnis Canyons National Conservation Area." McInnis did not seek any input from Colorado citizens for this change, and it wasn't the idea of anyone in Colorado to do it. To everyone's shock, all of a sudden the signs at the entrances to the conservation area were changed to honor McInnis. To this day, western Colorado is home to the only national conservation area named after a person instead of a geographic feature, in blatant violation of House Rules.
Time Wasters and Fools in Office
Colorado House Rep. Ray Scott has wasted his time in the legislature voting for pointless bills. For example, he voted multiple times to repeal "Obamacare," a worthless exercise. Rep. Scott does not seem to grasp or understand that "Obamacare" is FEDERAL legislation, not state-level legislation, and voting at the state level to repeal it has no force. In the 2014 legislative session, Rep. Scott used one of his five precious chances to introduce bills to introduce a bill to create a Scottish-American license plate. The only requirement to get the plate was proof of a minimum $25 donation to the St. Andrews Society, a group with no branches and only two members on the whole western slope. No one on the western slope asked Scott for this bill, and it would have created more government bureaucracy for the benefit of a single, private group with no connection to the western slope. His motive to introduce such a bizarre and unnecessary bill it is not known, because he didn't tell us. Fortunately, his bill failed. But western slope citizens did realized after this that they had sent a time-waster to the legislature.
Scott, who lacks a college education, also admitted publicly that he doesn't bother to read entire bills before he votes on them; he just reads the summaries.
81 year-old Marcia Neal, who represents the western slope, serves on the state school board and is running for yet another 6-year term, has lobbied to prohibit science teachers from teaching kids about man-made global warming because she believes it is "junk science," and a liberal theory that "frightens children unnecessarily."
Is this honestly the best the local GOP can do for our area?
Blocking "Jobs, Jobs Jobs;" Thwarting Economic Progress
Colorado legalized the sale and use of recreational marijuana in 2012, creating a burgeoning new industry and source of tax income for municipalities. But GOP elected officials have blocked our area from any of the benefits of this new economy by prohibiting retail marijuana in Mesa County and Grand Junction. This has forced our area to miss out on an influx of new, high-paying jobs, a new tourism stream and major influx of cash, chances to rent out long-vacant commercial and warehouse space, and much more. To this day, retail marijuana is banned in both Mesa County and the City of Grand Junction. Citizens must watch as towns east of us on Interstate 70 enjoy all the economic benefits arising from our state's booming new marijuana economy.
House Rep. Scott Tipton also blocked Mesa County from another, practically cost-free economic boost by ditching legislation to turn the Colorado National Monument into a national park, at long last. The change would have put our area on many more tourist maps, as well as clarifying the fact that we have a geological gem in our backyard. Despite tremendous support from local businesses and citizens for the change, Rep. Tipton yanked his own legislation. He claimed there wasn't enough support for the change, but refused to release the numbers of comments his office had received both for and against the change.
Another chance to improve our local economy went down the drain, thanks to Rep. Tipton.
Many Citizens Agree: End the GOP-Dominated Morass
The 2014 election gives Mesa County citizens a chance to reverse the dismal situation the local Republican Party has gotten us into.
There is more agreement than disagreement on many issues in our community. Both the far right and far left agree, for example, that bombing innocent people in Pakistan with drones is wrong. Both agree that foods containing GMOs should be labeled as such, and that we should be able to buy GMO-free foods. People on the political left and right both agree that Edward Snowden was right to reveal what our government has been secretly doing behind our backs. As far as local issues, locals on both sides would like to see something done to keep schoolchildren from going hungry, want to put Grand Junction on the map by turning the Colorado National Monument into a national park, and to see worker safety issues monitored more closely and needless deaths and injuries prevented on on drilling rigs.
Many on all sides of the local political spectrum finally also see that the Mesa County GOP has worn out its welcome. Many finally see there are far more people who could do a much better job of managing things in this county than the current "ruling party." Let's hope our area can make some real changes in November, 2014, and start reversing the madness.