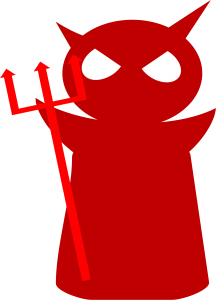 Grand Junction, Colorado will host the state's first Satanic invocation at their regular City Council meeting on Wednesday, August 2 at 6:00 p.m. The meeting is at City Hall Auditorium, 250 N. 5th Street. It will be only the second Satanic invocation ever to occur in the continental United States.
Grand Junction became a national trailblazer in alternative invocations after the city crafted an invocation policy in 2008 that welcomes all comers. City Council agreed to open up the invocation opportunity to anyone who wants to say it (rather than just religious groups), refused to censor what is said at the invocation or place a time limit on speakers. The policy led to the City hosting the state's first-ever atheist invocation (video) on January 5, 2011.
People who disagree with having religious invocations of any kind at taxpayer-funded public meetings can send their opinion to the entire city council at once by addressing a single email to belindaw@gjcity.org. You can also leave a message on City Council's recorded comment line at (970) 244-1504 or write Council at Grand Junction City Hall, 250 N. 5th Street, Grand Junction, Colorado 81501.
If you're in the area and want to catch the Satanic invocation, come early to get a good seat. It promises to be a popular event!