Colorado Mesa University staff members are expressing frustration with the school's unusual, flat administrative structure, which seems strategically designed to eliminate staff input into school operations, and prevent empowerment of the staff on campus.
CMU President Tim Foster over the years has reshaped CMU's administration to eliminate the normal avenues of communication between staff and administration that most other universities have, employees say. Instead Foster has substituted an odd, flat administrative structure that eliminates staff's input into school operations and serves as a firewall against opposition to the administration.
How Does CMU's Administrative Structure Differ from that of Other Universities?
Normally, publicly-funded universities have deans and provosts, but President Foster has eliminated these positions at CMU. Instead there are only vice presidents who answer directly to President Foster and have little connection to teaching staff. This lack of normal university-style faculty governance, CMU staff members say, leaves no one representing the interests of teaching staff to administration, and no route for staff input into school operations.
What are provosts and deans, and why do they matter?
A Provost is a university's chief officer. Provosts are responsible for areas like academic priorities and affairs, faculty appointments and allocation of resources. Deans have authority over the individual academic units of the school, like the social sciences, economics, math or the nursing department. Deans typically report to the provosts, and the provosts in turn report to the school president. In addition to duties like helping students navigate their roads to graduation, deans oversee the staff of their individual departments. The duties of deans and provosts include taking feedback from faculty members and forwarding their views and information about their needs to upper administration.
Over time, though, CMU President Foster has eliminated deans and provosts, as though they didn't matter, replacing them instead with a single Vice President of Academic Affairs.
The argument could be made that eliminating deans and provosts saves the school money, but the staff working within this system, and even CMU's students, say it is costing the school dearly in other ways. Besides leaving teaching staff without faculty governance and representation of their interests, it means CMU assigns zero value to crucial, on-the-ground observations made by staff about the school's priorities, allocation of school resources and other aspects of CMU's operation. Without input like this, problems cannot be addressed and the school can't move forward and improve the way it would under a normal system.
All this creates an extraordinarily frustrated and demoralized teaching staff, who must live with obvious problems they see at the school on a day-to-day basis, with little ability to address them.
CMU is Unlike Other Universities in a Significant Way
A look at the only organizational chart available on CMU's website confirms that compared to other universities, CMU does in fact have a very minimal administrative structure. The chart below, taken from CMU's website, depicts CMU's President as completely disconnected from, and equal to the Board of Trustees. The chart also indicates no apparent oversight of CMU's President exists:
In contrast, the University of Northern Colorado (UNC) posts nine full pages (pdf) of administrative organizational charts on it's website. They show the detailed structure of UNC's numerous administrative branches, like the Office of Academic Affairs, Office of Development and Alumni Relations, Finance and Administration, Internal and External Affairs and more.
According to its organizational charts, UNC has a much richer administrative hierarchy and broader division of duties than CMU. Also, like normal universities, UNC has a Provost, six Deans and a Board of Trustees. The chart clearly shows UNC's Board of Trustees has direct oversight of the school's president, Kay Norton:
Unintended Consequences: CMU's Administrative Structure is Negatively Affecting Students as well as Faculty
An undervalued, oppressed staff leads to a lack of enthusiasm, reduced pride and lack of a spirit of ownership of the school, the effects of which trickle down to students, too, as reflected in an August 28, 2017 editorial in CMU's student paper The Criterion, titled "CMU is Boring." The student editorial board, which authored the article, points to CMU's low freshman retention rate (66%, which is four percent below the national average) as evidence that something is very wrong with the school. Student participation in school activities is noticeably low, they say, and they explore possible reasons. They say CMU suffers from a "lack of personality" which leads students to feel bored and uninvested in the school. This leads to excessive use of alcohol among students. Significantly, the students at the Criterion point to the downtrodden vibe of the oppressed and divided faculty as a significant contributor to the problem:
"Event attendance is not the only factor that contributes to a generally spiritless campus. The lack of unification among faculty members also leads to an environment that feels fractured and disjointed. Though professors can be seen in groups of two or three grabbing coffee or lunch, nothing about the campus design or atmosphere encourages socialization between faculty.

From higher up, CMU professors are supposedly discouraged from affiliating in an attempt to quell unionization attempts. There are no faculty lounges, no faculty events. Largely, they stay in their offices. A divided CMU faculty unintentionally creates a divided CMU student population. This detachment can be seen in areas set aside for student socialization, like The Point, that are under-utilized and do almost nothing to encourage the desired Maverick community." [Bold emphasis added.]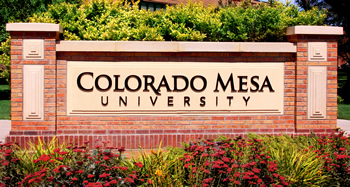 Thus the opinions of both students and staff are united on this front, and it becomes clear that CMU's upper management is holding the school back in significant ways. Tim Foster's restructuring of the staff may have served him well to cement his power at the school and block opposition from staff to what he chooses to do, but it has exacted a severe toll on both students and staff, has brought and continues to bring negative baggage to the school. It may even be contributing to a high level of alcohol use at the school, according to students.
Band Aids Won't Help This
Changing the name of North Avenue won't make this deep systemic problem at CMU at better. It clearly comes from the top. CMU President Tim Foster must recognize that there is a serious chance that the demoralization and lack of personality at CMU has resulted from his restructuring of the administration to cement his own power, and that it has served the school very poorly in the long run.
There is a reason that a normal university structure exists: it works for everyone. It gives value to everyone's input and creates a system that encourages a free exchange of information and opinions about the school and how it it functions. If Foster really cares about CMU's students and staff and the school's future, he should consider changing a system that clearly isn't working for everyone, and in fact has been detrimental to CMU.
CMU deserves a chance to become a truly excellent school, not one that students and teachers want to flee after a semester or two.
Addendum – October 19, 2017: Getting rid of deans saves CMU $500,000/year, according to Foster:
Beltway Blog — Colorado Mesa University president Tim Foster tells Congress to keep it simple
Disclosure: the author is an alumnus of CMU.