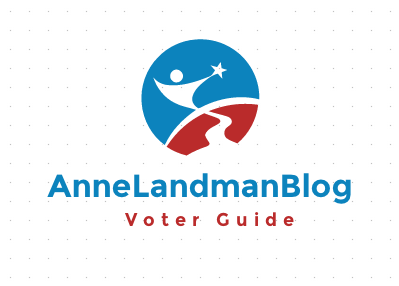 Are you wondering how to vote in the upcoming Mesa County General Election? Sweating over where you'll find the time to research all of the statewide ballot measures, candidates and judges?
Worry no more. We've done the work for you.
AnneLandmanBlog has put weeks, in some cases years, into researching the candidates, ballot measures and even the judges, so you don't have to. Here's what went into the research:
Methodology
Recommendations were reached by reading the State-published Blue Book that contains the text of all the ballot measures as well as arguments for and against each measure; by reading published articles and authoritative websites about each of the ballot measures and their pros and cons; by researching which individuals and groups support and oppose each ballot measure; by researching candidates' track records, public statements, educational backgrounds, prior experience in public service, criminal records (if pertinent, and they are pertinent to some candidates); by reading published articles and news reports about the candidates; by researching candidates' social media accounts and recorded videos of their speeches and analyzing the veracity of their statements; by talking to candidates who were willing to speak to AnneLandmanBlog, and taking into consideration local history pertinent to the issues and candidates. In some cases, recommendations for how to vote on ballot measures hinged solely on the parties that support or oppose the measures, because often ballot measures sound well-meaning, but the people who support and oppose them have distinct agendas that are telltale about whom the measures are actually designed to benefit.
Goals of our recommendations:
Following are AnneLandmanBlog's recommendations for how to vote in the Tuesday, November 3, 2020 General Election in Mesa County. The goals for these choices are to assure the most knowledgeable, experienced, intelligent and effective representation for our area; to select the candidates who are most likely to bring effective new ideas to the table and obtain the most favorable outcomes for struggling working people and families in western Colorado.
Recommendations appear in the same order in which the candidates and issues appear on the ballot (pdf).
Discussion is welcome
AnneLandmanBlog is open to reasoned discussion of opposing viewpoints on the ballot measures in the comment section, since some ballot measures were close to being a toss up.
NOTES:
–Your ballot may vary slightly from the information contained below, since what your ballot looks like is based on where you live. Some smaller communities in Mesa County have their own hyper-local issues on their ballots.
–No recommendations are given for candidates who are running unopposed.
–WRITE-IN CANDIDATES: A list of certified write-in candidates has been conspicuously absent from the Mesa County Elections website as of the publication of this blog. AnneLandmanBlog requested such a list from the Elections Office and will publish it when it is received. ***UPDATE***10/6/20 @ 1:50p.m. A list of certified write-in candidates has been obtained and can be seen here.(pdf). This may be the only place you can find this information. AnneLandmanBlog notes that the most prominent local write-in candidate, Bob Prescott, a Republican running for the Mesa County Commissioner District 3 Commissioner seat, is an opponent of Janet Rowland, the former two-term commissioner who is also running for this seat and who happens to be a close personal friend of Mesa County Clerk Tina Peters. Rowland also managed Peters' successful 2018 campaign for County Clerk, so Peters is likely to feel she owes a debt to Rowland, thus AnneLandmanBlog is suspicious about why the County Clerk has failed to publish a list of certified write-in candidates for this seat on the County Elections website. Terri Porter of the County Elections office was unable to say for certain when or if such a list would be published on the County Elections website at all, and when asked about it, she said "It's not working properly on the website, we're working on it," and"everyone's in a meeting right now."
—————————————————————–
FEDERAL OFFICES:
PRESIDENTIAL ELECTORS (Vote for one pair.):
Joseph R. Biden/Kamala Harris
UNITED STATES SENATOR (Vote for one.):
John W. Hickenlooper
REPRESENTATIVE TO THE 117TH CONGRESS, DISTRICT 3:
Diane Mitsch Busch

STATE OFFICES:
STATE BOARD OF EDUCATION MEMBER, CONGRESSIONAL DISTRICT 3:
Mayling Simpson
STATE REPRESENTATIVE, DISTRICT 54:
AliceMarie Slaven-Emond
STATE REPRESENTATIVE, DISTRICT 55:
Scott Bielfuss
COUNTY COMMISSIONER:
COUNTY COMMISSIONER, DISTRICT 1 (West side of the Grand Valley):
Kathryn Bedell
COUNTY COMMISSIONER DISTRICT 3 (East side of the Grand Valley):
David William Edwards
Note: If you live in District 3 and really, really have to vote for a Republican, we recommend writing in
Bob Prescott.
JUDICIAL RETENTION QUESTIONS:
Shall Judge Melissa Hart of the Colorado Supreme Court be retained in office?  YES
Shall Judge Carlos A. Samour, Jr. of the Colorado Supreme Court be retained in office?   YES
Shall Judge Ted C. Tow III of the Colorado Court of Appeals be retained in office?   YES
Shall Judge Craig R. Welling of the Colorado Court of Appeals be retained in office?   YES
Shall Judge Brian J. Flynn of the 21st Judicial District be retained in office?   NO – [Chief Judge Brian Flynn was named in a federal lawsuit in August, 2020 that claimed innocent people are being illegally arrested — sometimes over and over again — for violating protection orders that are no longer valid. The lead plaintiff in the lawsuit was re-arrested 7 times — and jailed on 4 of those occasions — on the same violation, even though he had completed the terms of his probation. The suit alleges Flynn was aware of the problem since he was named Chief Judge in 2018, and has failed to address it.]
Shall Judge Gretchen B. Larson of the 21st Judicial District be retained in office?  YES
Shall Judge Michael J. Grattan III of the Mesa County Court be retained in office?   YES
Shall Judge Craig Peter Henderson of the Mesa County Court be retained in office?   YES
STATE BALLOT MEASURES:
Proposed Amendments to the state Constitution:
Amendment B: Repeal of the Gallagher Amendment – Repeals a measure in the Colorado Constitution that created a fixed statewide ratio for state revenue coming from residential and non-residential property taxes. Under the Gallagher Amendment, residential property tax must make up 45% of the total statewide property tax collected, and non-residential properties must make up about 55%, resulting in higher tax rates for businesses. Voting "yes" to repeal the Gallagher Amendment removes the mandate to maintain this ratio: YES/FOR
Amendment C: Conduct of Charitable Gaming – Makes nonprofit groups in Colorado eligible obtain permits to run bingo games and raffles as fundraisers after three years of existence instead of five, and allows the games to be operated by workers who are paid at least minimum wage, instead of requiring the games to be operated solely by volunteer members of the nonprofit organizations: YES/FOR
Amendment 76: Citizenship Qualification of Voters – Changes the Colorado Constitution to say only U.S. citizens age 18 or older are eligible to participate in Colorado elections. Currently, the Constitution says every U.S. citizen who will be age 18 by election day, has lived in the state for at least 22 days and is registered to vote in Colorado, can vote: NO/AGAINST 
Amendment 77: Local Voter Approval of Casino Bet Limits and Games in Black Hawk Central City and Cripple Creek: Allows voters in the three gambling towns of Central City, Black Hawk and Cripple Creek to vote on raising or removing bet limits, allows the towns to introduce new games, and expands the use of tax revenues generated by gambling to be used to aid student retention and completion programs at community colleges: YES/FOR 
Proposed Amendments to state laws (statutory amendments):
Proposition EE:  Taxes on Nicotine Products – Increases taxes on cigarettes and other tobacco products, and creates a new tax on nicotine products, including vaping products. The new tax revenue would fund education, housing, tobacco prevention, health care and preschool: YES/FOR
Proposition 113:  Adopt an Agreement to Elect U.S. President by National Popular Vote: A "yes" vote approves a bill already passed by the Colorado Legislature and signed by the Governor that joins Colorado with other states in an agreement to elect the President of the U.S. by national popular vote, as long as enough states enter into the agreement. Every other elected official in the nation (e.g., senators, governors, mayors, etc.) is elected by popular vote, meaning the person who gets the most votes wins. The presidency is the only exception to this rule, because of the vagaries of the Electoral College. (The agreement only becomes binding when enough states agree to participate, that is, when participating states represent over half of the entire Electoral College, or at least 270 out of the 538 total votes in the Electoral College. DOES NOT ELIMINATE THE ELECTORAL COLLEGE. (This measure, if fulfilled, will assure the person with the most votes nationwide wins the presidency and will prevent divisive debacles that occur when a candidate for President wins the most votes nationwide, but loses the Electoral College.):  YES/FOR
Proposition 114: Reintroduction of and Management of Gray Wolves: Requires the Colorado Parks and Wildlife Commission to develop a plan to reintroduce and manage gray wolves west of the Continental Divide by December 31, 2023:  NO/AGAINST
Proposition 115: Prohibits Abortion After 22 Weeks: Prohibits abortions in Colorado after 22 weeks gestation, except when immediately required to save the life of a pregnant woman. Criminalizes doctors who perform such abortions and requires suspension of their medical licenses for at least 3 years:  NO/AGAINST 
Proposition 116: State Income Tax Rate Reduction – Reduces the state income tax rate from 4.63% to 4.55% for tax year 2020 and future years. (Will reduce the total state budget by and estimated $154 million for 2021-2022.):  NO/AGAINST
Proposition 117: Voter Approval for Certain New State Enterprises:  Requires the voters to approve new state government enterprises (government-owned-and-created businesses that fund themselves through fees) that generate fee revenues over $100 million within the first five years of their creation. [Examples of existing government enterprises like this include the state lottery, Parks and Wildlife, state universities and unemployment insurance]: NO/AGAINST
Proposition 118: Paid Family and Medical Leave Insurance Program:  Creates a state insurance program that provides eligible employees with paid family and medical leave of up to 12 weeks and at up to $1,100/week, funded by premiums paid by both employers and employees. Lets employees keep their jobs and keep getting paychecks when they have to take time off to care for a serious health condition of their own or a family member; allows employees to get the benefit when a family member gets called for active duty military service, or to care for a new child, or when a family member becomes a victim of domestic violence, stalking or sexual assault. Kicks in after employee has worked for at least 180 days and made $2,500 in wages subject to the premium, and applies to all employer sizes in Colorado, with few exceptions: YES/FOR
City of Grand Junction Ballot Measure (for City residents):
City of Grand Junction Referred Measure 2A: Lets the City collect and retain revenue it has already received over the TABOR revenue cap, and spend that money on essential services such as fire, police and parks. Does not increase taxes. (Also known as "De-Brucing," removing the cap on the amount of tax funds local government can retain, named after the former legislator and convicted felon Douglas Bruce, who drafted the law): YES/FOR
***SPECIAL DISTRICT ISSUE***

(added after publication of this blog, since it wasn't in the state blue book):

Ballot issue 7A: Colorado River Water Conservation District Tax: This measure proposes increasing property taxes by $1.90 for every $100,000 of residential home value in 2021, to double the current budget of the Colorado River Water Conservation District: NO/AGAINST  [See discussion in the comments section.]