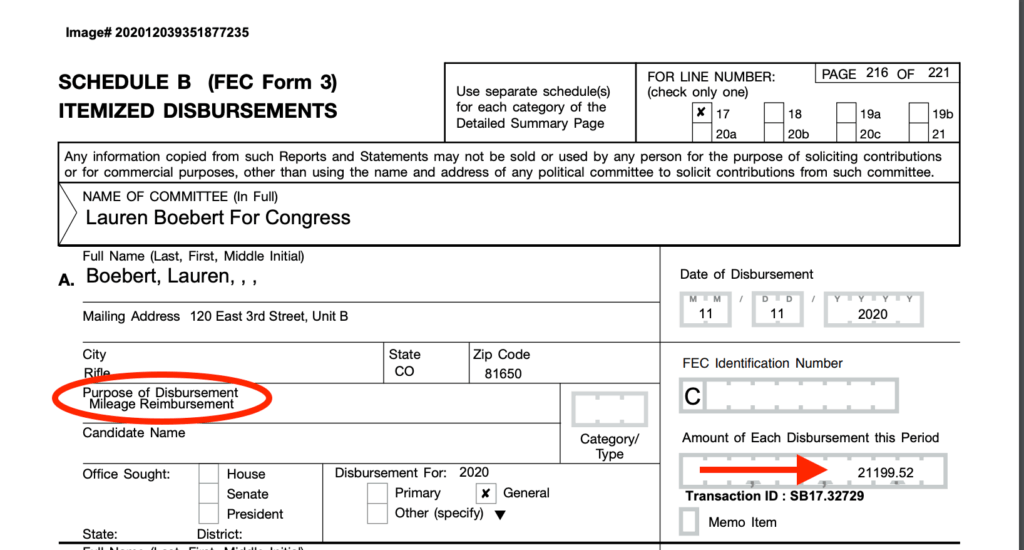 Colorado Pols examined District 3 Congresswoman-elect Lauren Boebert's campaign expenditures and discovered Ms. Boebert reimbursed herself a total of $30,177 in mileage expense from her campaign donations in 2020. She reimbursed herself about $22,000 of that in one lump on 11/11/2020.
For the sake of comparison, Colorado Pols compared Boebert's mileage reimbursements with those of outgoing CD-3 Congressman Scott Tipton's claimed mileage expenses over the entire time he served in Congress, and found Tipton reimbursed himself a total of $12,255 from his campaign — over the entire last TEN YEARS he held the office.
Boebert claimed enough mileage to circumnavigate the globe 1.5 times
Boebert claimed she drove a total of about 36,868 miles since April of this year. The IRS-allowed reimbursement rate (pdf) for business use of a vehicle in 2020 is 57.5 cents per mile.
To put congresswoman-elect Boebert's reimbursement into perspective, the circumference of the Earth is 24,902 miles, so the amount of mileage Boebert claimed is enough for her to have circled the globe 1.5 times. The number of miles Boebert drove is the equivalent of driving from Grand Junction to Denver 247 times. One semi-truck driver driving 8-10 hours per day puts on an average of about 45,000 miles a year, according to the HDS Truck Driving Institute.
A friend of mine who is a pilot car driver and drove for 6 months straight in 2020 without a day off said he drove fewer miles than Boebert claims to have driven between April and November.
It appears the grift is on, and it's no wonder. When the person Boebert admires most — President Donald J. Trump — has set such a bad example by performing so many unethical acts over the last 4 years to financially benefit his personal businesses while in office, he's paved the way for folks like Boebert to do the same.