News outlets are reporting on an incident that occurred at the U.S. Capitol in which Colorado House Rep. Lauren Boebert, while exiting an elevator, saw a group of Jews who were visiting the Capitol. The person leading the group was an orthodox Jew with a traditional beard, the others were wearing yarmulkes and some were rabbis. The group was there to meet with Rep. Thomas Suozzi (D-NY).
Reports say that upon seeing the group, Boebert looked them up and down and asked aloud if they were there to "do reconnaissance."
The question left the group confused.
When news outlets questioned Rep. Boebert about the incident, she responded by text that she was making a joke:
"I saw a large group and made a joke. Sadly when Democrats see the same they demonize my family for a year straight."
She added that she was too short to see yarmulkes on people's heads.
Upon hearing of the incident, Rep. Suozzi issued a statement:
"The bottom line is that everyone, especially members of Congress, have to be very, very thoughtful in the language they use, because when you're a member of Congress, you have an important role to play in society. You can't be cavalier in the comments you make especially if they could be perceived as being antisemitic, or discriminatory."
The incident was reported in BuzzFeed News, The Jerusalem Post, The Times of Israel, People magazine, Colorado Politics, Business Insider and other outlets.
Marina Zimmerman responds:
Marina Zimmerman, Boebert's primary challenger from Durango, tweeted the following in response to the incident: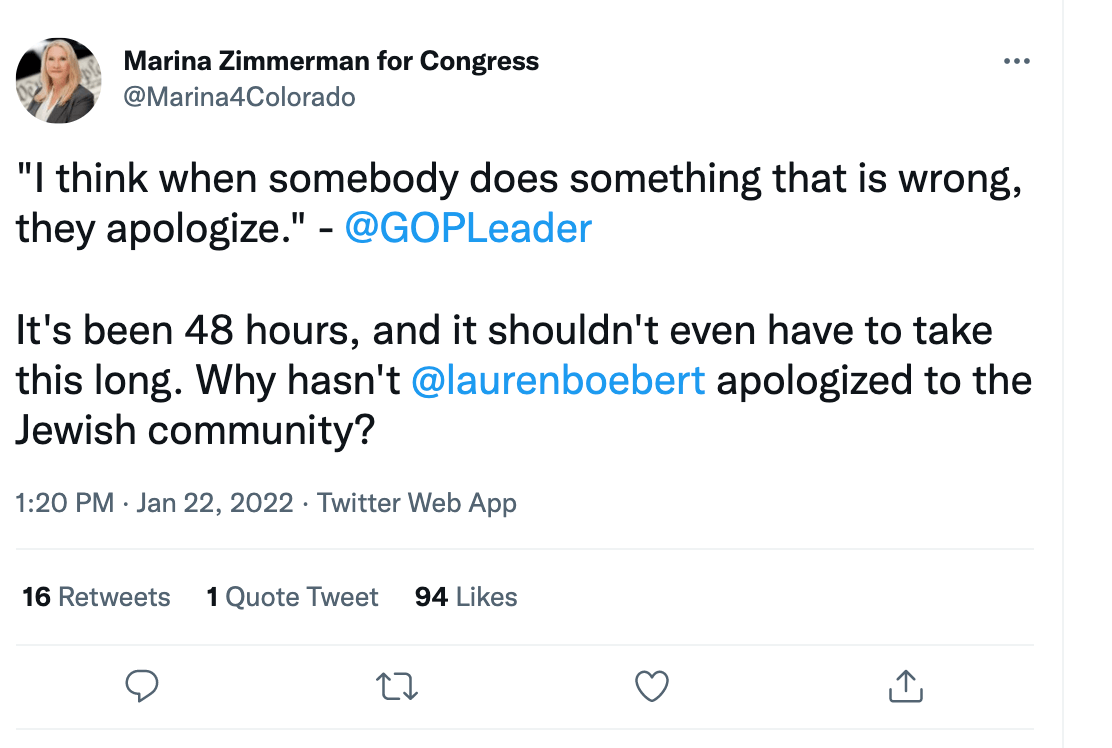 Coram responds
Boebert's Republican primary challenger from Montrose, Don Coram, doesn't use Twitter, but offered the following comment on the incident:
"If Lauren Boebert would spend more time in Colorado with the people of the 3rd Congressional District instead of jetting around the country like an out-of-touch celebrity, maybe she would understand why this is not only disgusting but unacceptable. Especially after the recent events in Texas…"
Coram was referring to the recent hostage-taking incident in the Dallas suburb of Colleyville, in which a gunman held members of a Jewish synagogue at gunpoint for 10 hours. The gunman was shot to death by law enforcement.
The incident was considered a terrorist attack on the Jewish community.