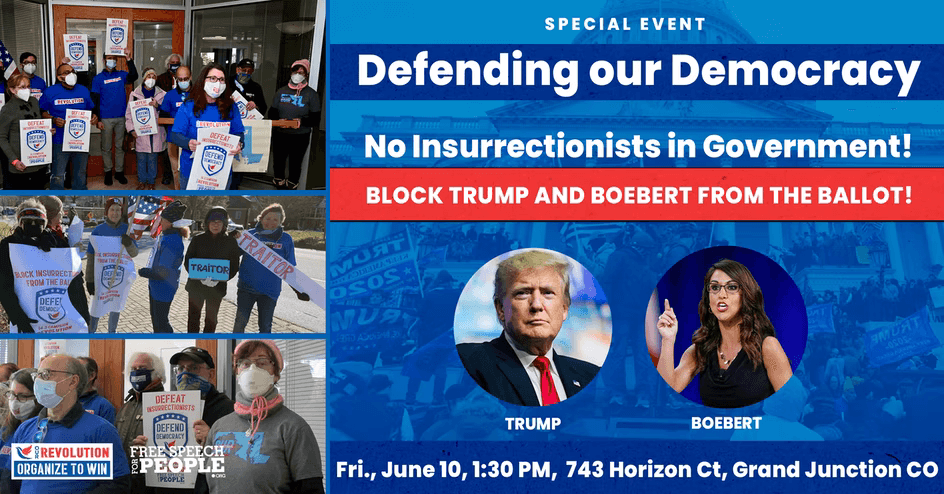 The national progressive group OurRevolution, named after a book by Sen. Bernie Sanders, is planning a local rally at Rep. Lauren Boebert's Grand Junction office on Horizon Drive to urge Colorado Secretary of State Jena Griswold to disqualify Boebert from being on the Colorado ballot by applying Section 3 of the 14th Amendment to the Constitution, which says:
No Person shall be a Senator or Representative in Congress, or elector of President and Vice-President, or hold any office, civil or military, under the United States, or under any State, who, having previously taken an oath, as a member of Congress, or as an officer of the United States, or as a member of any State legislature, or as an executive or judicial officer of any State, to support the Constitution of the United States, shall have engaged in insurrection or rebellion against the same, or given aid or comfort to the enemies thereof. But Congress may by a vote of two-thirds of each House, remove such disability.
Boebert is listed by GovTrack.us as a participant in the January 6, 2021 insurrection at the U.S. Capitol in Washington, D.C., and there is evidence indicating she supported the insurrection.
The January 6 House Committee investigating the insurrection will begin holding live public hearings on Thursday, June 9th, during prime time hours, that will feature previously unseen materials, information and witness testimony.
The local event urging Boebert be blocked from the ballot will take place the next day, Friday, June 10, at 1:30 p.m. at Boebert's Grand Junction office, 743 Horizon Ct.
Scan this QR code for information on the event: