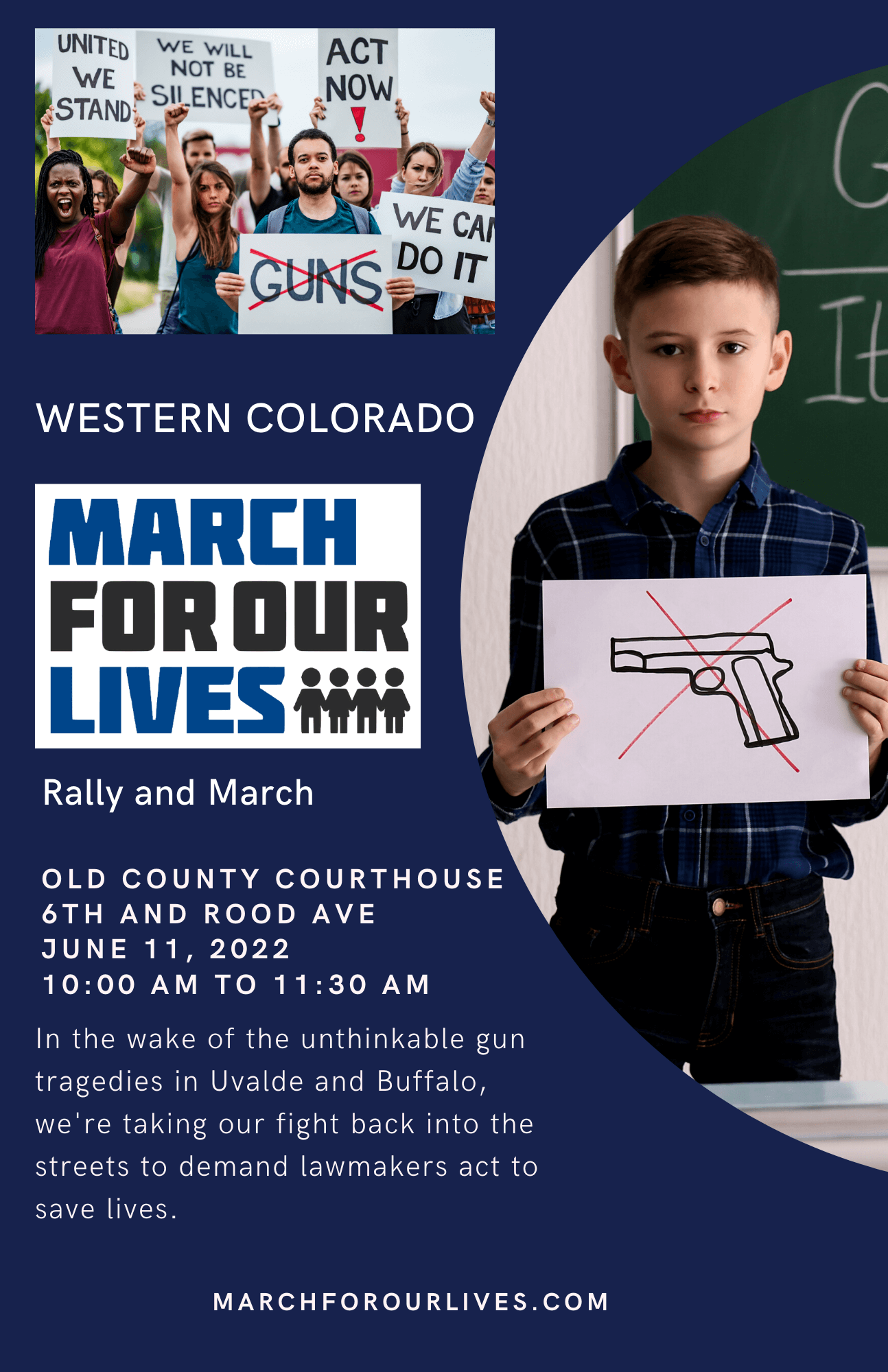 The national student-led group March For Our Lives will hold a local rally Saturday, June 11, from 10:00 a.m.-11:30 a.m. at the Old Mesa County Courthouse at 6th and Rood to demand legislators enact policy measures to reduce the epidemic of gun massacres now gripping America. The rally will feature local youth and adult speakers and a march through downtown Grand Junction and more.
March For Our Lives was formed by Florida students who survived the Marjorie Stoneman Douglas High School massacre in Parkland, Florida on February 14, 2018, that killed 17 people and injured 17 more. The group wants an end shooting drills in schools, having to bury friends and loved ones killed in the course of every day living, an end to gun glorification and "American exceptionalism in all the wrong ways."
The group has toured over 30 states, met with over 200 mayors, registered over 800,000 voters, helped spur a historic turnout of younger voters in the 2018 midterms on a mission aimed at ousting all legislators who refuse to vote for gun safety measures, and filed amicus briefs in numerous legal cases aimed at reducing gun violence, including in support of the Mexican government's lawsuit against American gun manufacturers, arguing that gun manufacturers should be held liable for facilitating violence around the world.
Rally Organizer Charlie Allan said,
"Many of us felt the gun violence issue is just a moment away of hitting home right here, and our leaders and representatives need to know that we want action. We encourage people of all ages to join us in our march to send a strong message that enough is enough…we want laws that protect our kids and families."
March for our Lives' website explains the group's mission and connections. The march in Grand Junction is one of over 300 marches planned this weekend: https://marchforourlives.com/policy/