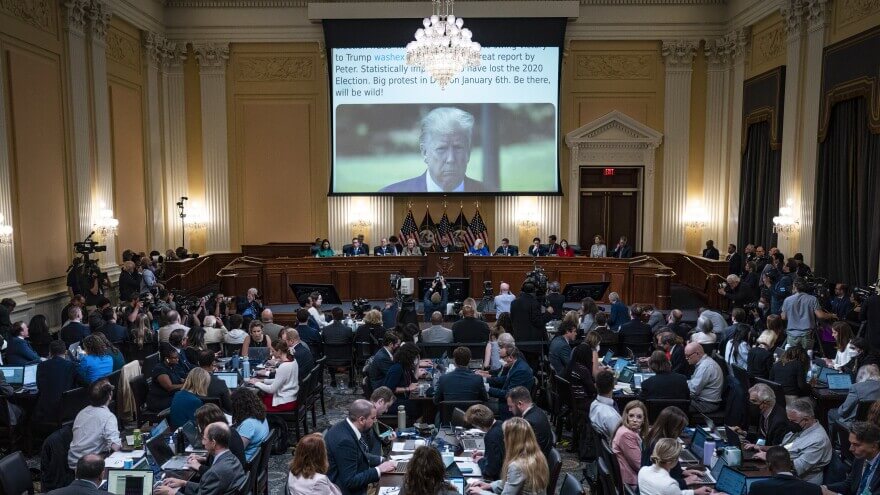 The next hearing of the Select Committee to Investigate the January 6th attack on the U.S. Capitol is this Thursday, July 21 in prime time starting at 6:00 p.m. local time. The hearing will be broadcast on all the major TV networks ABC, CBS and NBC, and PBS. It will also be live on CSPAN (cable) and CNN will stream it live at CNN.com without requiring a cable login. It can also be viewed live on the Select Committee's YouTube Channel. Many media outlets will also stream the hearing on their Facebook pages. The first hearing, also held in prime time, had 20 million viewers.
This hearing will focus on what former President Trump was doing, and not doing, minute by minute during the 187 minutes after Trump-supporting rioters began attacking the Capitol and before he issued he a public response. Two former Trump White House officials, Trump deputy White House Press Secretary Sarah Matthews and former Trump Deputy National Security Advisor Matthew Pottinger, both of whom were in the White House on the day of the attack and both of whom resigned that day, will testify.
January 6 Committee Chair Bennie Thompson has tested positive for Covid and will miss the next hearing. Committee members Rep. Adam Kinzinger (R-IL) and Rep. Elaine Luria (D-VA) are expected to take central roles chairing the proceedings.