My 92 year old neighbor, who worked for School District 51 over forty years ago, received this hate mail yesterday, with the following computer-printed in screaming all-caps, racist, anti-transgender hate letter glued to the back of the picture with the child at the chalkboard: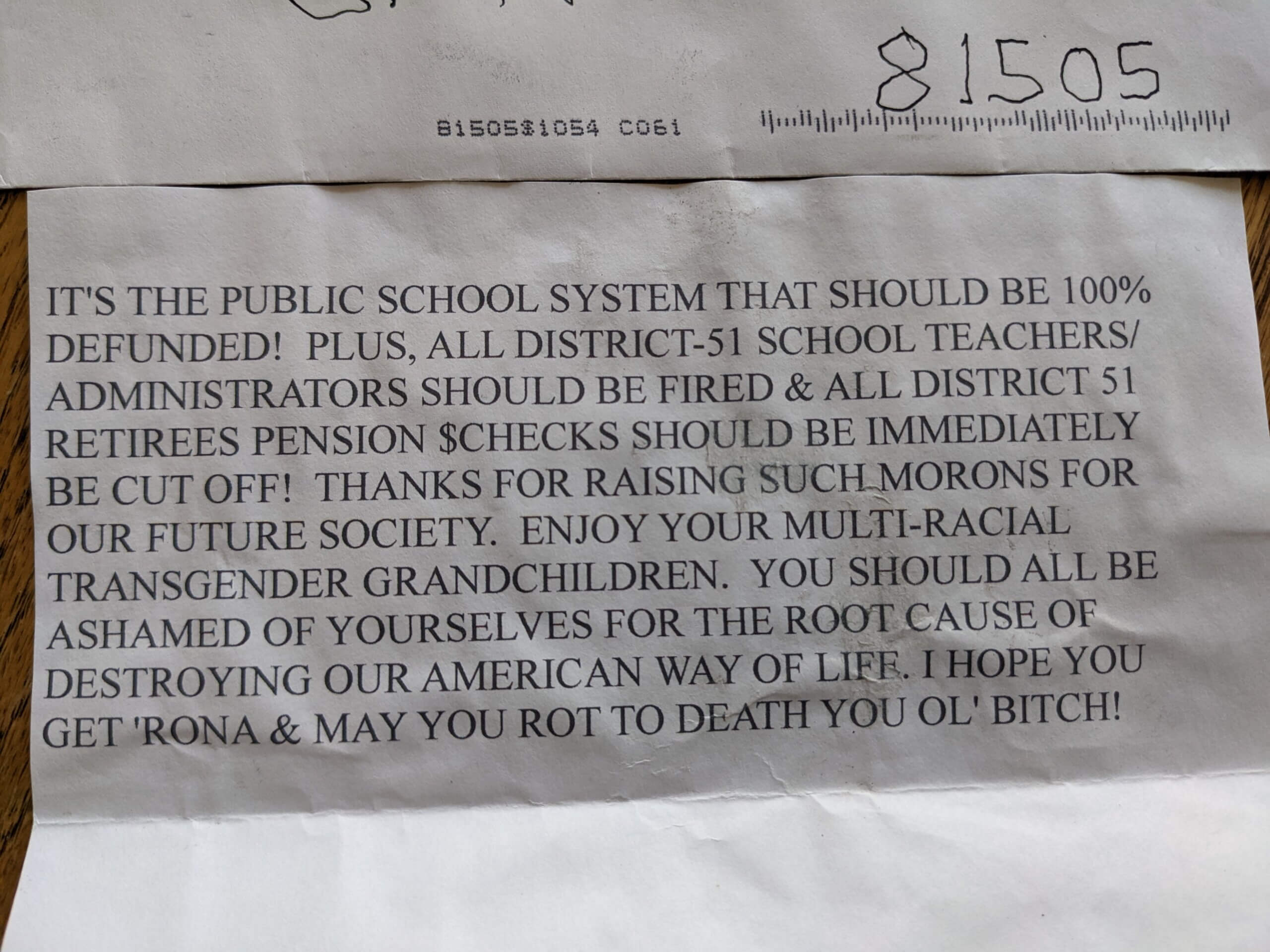 My neighbor is pretty tough, but the line that said "OL' BITCH" really saddened her.
In addition to showing that racism and homophobia in Grand Junction are alive and thriving, this rude correspondence raises several questions:
— How did the sender get the address of this person?
— Why was this particular elderly person, who hadn't worked in District 51 for decades, targeted with this letter?
— How many other people in Mesa County received have this same letter, and do they all have recent or distant affiliations with District 51?
— Is a list of District 51 retirees available somewhere?
And the biggest question of all, who or what is responsible for conflating this racist, anti-transgender hatred with District 51?
This disheartening attitude might be traceable to several District 51 School Board members and the current Republican Mesa County Commissioner candidate Bobbie Daniel.
Last May, School Board President Andrea Haitz was widely condemned after local citizens discovered she had posted several trans-phobic memes on her personal social media accounts.
Then, on August 29, the Colorado Times Recorder reported that Haitz and her fellow D-51 School Board member Angela Lema attended a right wing workshop on how to fight inclusive policies in public schools that are designed to help transgender students and students of different races feel more accepted in public school systems. And until last May, when Haitz's anti-transgender sentiments burst into public view, Haitz belonged to a public Facebook group, "REBOOT 2022. Mesa County School District 51," a right-wing group whose mission statement includes "Bring back Home Education," and whose beliefs include the lie that "BLM [Black Lives Matter] and antifa have threatened physical violence in Mesa County" and they are "terrorist organizations." According to the Daily Sentinel, REBOOT 2022's moderator and administrator at that time was prominent Mesa County Republican and former House District 55 candidate Cindy Ficklin.
Another well-known member of REBOOT 2022 was current Republican candidate for Mesa County Commissioner, Bobbie Daniel:
Bobbie Daniel, a
right wing election denier who is running for Mesa County Commissioner and who has been endorsed by the
Daily Sentinel
, was also member of REBOOT 2022 Mesa County District 51, and is a friend of Cindy Ficklin:
Friends…
Sherronna Bishop, Bobbie Daniel's friend in the photo above, recently joined Nazi sympathizers and white supremacists in carrying out an anti-LGBT, anti-transgender, Jew hating protest at a Christian church in Katy, Texas that welcomes transgender teens.