People who patronized Grand Junction Red Rock dealerships are warning others shopping for vehicles locally that the dealerships used shady techniques to cheat them, or attempt to cheat them, out of thousands of dollars without their knowing.
Customers say Red Rock inflated prices on their contracts far above the prices the dealership had advertised for their vehicles, and added expensive extras, like extended warranties, service agreements, gap insurance, key insurance, antibacterial treatment, and other items to their contracts without asking or telling them. Many report that their digitized signatures were applied to contracts that had unapproved items added without their knowing. Some people even found their signatures had been forged on contracts. Customers also found the dealership had roped them into expensive financing without their realizing what was happening, and that as a result they were saddled with interest rates of 11.7% to 30% on loans they weren't aware they had applied for. One woman said she and her husband had to get second jobs to make ends meet after signing a blank loan document at Red Rock Nissan, thinking they were getting a loan for $17,000. Instead, they got roped into paying for a $30,000 loan at an interest rate of 12.49%, AND an extended warranty they weren't told the price of.
According to the Daily Sentinel, Grand Junction's Red Rock franchises are part of the Tim Dahle Automotive Group out of Salt Lake City and Murray, Utah.
The Tim Dahle dealerships appear to be rife with aggressive and deceptive sales techniques that have led to many scathing reviews. A related dealership, Tim Dahle Nissan of Murray, Utah, for example, has 196 Yelp reviews, of which 135 are one-star reviews with detailed, angry critiques. Of 20 customer reviews on the Better Business Bureau website, all are one-star reviews with extensive complaints. The Red Rock/Tim Dahle Auto Group chain now owns five dealerships in Grand Junction selling Nissan, Kia, Honda, GMC and Hyundai, as well as used cars.
Forged signatures, adding thousands in extended warranties & other add-ons to customers' contracts without telling them (the iPad Trick)
Last spring, Jesus Acevedo, owner of a local roofing business, went to Red Rock Hyundai between Grand Junction and Fruita to buy a new truck, bringing his old truck to trade in. He chose the truck he wanted and proceeded to purchase it, but Mr. Acevedo wasn't able to see the contract for the deal until he got to the Sooper Credit Union, where he went to apply for financing. The Sooper Credit Union obtained Mr. Acevedo's contract from Red Rock Hyundai and when Mr. Acevedo finally saw it, he was astonished to see Red Rock had added a $10,000 extended warranty to his contract without asking or telling him, and Mr. Acevedo also noticed that his signature had been forged on the contract.
(Full disclosure: Mr. Acevedo took photos of the forged signature, and his own, and showed them to me side by side, and the two were completely different.)
He pointed this out to the Sooper Credit Union loan officer, who then helped Mr. Acevedo get out of the deal at Red Rock Hyundai, and Mr. Acevedo went back to the dealership to retrieve his trade-in and discuss what had happened with his contract.
Red Rock Hyundai quickly cancelled Mr. Acevedo's contract and directed him to Red Rock Nissan on Highway 6 & 50. Once there, Red Rock Nissan offered Mr. Acevedo more money for his trade-in and gave him a better offer on a nicer truck than the one he tried to buy at Red Rock Hyundai. But Red Rock Nissan also asked Mr. Acevedo for something else: they wanted him to sign a form promising he wouldn't sue Red Rock about the problems he'd had at the Hyundai dealership.
Mr. Acevedo was just getting started on his busy season for roofing. He just wanted a new truck, and didn't want any hassles. He figured Red Rock had made it up to him by giving him more money for his trade-in and a nicer deal on a better truck, so he signed the papers, called it good and drove away in his new truck.
Playing tricks with digital signatures, hiding contracts from customers' view
Four months later, Mr. Acevedo's friends, Marcio and Michelle Mondragon, were worried that they had gotten into deep financial trouble after going to Red Rock Nissan to buy a new truck.
The Mondragons had seen an ad on Red Rock's website for a new 2022 Nissan Frontier for $46,100 and went to the dealership to buy it. Mr. Mondragon brought $20,000 for a down payment on the vehicle, so they would only have to finance $26,100 before taxes and fees — or so they thought. The Mondragons, who both speak English as a second language, knew they needed to look over any contract before finalizing a deal on the vehicle, but they never got the chance.
The Red Rock Nissan sales person got some basic information from the Mondragons and then handed them an IPad and told them to sign their names and initials on the screen. The Mondragons signed as instructed, noting that there was nothing else on the IPad screen.
Before the Mondragons knew it, their signatures had been electronically populated into all of the places on the contract where signatures were required, and the deal was done, without them ever being able to see even one full page of their contract. The salesperson handed the Mondragons a USB drive with their paperwork on it, so they were unable to see the contract while they were at the dealership. The Mondragons also didn't recall filling out an application for financing.
When they got home, the Mondragons put the USB drive into their computer to see what was on it, and they were horrified:
Red Rock Nissan had hiked the price of their truck from the $46,100 in the ad to $57,940 on the contract, and added $3,000 for something called "Portfolio," which the Mondragons found out later was an extended warranty they didn't want, and didn't know about. After sales tax, license, registration, delivery and handling fees and a charge for "worry free maintenance" were added, Red Rock Nissan had charged them a whopping total of $65,330.11 for their new truck. Moreover, the Mondragons found they had been roped into a 75-month loan with an Atlanta-based lender, Global Lending Services, at an interest rate of 11.7%, even though Michelle had excellent credit and likely would have qualified for a much lower rate elsewhere. The financing disclosure form on the USB showed the total the Mondragons would be paying for their truck by the end of their 75 month loan, including their $20,000 downpayment, would be $84,429.50 — all for a truck advertised at $46,100, and on which they had put down $20,000 cash.
Clawing back money
Worried about what they had gotten into, the Mondragons told Mr. Acevedo about what happened to them at Red Rock Nissan. Mr. Acevedo, who had told me about his experience with the Red Rock Hyundai dealership in the spring time, contacted me and told me what had happened to the Mondragons at Red Rock Nissan. We all decided together to confront the dealership and try to get the Mondragons at least some of their money back.
On Friday, September 16, 2022, the Mondragons, two of their friends, Mr. Acevedo and I went to Red Rock Nissan and sat down with the general sales manager, Collin Jones, to talk about what the dealership had done to the Mondragons.
First we brought up the way Red Rock Hyundai had treated Mr. Acevedo earlier that year, adding the $10,000 extended warranty to his contract without telling him, and forging his name on his contract. Mr. Jones quietly admitted, in front of this room full of people, that he was aware of what had happened to Mr. Acevedo, and he admitted that forging Mr. Acevedo's signature had been a crime. Then we talked about how Red Rock Nissan had hiked the price of the Mondragons' vehicle far beyond the price the dealership had advertised it for on their website, and added a $3,000 extended warranty to their contract without telling them. We pointed out it was starting to look like Red Rock dealerships were systematically exploiting Hispanic customers, or customers they thought didn't speak English very well. But Mr. Jones vehemently denied the dealership was targeting any group, and claimed they had simply made a "mistake" on the Mondragons' contract. Mr. Jones agreed to refund the difference between what the dealership had advertised for the truck and the amount that was "mistakenly" put on the Mondragons' contract — an $11,804 overcharge, plus $623.97 in sales tax, and the $3,000 warranty. It took weeks of hounding with follow up calls, check-ins, reminders and emails to get the dealership to follow through on its promise, cancel the warranty and fully refund the Mondragons' money. Ultimately Red Rock sent checks totaling $15,463.97 to Global Lending Services, the lender that held the lien on the Mondragons' truck, to be applied to the Mondragons' loan.
But the Mondragons' nightmare wasn't over yet.
They still had to register their new truck at the DMV.
MORE problems…
Red Rock Nissan had sent the paperwork for the Mondragons' truck to the DMV with the incorrect $57,940 sale price on it. The inflated price was going to greatly increase what it would cost the Mondragons to register their truck. The Mondragons knew if they paid the higher fee to register their truck now, they'd be paying hundreds more to re-register it every year for the next ten years.
The DMV supervisor said the only way to fix the problem was to have Red Rock Nissan send a written request to the DMV to recall the erroneous paperwork and send them new paperwork with the correct price on it.
We told Red Rock Nissan about the DMV supervisor's instructions, so they could fix the problem and the Mondragons could register their vehicle for the correct price and avoid a massive overcharge.
But the dealership balked.
Red Rock's Finance Manager, Benson West, refused to correct the paperwork they had sent to the DMV.
"We've done enough by refunding the money," West said, adding that it would be "impossible" to change the paperwork. He said they wouldn't do anything else, that the paperwork on the truck was a done deal and there was absolutely no way it could be changed.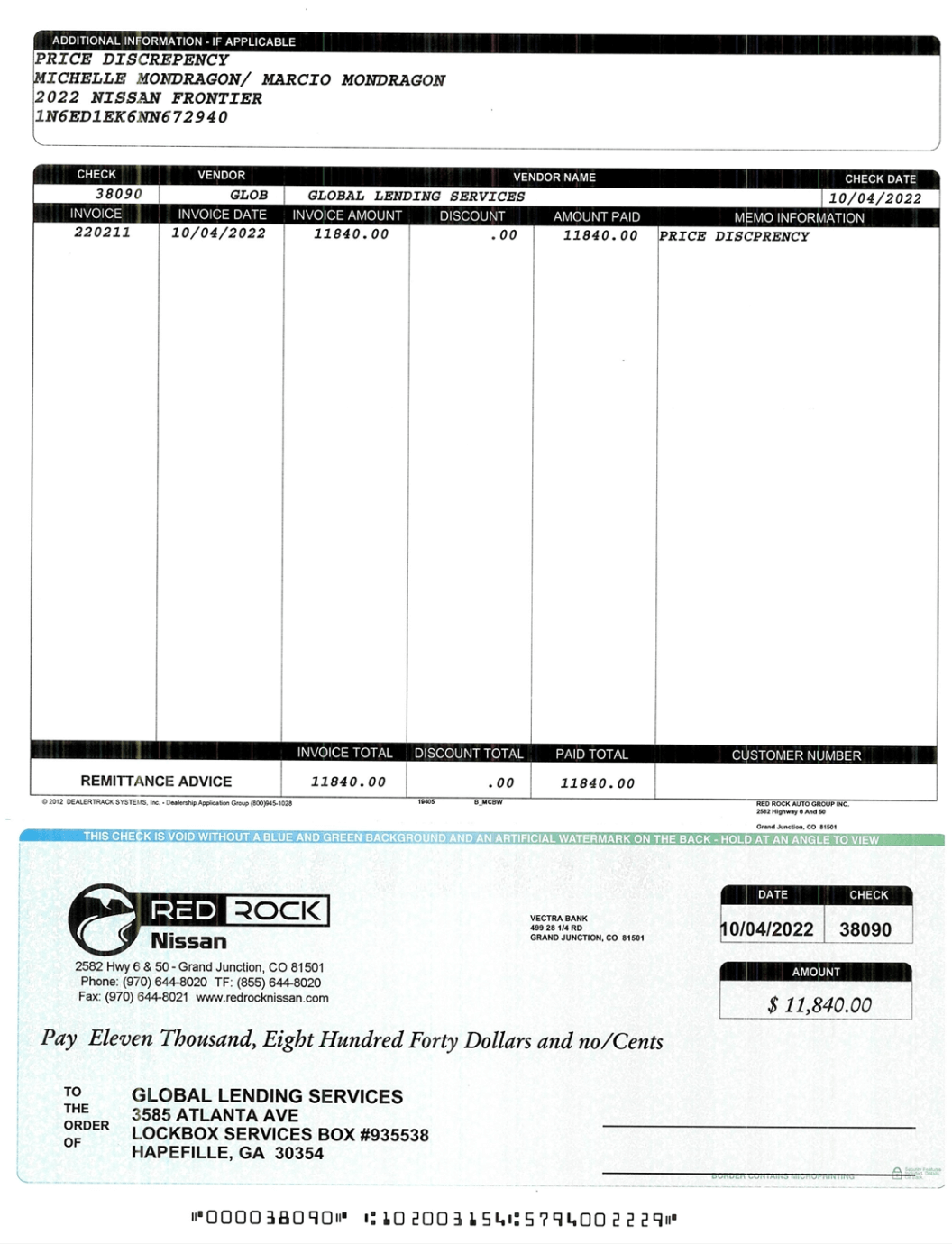 Refund check from Red Rock Nissan for "price discrepency" [sic] for the Mondragons' truck, made out to Global Lending Services, the lender the dealership had arranged for their financing.
The Mesa County District Attorney's Office intervenes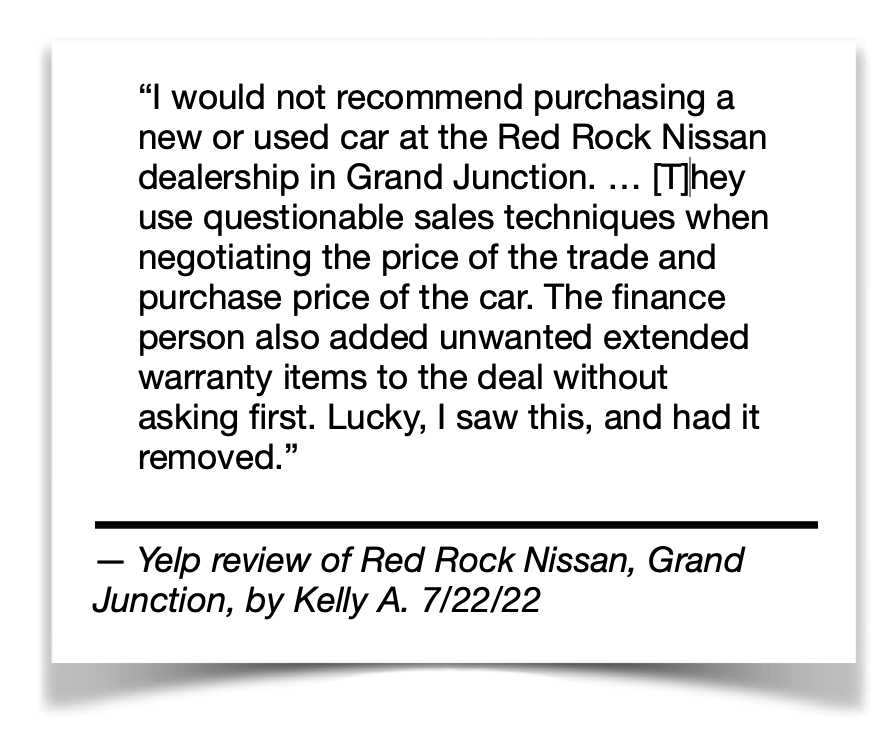 Red Rock Nissan stuck to that line until we sought help from the Mesa County District Attorney's Consumer Protection unit. We had been keeping the D.A.'s office apprised of how Red Rock had treated Mr. Acevedo and how they were treating the Mondragons throughout their vehicle purchase. We explained to the D.A.'s office that we had gotten the dealership to refund the amount the Mondragons were overcharged — essentially an admission of the overcharge — and that the dealership was now refusing to send corrected paperwork to the DMV so the Mondragons could register their truck for the correct price. We provided the D.A.'s investigator with dates, names of who we talked to, the amounts of transactions and refunds and other details he needed to understand what was going on.
James Cannon, the District Attorney's investigator, then called Red Rock Nissan and spoke to Mr. West about the dealership's failure to submit correct paperwork to the DMV for the Mondragon's truck. Shortly after that call, Mr. West changed his tune, and in an October 18, 2022 email he wrote:
I was looking through the paperwork we sent to the DMV and I noticed that there was a clerical error on the Title application where it was showing the MSRP as the purchase price, which its not. We will get the corrected Title application sent out to them so they can work the registration numbers off of the correct value.
Red Rock then sent the DMV the corrected paperwork for the Mondragons' truck showing a $38,100 MSRP, the MSRP that was actually on the truck's window sticker. After that, the registration fee for the Mondragons' truck dropped from $1,011 to $709.
The Mondragons then quickly refinanced their truck with the Rio Grande Credit Union at an interest rate of 3.8%, down from the 11.7% loan the Red Rock dealership had arranged for them, lowering their monthly payments from $859/month to about $550/month, and for one year shorter of a loan term.
A happy ending, but what happened to to Mr. Acevedo and the Mondragons appear to be features of how Red Rock dealerships operate.
Evidence indicates that the deceptions Mr. Acevedo and the Mondragons encountered in dealing with the Red Rock dealerships aren't a fluke or a "mistake," as Collin Jones indicated. Rather, they are institutionalized behavior at Dahle-family owned dealerships. Loads of reviews on Google Reviews, Yelp, Cars.com and the Better Business Bureau confirm these dealerships are rife with deception, and that they have been doing to many others exactly the same things they did to Mr. Acevedo and the Mondragons: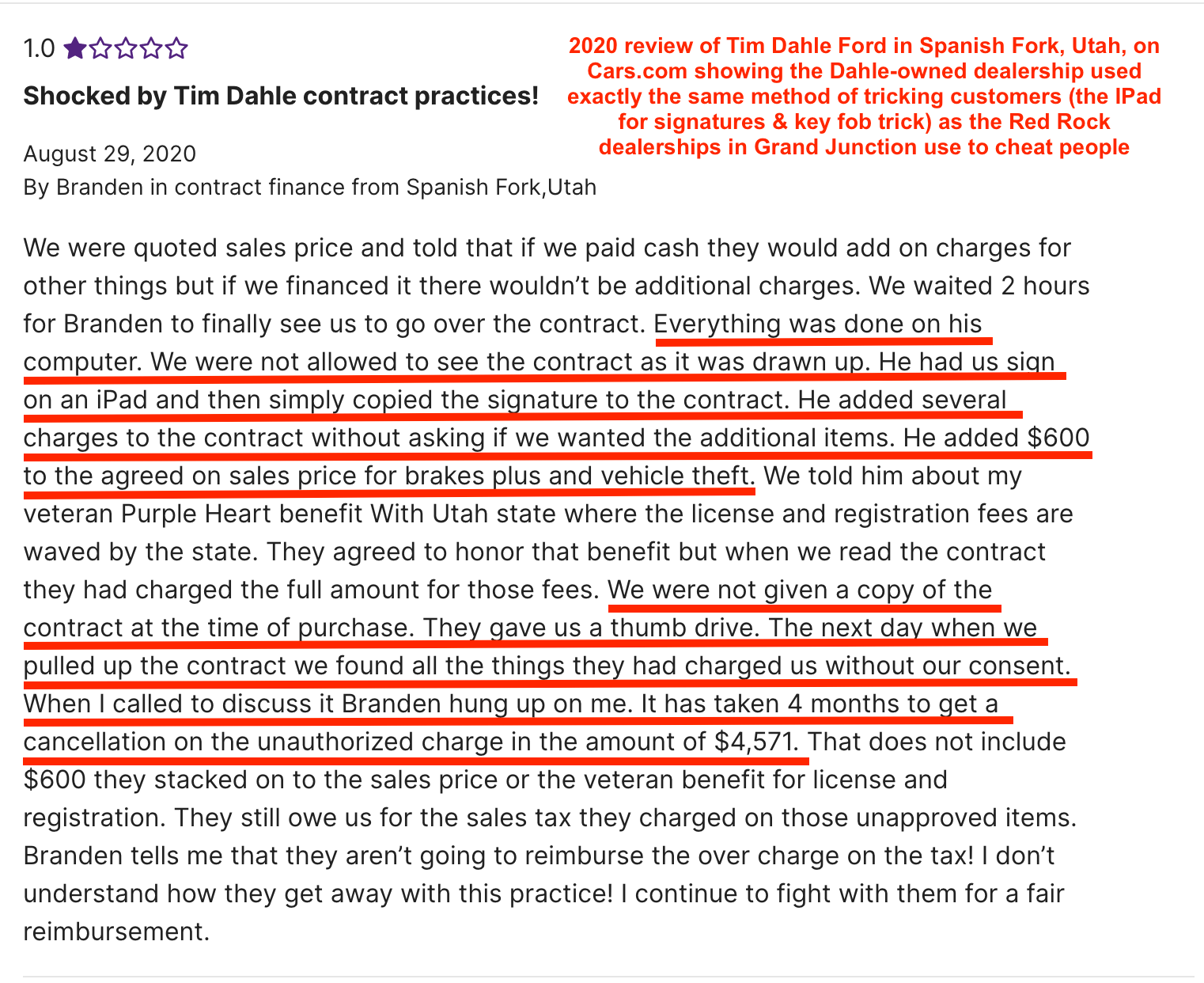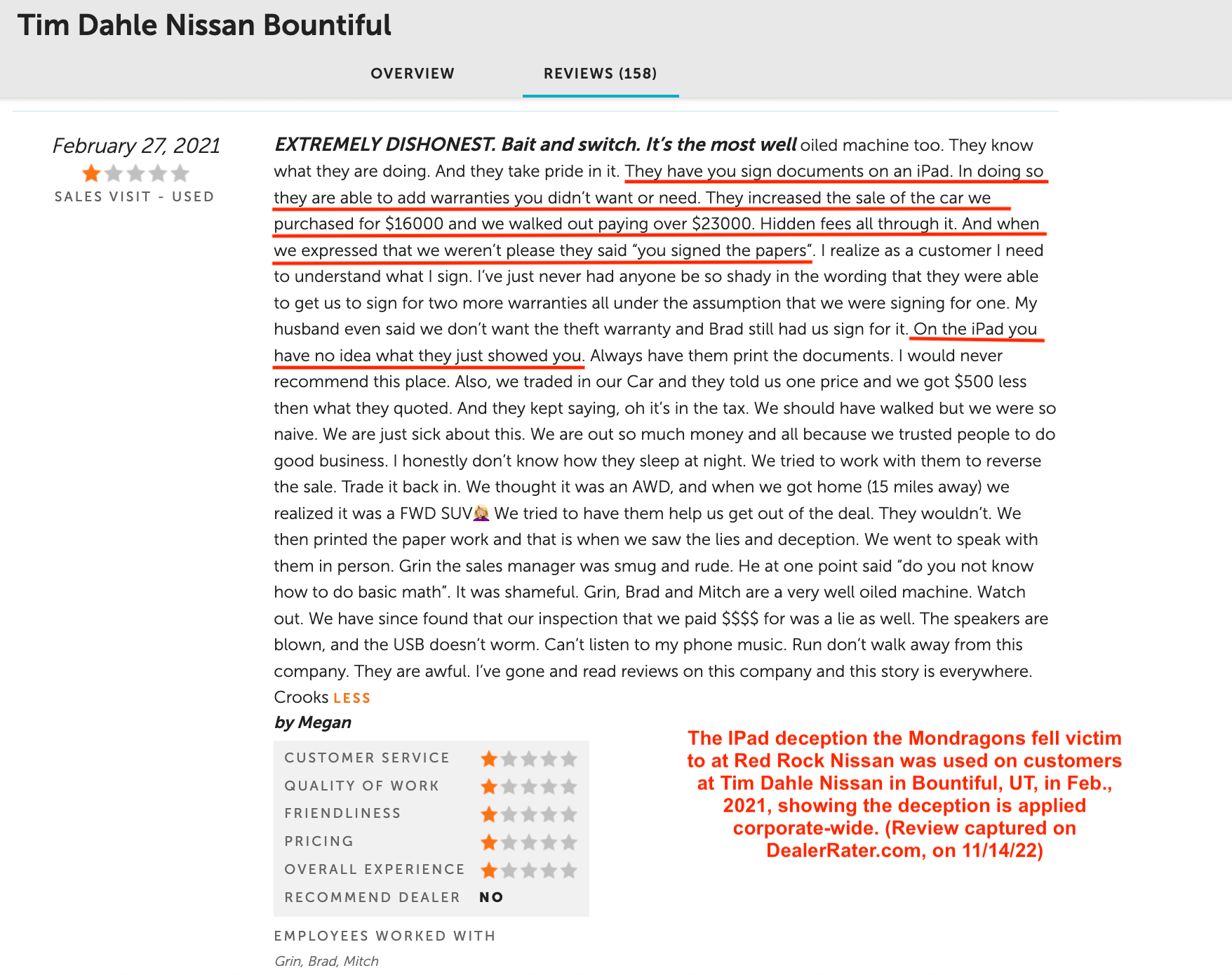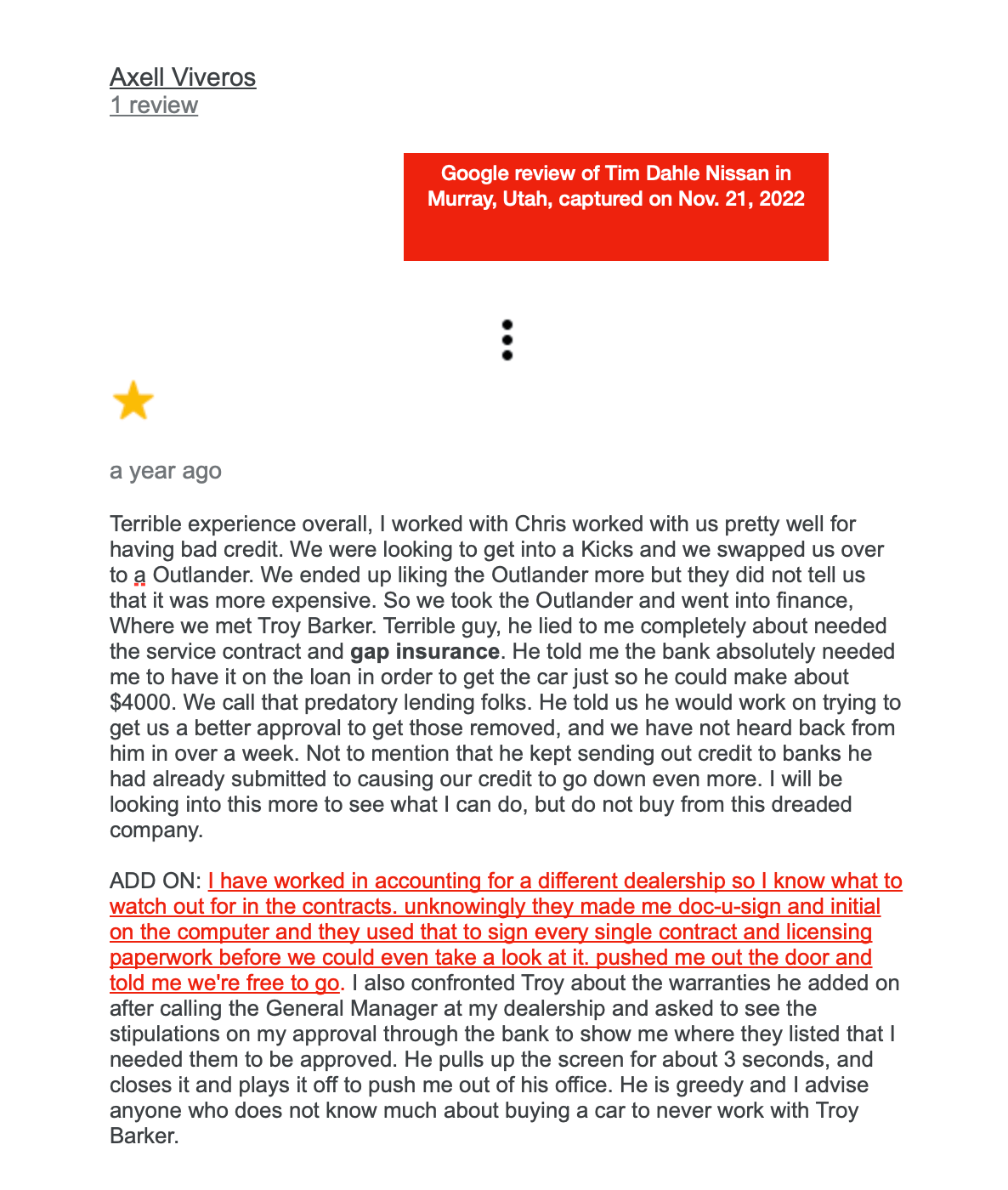 The IPad deception that Red Rock Nissan used to cheat the Mondragons traces back to dealerships owned by Dahle family of Utah, which also owns Grand Junction's Red Rock dealerships
Ownership information from the Colorado Secretary of State's website shows Red Rock Nissan's registered agent is Steven T. Dahle of Murray, Utah, where Tim Dahle Nissan is located. Murray is 8 miles south of Salt Lake City. Steven T. Dahle doesn't live in our community. He's registered to vote in Salt Lake County, Utah.
Steven Dahle is operations manager at Tim Dahle Nissan in Salt Lake City. Tim Dahle is listed as the C.E.O. of Tim Dahle Nissan.
Tim Dahle-associated dealerships in Grand Junction:
Red Rock Kia
Red Rock Hyundai
Red Rock Nissan
Red Rock GMC
Red Rock Honda
Tim Dahle family-owned dealerships in Utah:
Tim Dahle Ford/Spanish Fork & Murray, Utah
Tim Dahle Automotive Group, Murray, Utah
Tim Dahle Imports, Murray, Utah
Tim Dahle Infinity, Murray, Utah
Tim Dahle Nissan, Bountiful, Utah
Tim Dahle Nissan, Murray, Utah
Tim Dahle Nissan of Southtown, South Jordan, Utah
Tim Dahle Used Car Center, Murray, Utah
Tim Dahle Mazda, Murray, Utah
Tim Dahle Mazda Southtown, Sandy, Utah
The Dahle family has to be fully aware of the deceitful tactics their dealerships are using, and they must approve of them, since there are plenty of negative reviews that outline these exploitative tactics and they go back as far as four years or more. So all the dealership owners, partners and managers have had plenty of time to find out about them, and if any of them had wanted it to stop, it would have stopped.
But these fraudulent practices persist, with the apparent approval of the dealerships' owners, and the tactics Tim Dahle-owned dealerships use to exploit customers appear to be ingrained into the dealerships' behaviors, if not their policies, so be forewarned.
What can be done about these problems?
Many of the people who have reviewed Red Rock dealerships urge people to shop somewhere else — anywhere else — for a new vehicle, even it if means you must drive hundreds of miles. Others warn that if you do shop at Red Rock dealerships, demand to see all your completed sales and financing paperwork in full before signing anything. Insist on getting hard copies, and sign them in your own hand, with a pen. Refuse to use the dealership's IPad signature system or let them get ahold of a digital copy of your signature. If any prices on the contract are different from what you were promised before signing, or if they add items to the contract that you don't want and they didn't tell you about, don't sign anything, and walk out. Don't be pressured to use the dealership's financing, no matter what they say. It will be the most expensive by far. Instead, arrange for your own financing from a source of your own choosing, like your own bank or credit union, before you start shopping for a vehicle. If the salesperson says they have to charge you a fee if you pay in full for your vehicle up front because you aren't using their financing, walk out immediately. If the dealership salesperson pressures you in any way, for example by telling you the deal will only be available for a few hours, or that you have to sign for a higher price because someone else wants to buy the car, or you will incur an extra charge for not using their financing, or that the dealership has some kind of internal policy that says in order to get the price the car was advertised at, you must use dealer-supplied financing, walk out immediately and write a review on Google, Yelp, Cars.com, Better Business Bureau, etc. to document what happened to you and warn others about the dealership's behavior.
Take action to stop shady dealings. Report all scams and rip offs to authorities.
If you've already fallen victim to any of these or other schemes at Tim Dahle or Red Rock dealerships, or if you almost became a victim and caught it before you got roped into a bad deal, write down as many details as you can about what happened — dates, times, places, names, prices, who said and did what, etc. — and file a formal complaint about it with as many of the following entities as you can, as soon as you possibly can:
The CO Dept. of Revenue Auto Industry Division complaint page is here.
File a complaint with the Colorado state Attorney General's Consumer Protection office at the link below. Referencing the following report number, as they are now investigating the case of Red Rock dealerships:


The Mesa County District Attorney's Consumer Protection Unit. Part of the D.A.'s job is protecting people from dishonest businesses. The Mesa County D.A. Consumer Protection Unit phone number is (970) 244-1730. Compile detailed information about what happened to you: which dealership was involved, the first and last names of all people you dealt with, dates, times, amounts involved, advertisements you responded to, contracts with final prices on them, etc. If possible, take photos or make copies of contracts, invoices, bills of sale, financing forms or any suspected forged signatures to have as evidence.
Leave reviews on sites that alert others to bad businesses, like Yelp, Google Reviews and the Better Business Bureau.
Confront the dealership directly about any deception or fraudulent actions and tell them you want your money back.
If you've already been cheated, don't lie down and take it.
Return to the dealership as soon as possible with all your documentation. Demand to see the person in charge, tell them what happened to you and who did it, and demand satisfaction and honest and fair treatment. Then keep hounding the dealership until you get satisfaction. Don't be so embarrassed about getting swindled that you don't take action about the problem. Learn from it, take action to fix it, demand satisfaction and alert others to the scam.
Red Rock dealerships will keep exploiting people like this as long as people lie down and let it happen to them, and don't take any action to stop it. If we want to protect our community from unscrupulous businesses like this, we all have to take action to stop this kind of exploitative behavior.
Additional info:
–Read this detailed complaint about Red Rock Nissan and Benson West (pdf) from an attorney in Carbondale, Stephanie Bergner, dated 11/2/22, about her experience of purchasing a Nissan Leaf at the dealership.
#FraudRock