People have sent information to AnneLandmanBlog that indicates customers of Grand Junction Red Rock dealerships have had their signatures forged on documents, and that such forgeries have likely been a problem at these dealerships for some time.
We first heard about a forgery at a Red Rock dealership when Jesus Acevedo told us how he had gone to Red Rock Hyundai earlier this year to buy a new truck. In the course of buying a vehicle, Mr. Acevedo discovered someone had attempted to forge his signature on a contract for a $10,000 extended warranty that he wasn't told about, and didn't want. No one showed Mr. Acevedo his contract while he was at the dealership. He was only able to spot the forgery, and the addition of the unwanted contract to his deal, after going to the Sooper Credit Union on Patterson Road to arrange financing for the new vehicle. The credit union got a copy of his contract and showed it to Mr. Acevedo, and that's when he had his first chance to see it and saw the forgery. He took a photo of his signature next to the forged one to make a record of it. (See photo above.)
After AnneLandmanBlog revealed this incident, other people started sending information about the forgeries occurring at these dealerships. A November 23 email from a former title clerk at Red Rock Nissan reported s/he had been fired from the dealership "for refusing to forge signatures on titles, POAs, etc.":
I asked this person, "Do you have a rough timeline of when you started seeing these things at Red Rock Nissan? Did it start when you began working there, or was it something that happened more toward the end of your time there?
The person answered, "Day One. Common practice."
Next, in a comment under a Facebook post about this topic, a former neighbor revealed that he, too, had been a victim of a forgery at Red Rock Nissan:
This person forwarded AnneLandmanBlog a copy of a letter he sent to Bryan Knight, then General Manager of Red Rock Nissan, now Platform Manager for the Hyundai, GMC and Honda dealerships, after the forgery on his title in 2019. Joel confirmed in a phone call that he did file a small claims court case against the dealership over the forgery, and won a judgment that allowed him to get his trade-in vehicle back: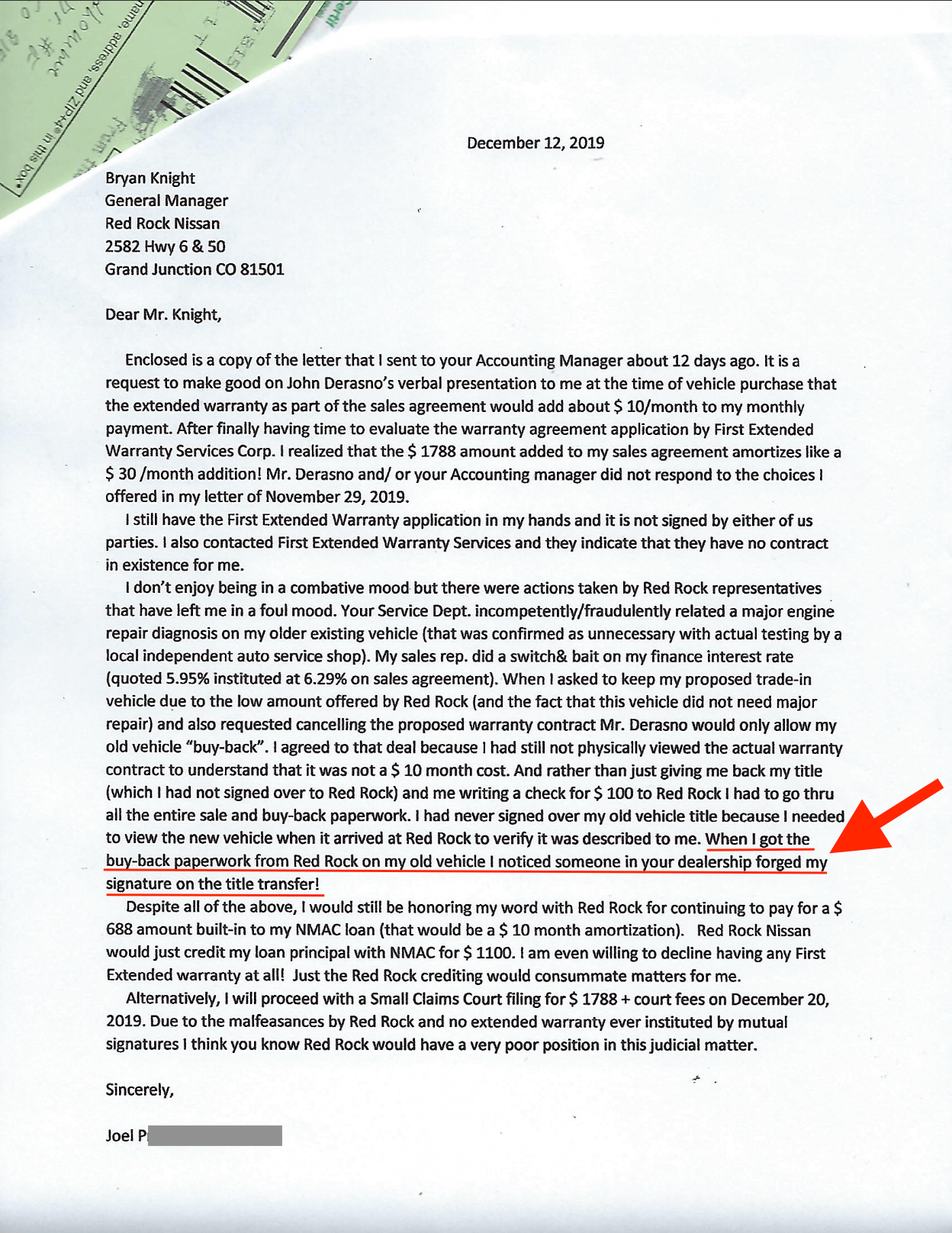 Under Colorado's criminal code, forgery of a legal or financial document is a Class 5 felony, punishable by one to three years in state prison and/or $1,000 to $100,000 in fines, with two years of mandatory parole.
Taken together, the information submitted so far to AnneLandmanBlog indicates forgery has been occurring at Red Rock dealerships for some time. The email from the former Red Rock title clerk indicates forgery was endemic at Red Rock Nissan, and that a member of the dealerships' upper management was made aware of at least one incident of it as far back as 2019.
People making their experiences known is the only thing that makes it possible to discover these kinds of illicit behaviors by area businesses. If you have been affected by an incident of forgery at any of these dealerships, please send information about it with any documentation you may have to Anne@AnneLandmanBlog.com. You also should report it to the Colorado Department of Revenue's Auto Industry Division here.
If the dealership owners want to make any statement to the thousands of people who have fallen victim to this or any of their dealerships' other deceptive practices, like the IPad trick, acknowledge the hardship and loss they've caused individuals and families in our community, or propose some form of compensation to people who they have wronged, we're all ears.
#FraudRock