UPDATE as of 8/11/2023, 4:00 p.m. – Ascent Classical Academy updated it's blog today with a link to a report (pdf) provided by remediation project manager, the Vertex Company. The actual remediation was performed by Hudspeth Environmental Remediation Company based in Centennial, whose website says they specialize in asbestos and lead paint removal. According to the chart provided in the report, many areas remain 5 to 23 times above HUD's recommended lead clearance cleanup standard of <10 µ/sq.ft. (less than 10 micrograms per square foot). Among these are the men's bathroom on the first floor, which had 71 µ/sq.ft,  the floor of the first floor "men's restroom in the tactical area," with 83 µ/sq.ft., the former "Handgun range – floor in NE corner" at 68 µ/sq.ft., "Handgun range – floor in middle by west wall" at 57 µ/sq.ft., the "Handgun range – center of floor in room south of handgun range," which had 130 µ/sq.ft., the "Handgun range – floor in SE corner" at 98 µ/sq.ft. and "Handgun range – floor in room south of range" with 230 µ/sq.ft.
The "Discussion" part of the report states,
"As it is not feasible to sample all areas of all surfaces, the wipe sampling strategy utilized by VERTEX does not provide for, nor ensure that all surfaces within a subject property undergo wipe sampling; thus, the possibility exists that lead-in-dust concentrations on surface locations not sampled during an assessment may be in excess of HUD and/or CDPHE Regulation 19 cleanup standards."
Translation:" It's not feasible to test the whole property, so there may be lead concentrations in places we didn't check that may be in excess of HUD and CDPHE's cleanup standards."
Ascent does not yet have a Certificate of Occupancy for the building.
---
The Ascent Classical Academy charter school is planning to move into the old Rocky Mountain Gun Club building at 545 31 Road, which formerly served as an indoor shooting range for 7 years. The inside of the building is currently being rebuilt and their website says the first day of school will be Tuesday, September 5, 2023, but to date, Ascent still hasn't provided the public with documentation from a government health authority that their building poses no threat of lead poisoning to occupants, and they appear to be withholding information on the remediation status of the building.  [See above update.]
Why be concerned?
Lead contamination is a known problem at shooting ranges.
Every bullet ever fired inside the Rocky Mountain Gun Club while it was a shooting range gave off a small puff of very fine lead dust that got onto walls, ceilings, flooring, ductwork, onto clothing, fixtures, doorknobs, cabinetry, everything. In addition to lead, ammunition also often contains arsenic, which can also contribute to shooting range contamination. Shooting range employees suffer from lead poisoning, and the children of employees develop high blood levels of lead. Thoroughly remediating such a building can be tricky, because the dust is diffuse and works its way into everything on the property, as opposed to just being contained solely in lead-based paint, a situation where if you remove the paint, you remove the lead.
Lead exposure poses an extremely serious health risk, especially to children.
The World Health Organizations (WHO) says,
"Lead exposure can have serious consequences for the health of children. At high levels of exposure, lead attacks the brain and central nervous system, causing coma, convulsions and even death. Children who survive severe lead poisoning may be left with intellectual disability and behavioral disorders. At lower levels of exposure that cause no obvious symptoms, lead is now known to produce a spectrum of injury across multiple body systems. In particular, lead can affect children's brain development, resulting in reduced intelligence quotient (IQ), behavioral changes such as reduced attention span and increased antisocial behavior, and reduced educational attainment. Lead exposure also causes anemia, hypertension, renal impairment, immunotoxicity and toxicity to the reproductive organs. The neurological and behavioral effects of lead are believed to be irreversible.

There is no known safe blood lead concentration; even blood lead concentrations as low as 3.5 µg/dL [micrograms per deciliter] may be associated with decreased intelligence in children, behavioral difficulties and learning problems (1). As lead exposure increases, the range and severity of symptoms and effects also increase."
Initially last March, Ascent's then-Director of New Schools promised that "Full [post-remediation] testing reports will be available upon request.":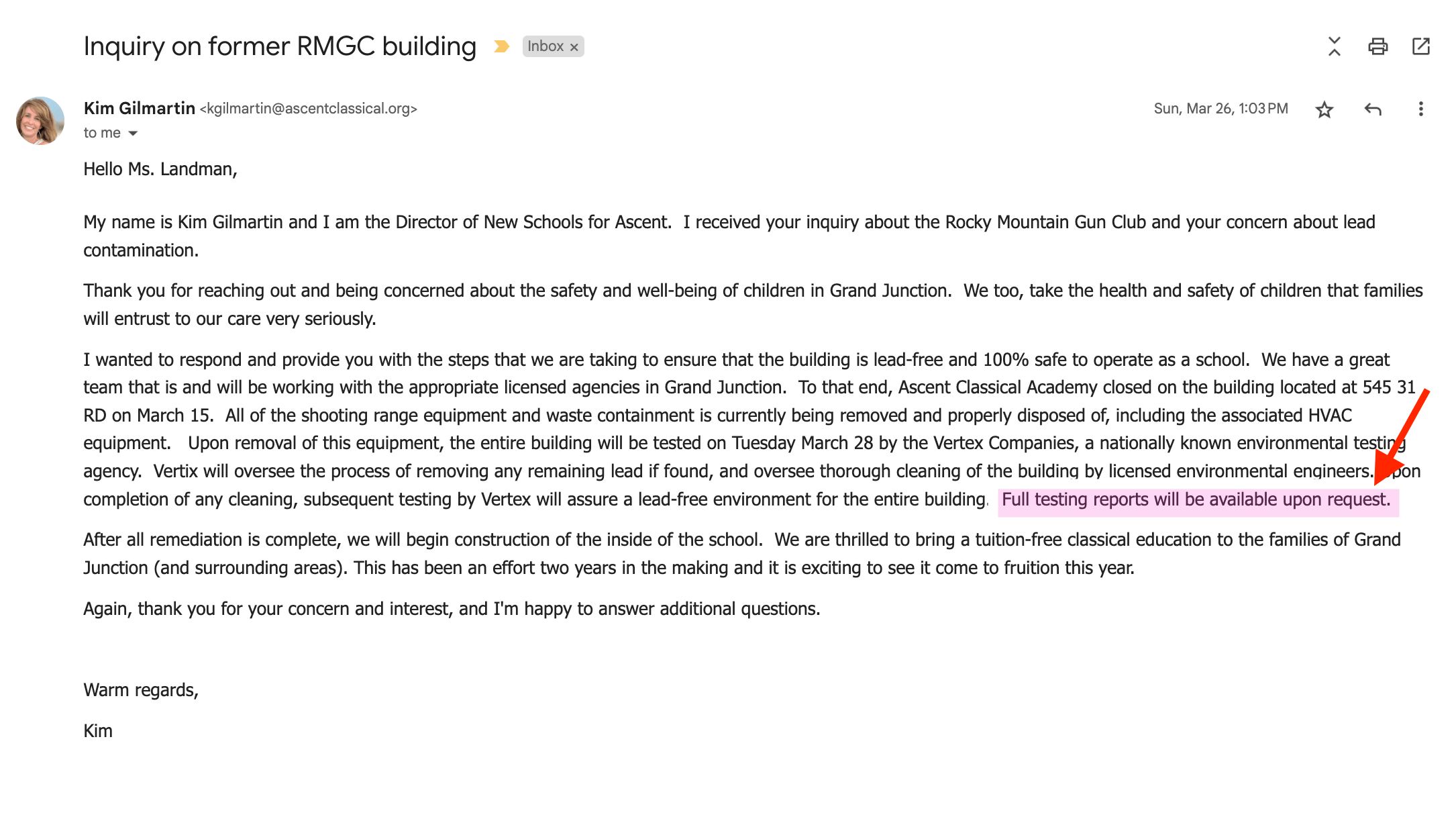 But as Ascent's opening date drew closer and I requested to see the post-remediation testing results, I found Kim Gilmartin no longer worked for Ascent and had left due to "irreconcilable differences." Instead, I got a response from Amy Willis, Ascent's Chief Marketing and Communications Officer, who flatly refused to supply the requested information, claiming it is proprietary and non-public:
Until the building is certified by a public health authority, like the Environmental Protection Agency (EPA), Colorado Department of Public Health and Environment (CDPHE) or Mesa County Public Health as being 100% safe for people, including young children, to inhabit for many hours a day, for weeks and months on end, the only way parents can be 100% sure their children will not risk being exposed to lead dust is to not allow their children to enter the building, since according to the U.S. Centers for Disease Control (CDC) no safe level of lead exposure in children currently exists.