For Mesa County residents trying to find out how the search is going for a new County Public Health Department (MCPHD) director, the County is acting like it's really none of your business, unless you belong to their secret circle of private citizens and friends to whom they are giving private access and input into the decision.
Janet Rowland, Chair of the Board of County Commissioners, told people when she was running for office that transparency in government is "absolutely critical," but the search for a new MCPHD director has been anything but transparent.
The commissioners never made public the list of people who applied for the job, or their qualifications. The process of selecting the finalists was likewise private. The commissioners announced two finalists for the job on October 16 without having sought public input. One of the finalists, Deputy County Administrator Todd Hollenbeck, who is most likely the commissioners' secret, pre-selected choice for the position, has exactly zero experience in public health, environmental or community health, epidemiology, public health policy, emergency management or medicine in any form, but after working for the County for over 20 years, Hollenbeck knows what side his bread is buttered on and exactly how to appease the commissioners, a necessary requirement for any new MCPHD director after the commissioners forced a new Intergovernmental Agreement into effect between the County and the Health Department that gives the commissioners total control over what Board of Public Health (BOPH) members can and cannot discuss at their meetings.
The other finalist is Xavier Crockett of Georgia. According to LinkedIn, he started his career by opening his own private health care consulting company, Crockett Consulting, in 2015 and working as an emergency medical technician. In 2017, he went into public health as an emergency management specialist with the Georgia Department of Public Health. In 2020, he became Emergency Preparedness Director for District 4 of the Georgia Department of Public Health, which covers 12 counties across west-central Georgia. He became Director of Health Protection for the Georgia Department of Public Health in September, 2022. The focus of his current job is on emergency medical services, trauma and opioid and substance abuse prevention. Crockett has a bachelor's degree in biomedical science and a Masters of Science degree in Crisis/Emergency/Disaster Management from Philadelphia University.
That background is more appropriate for a public health director, but Crockett has no experience in actually serving as director of an entire public health department.
Country Club Meetings
As if the process wasn't opaque enough, on November 1, a Mesa County resident got the following email notice that two special meetings of the BOPH were scheduled to be held on short notice, on Nov. 2 and 3, at an unusual venue: the tony Bookcliff Country Club:
Curious, the county resident sent the following email to the County about the country club meetings:

Tara Leach of County Executive Administration wrote back,
The county resident then asked,

Tara Leach wrote back: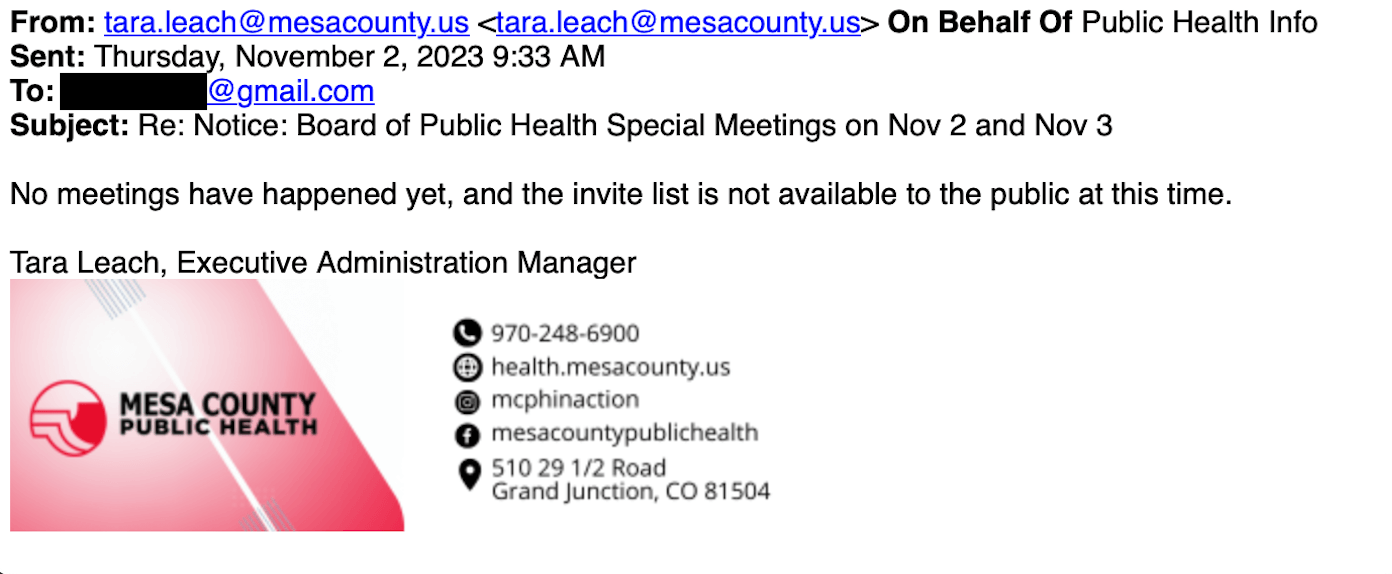 County resident wrote back: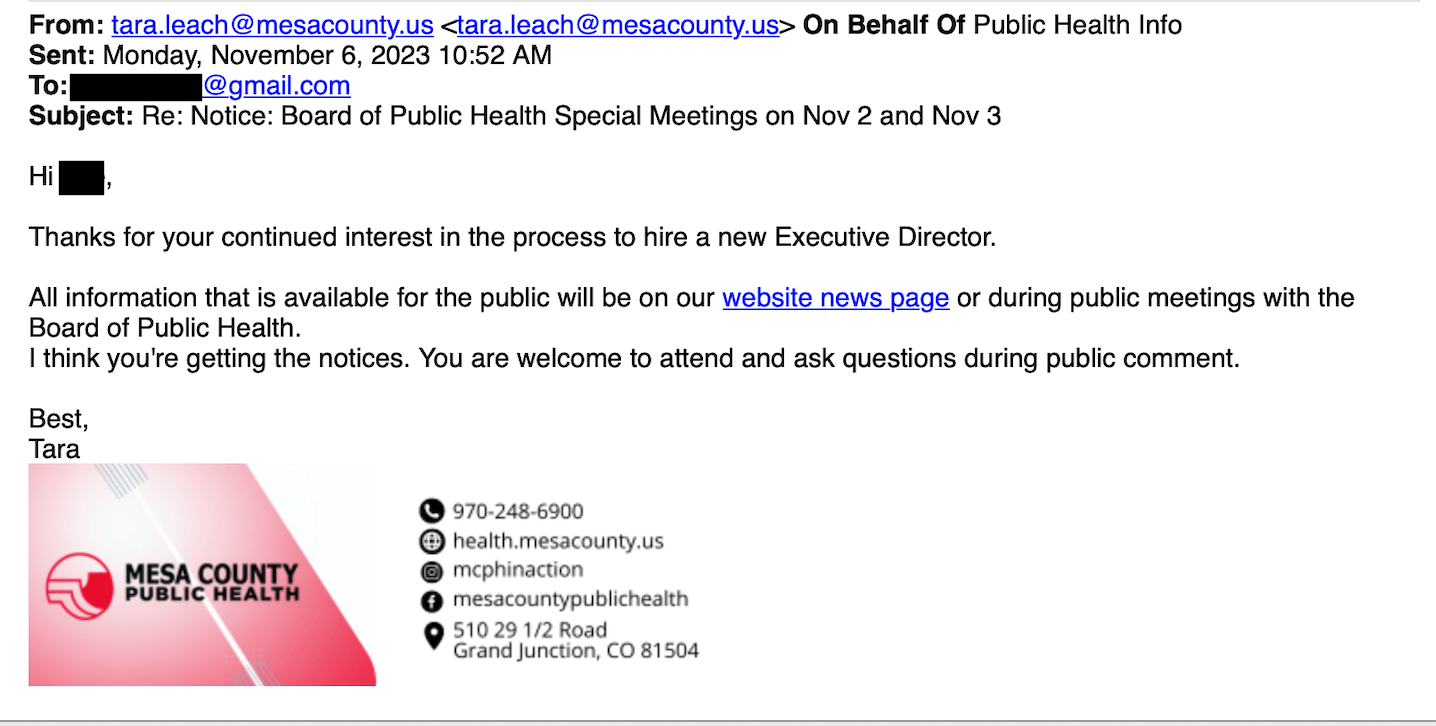 So back to square one.
The County resident then wrote (to me),