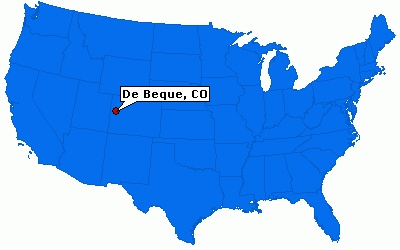 The new marijuana economy crept a bit closer to Grand Junction this week, after the citizens of DeBeque, Colorado, just 25 miles east of Grand Junction, voted to approve the sale of retail pot.
DeBeque's election is an object lesson for everyone who thinks their vote won't count.
DeBeque has just over 500 residents. Of the 234 ballots sent out, 165 were cast. Of those, 69 were in favor of retail marijuana and 65 against. The measure won by just four votes.
DeBeque's Town Clerk, Shirley Nichols, reports the election went smoothly, with no questionable ballots.
So, in DeBeque's case, just four voters indisputably made Colorado history.
Hey, man, but isn't retail pot illegal in Mesa County?
Amendment 64 legalized recreational use of marijuana throughout the state, but the law allows cities and counties to opt out of permitting retail marijuana commerce within their borders.
In August, 2013, Mesa County's three Commissioners — Rose Pugliese, John Justman and Steve Aquafresca — unilaterally passed an ordinance banning retail marijuana commerce (pdf) in the county, but the measure only bans retail pot in unincorporated areas of the county. Incorporated cities and towns can make their own choice, so DeBeque, an incorporated town, can do whatever it wants.
And it did.
Interestingly, DeBeque citizens voted down a medical marijuana question in November, 2012. That measure failed by about 13 or 14 votes. So what's changed since then?
Ms. Nichols speculates that the change might have occurred because some people employed in the oil and gas field have left the area, or that more younger people have moved in. But, she says, it's hard to know, and hard to tell what voter demographics are like with a mail-in ballot.
It also could be that DeBeque's citizens are really serious about devising innovative ways to boost the local economy. According to Nichols, the goal is to bring in good-paying jobs so town residents can make a decent living without having to leave. DeBeque's Board of Trustees has been considering low-stakes gambling as a way to enhance the local economy, and they have a committee working on that issue, but the decision to bring gambling to DeBeque must be made at the state level, either by legislation or ballot initiative. Both constraints render that decision at least two years off.
A better alternative to oil and gas drilling
Retail pot, on the other hand, is much closer to being a reality for DeBeque. Happily, it's also a far safer and more environmentally-friendly alternative to deBeque's old staple industry, oil and gas drilling. And retail marijuana could prove to be far more lucrative to the town, to boot.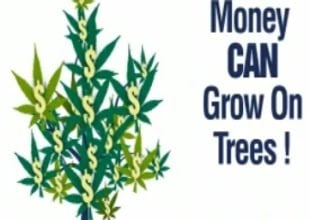 According to Ms. Nichols, the day after the election, DeBeque was flooded with calls all day from people seeking information about how to set up marijuana growing and retail businesses there. The town is scrambling to keep up. They don't even have applications made up for retail marijuana shops. DeBeque currently has a small central area zoned for retail, and a small area south of I-70 zoned PUD, or "Planned Unit Development" (which could accommodate retail), but more land will have to be re-zoned to facilitate the coming boom in marijuana grow operations. Under the Taxpayer's Bill of Rights (TABOR), the town's citizens will also have to vote in November on whether to tax marijuana sales, and if so, how much and what to do with the money.
But the first order of business for DeBeque's Board of Trustees, besides creating an application to grow and sell retail pot, is drafting a set of rules and regulations governing commercial marijuana. The town has put a moratorium on pot shops until June 30, to allow the time to create those rules. July 1 is certainly a quick turnaround time, and the Board of Trustees has reserved a right to extend that moratorium so they can have more time, but the relatively quick proposed deadline shows DeBeque is eager to start enjoying the fruits of their new economic boom.
Thanks to those four game-changing votes cast this week, DeBeque may soon have the booming economy they've dreamed of for so long, that will let residents stay where they are while making a very good living. If DeBeque can manage to get some retail pot shops up and running before the end of summer, they will pull in loads of tourists not just off I-70, but from across the country, who will no doubt build their vacations around experiencing our state's historic, first-in-the-country legal recreational marijuana sales. Those tourists will, no doubt, continue on to enjoy other nearby western slope attractions, like the Glenwood Hot Springs, tram and zipline, and the beautiful scenery and attractions of the up-valley mountain towns like Carbondale, Aspen and Vail.
If Grand Junction is really, really lucky, maybe a few of them will stop here for gas on their way to DeBeque.